Jazz Orchestra tours the Midwest before bringing their tunes to the CFL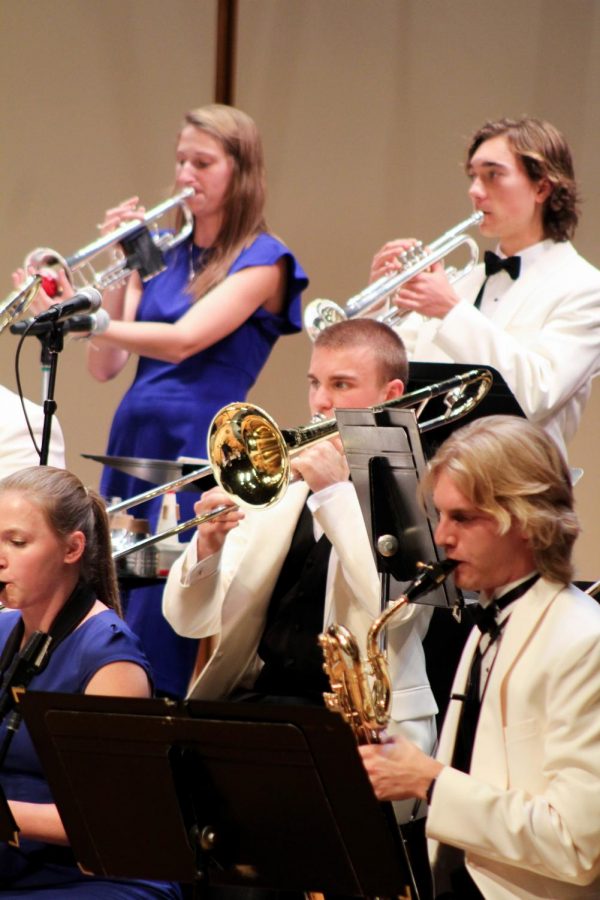 Olivia Schmidt, Staff Writer
May 1, 2019
Jazz Orchestra performed their homecoming concert in the Center for Faith and Life Main Hall at 7:30 p.m. on April 16, which concluded their 2019 Midwest Tour.
Over the course of the tour, the ensemble performed six concerts and held clinics at three high schools. Jazz Orchestra consists of 18 members in four different sections and is conducted by Professor of Music Juan Tony Guzman ('90).
Graduating senior Lauren Sather ('19) is grateful to have been a member of Jazz Orchestra for the past four years.
"I've been really fortunate in that I've played saxophone in Jazz Orchestra all four years here at Luther, and I've grown so much as a musician through this opportunity," Sather said.
The Jazz Orchestra tour lasted from April 11 through April 14. Their first stop was Storm Lake High School in Storm Lake, Iowa, followed by appearances at Roosevelt High School in Sioux Falls, South Dakota and Waconia High School in Waconia, Minnesota. The tour ended on April 14 with three performances: two church service performances at the Lord of Life Lutheran Church in Maple Grove, Minnesota and an afternoon concert at Pilgrim Lutheran Church in St. Paul, Minnesota.
Co-lead trumpet player Jimmy Corpus ('19) thought that the tour made a positive influence on the group's cohesiveness.
"Over the tour weekend, the camaraderie and the closeness of the group really improved, and that definitely contributed to being tighter and more in sync during our concerts," Corpus said.
The ensemble gave clinics at each high school, overseen by Guzman and Tour Coordinator and Adjunct Faculty in Music Jon Ailabouni ('10). During this time, local students worked with Jazz Orchestra members to improve their technique, musicality, and share their talents. Each night, the Jazz Orchestra performed their show after an opening performance by the local high school jazz ensembles.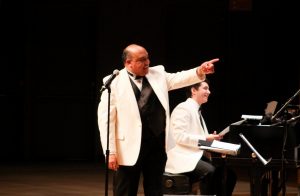 "[The clinics] were a lot of fun," tenor saxophonist David Blackstad ('19) said. "Every high school program we went to was at a different level, especially with jazz. It can be a really scary thing for high school students, specifically in improvisation, because it's a very vulnerable thing to do, if you're soloing by yourself and your peers can hear you. It takes a lot of time to hone and develop those skills. For them to learn, they need to have the tangible experience of sitting next to someone who's improvising and getting some direct feedback."
Their homecoming concert included a number of traditional pieces as well as more contemporary works. It also featured an original composition by alto saxophonist Peter Mathistad ('19), entitled "Baby Cactus." The performance was split into two parts, divided by a 15-minute intermission. Some crowd favorites from the first half included "Cruisin' for a Bluesin'" composed by Andy Weiner, "Nothin' Ever Happens to Me" by Neal B. Finn, and "Mozart Symphony No. 40 in G minor" arranged and adapted by Gordon Goodwin.
"I thought that the group did a really good job," attendee Nate Sikkink ('22) said. "I think it can be difficult for a smaller instrument ensemble to play in the CFL, because sound has a tendency to be lost or muddled somewhat in the space, but everything came through very clear, and the improvisational work was phenomenal." 
After the intermission, the orchestra continued with several notable works, including "Black Orpheus" by Luiz Bonfa and "It's All Right with Me," a collaborative piece by Cole Porter and Gordon Goodwin. The evening closed with Mathistad's "Baby Cactus," performed for the first time on Luther's campus.
"It was really exciting to hear Peter's original composition," Ailabouni said. "I think my favorite thing about it is that it has a strong musical personality; it's not afraid to make a statement. It's tuneful, memorable, and groovy. I think a lot of student composers and arrangers tend to write for complexity's sake, and Peter's piece has nuance, and subtlety, and complexity, a lot of it, but that's not the main idea that you hear. What you hear is something that's fun, that's danceable, that's a jam."
The Jazz Orchestra will perform their final showcase concert on May 25 at 1 p.m. in the CFL.