Orchesis: Sixteen dancers showcase their talent and sisterhood.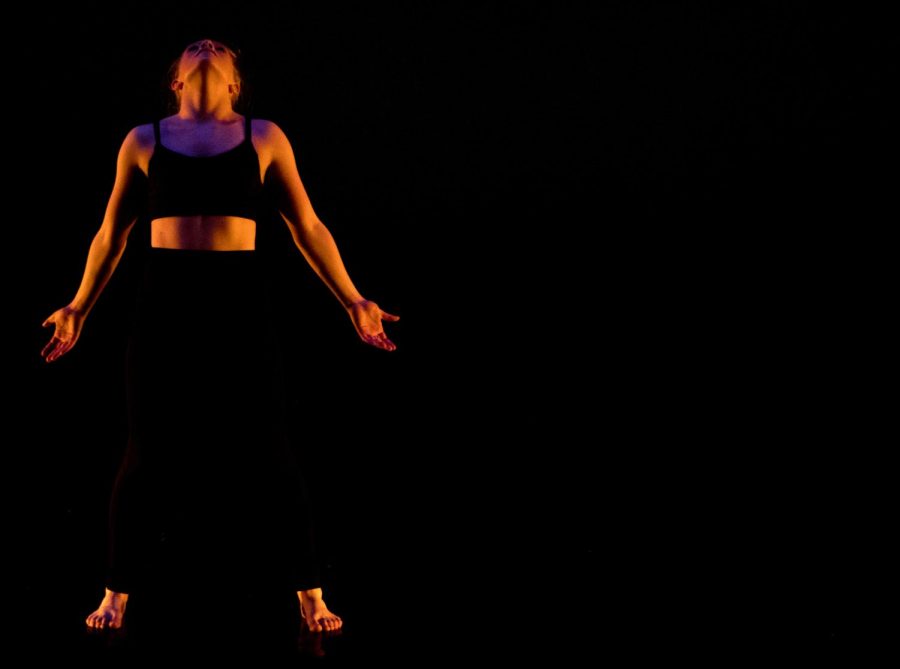 Sophie Nall, Staff Writer
May 1, 2019
Luther's co-curricular dance group, Orchesis, performed their end-of-year showcase in Jewel Theatre on Saturday, April 27 and Sunday, April 28.
The group performed a variety of student-choreographed pieces, including nine group numbers alongside solo and small group performances. The showcase also featured a group piece by guest choreographer and Luther alum Chris Johnson ('87) titled "Boxed."
The nearly two-hour event showcased the group's work from the past two semesters, featuring 24 dance pieces. This was the first time that Orchesis was allowed to perform in Jewel Theatre after becoming a co-curricular group in 2018.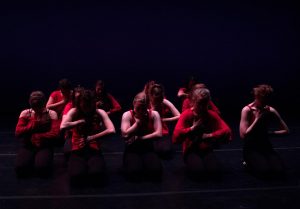 This was also the first time that the Orchesis showcase has featured a guest artist. Johnson was the first dance major at Luther and has since been internationally recognized for her choreography and work in the field of dance, where she draws attention to matters of social justice. She worked with the group in the week preceding the performance to teach the seven-minute piece.
"Throughout the whole [piece] we are working with this box," Orchesis co-facilitator Avery Pazour ('21) said. "[We examined] what you put in it, whether it be stress or [other things] you put in your box. Sometimes we throw it away, but it's always here."
The showcase began with all members of the team filing on stage and sitting to face a large projection screen, which played a promotional video introducing each Orchesis member in an upbeat montage. The video highlighted the friendship and love among the team members, showing goofy photos from throughout the school year, such as trips to coffee shops and group walks to Whippy Dip.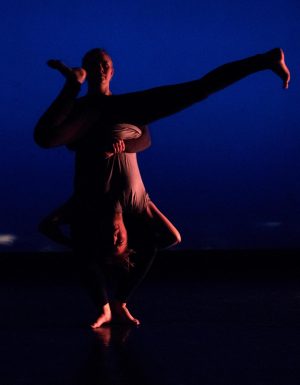 Orchesis co-facilitator Grace Larsen ('19) is responsible for organizing these team bonding activities, as well as planning practices, finding performance opportunities, and communicating those decisions to the group.
"This year we have 16 members on our team, so I try to keep up with each one individually," Larsen said. "[I make] sure that everyone is doing okay in classes and that Orchesis is not too overwhelming for them, and that [the group] is a good, safe place to be."
Orchesis consists of four seniors, eight sophomores, and four first-years. According to Larsen, the seniors on the team act as role models to the others, and the age differences do not keep the team from working together at a rigorous level.
"This year, we've worked really hard at a fast pace," Larsen said. "We set up the schedule at the beginning of the year and right off the bat we had first-years willing to choreograph. I don't think we've ever had first-year [students] ready right away like that."
The choreography presented at the showcase crossed many dance styles and themes. Elizabeth Hand ('21) choreographed a lively jazz group piece titled "Kitty Wiggle Stomp," which she described in her choreographer's notes as "sass in seven." Haley Steffen's solo piece, "To Dance," was choreographed not to music, but to spoken-word descriptions of dance that she identified with. Zoey Brokaw ('22) also choreographed a solo number called "Dawn," which was inspired by a childhood fear that monkeys were living under her bed.
"I really wanted to portray a story rather than rely on words," Brokaw said. "[When I was young] I would have nightmares [about these monkeys.] And likewise now I tend to always have the worst thoughts before I go to bed, but with dawn always comes peace, and all those thoughts, or all those monkeys go away."
Many of the choreographers expressed in their program notes their love and gratitude for their fellow team members, affectionately calling each other "orcas." The team's close bond was referenced many times throughout the showcase. Brokaw reflected on her first year participating in Orchesis and what the group has meant to her.
"Orchesis really creates a community between us," Brokaw said. "[We all feel] very close, like sisters. To be able to create with such talented dancers on a high [level of] emotional intensity is really special to me because I never really had that in [my dancing experience]. To dance with such silly and fun and talented dancers is just really cool."