Norse of the Week: John Colucci III ('22)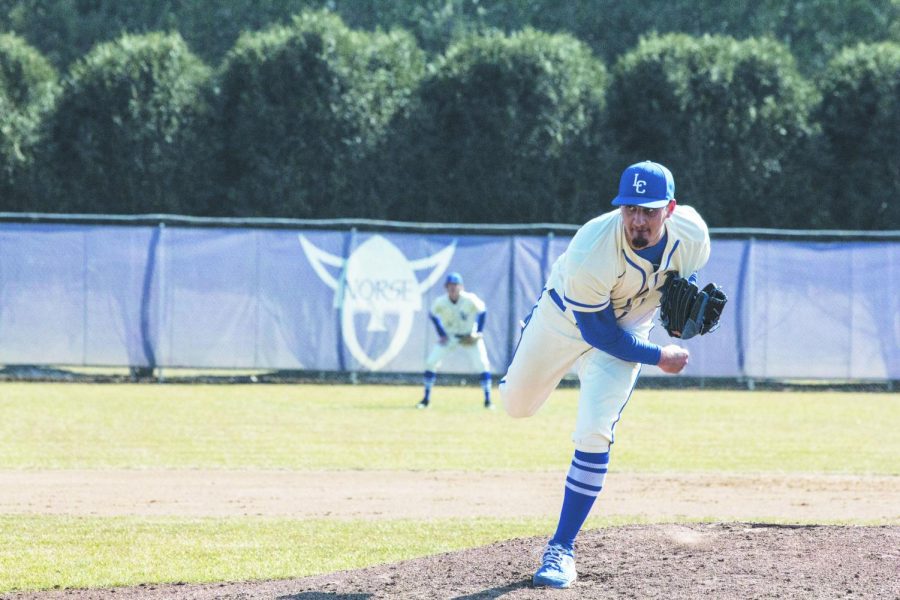 Hope Gilbertson, Staff Writer
May 1, 2019
Pitcher John Colucci III ('22) earned the title of the A-R-C Male Athlete of the Week on April 8 for his performance on the Luther Men's Baseball Team. In his most recent game pitching on April 23, Colucci was credited with the win, throwing for seven innings, where he allowed two runs on six hits, walked one, and struck out four.
When and why did you start playing baseball?
I started playing baseball in preschool or kindergarten. It was a sport that I fell in love with right away. I would play with my dad; [he] and I just had a connection with the sport. That helped me get in love with the sport and it [has] continued throughout my career.
Who is an athlete you look up to?
Anthony Rizzo on the Chicago Cubs. He helps out the community as best as possible. He helps out with cancer, [as] he had cancer growing up. There was a [seven-year-old] kid in my town that loved the game of baseball [and] passed away two years ago [due to] cancer. What [Rizzo] does inspires me, and I try my best to help out as best as possible back home.
Where is your favorite place you have played baseball?
The USA Stadium in Memphis, Tennessee. I went there with my high school [during] my sophomore and senior year. It has a lot of memory to it with a lot of big-name people playing on that field. It was a great time to spend with my high school teammates. It was an awesome place to play.
What is your favorite sports brand?
Probably Wilson, that's [the brand of] my baseball glove that I have had growing up. They have cool designs that you can do with the gloves.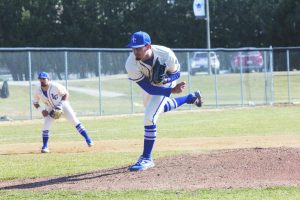 Why did you choose to come to Luther?
[Head Baseball] Coach [Bryan] Nikkel had contacted me and told me to come and tour the campus. I came here and really fell in love with the campus. Then I came at an overnight visit and met all of the baseball players and it just seemed like the perfect fit for me to be at home here with a bunch of guys that I knew cared about me, and it would just be a good atmosphere.
How do you mentally and physically prepare to step up to the mound?
[When] I get to the field, [I] keep my headphones in for a bit just to listen to my music. Then about an hour before the game time starts, I go out there and play catch with my catcher; I try to stay involved with my teammates and talk to them. [I also] like to have a little time to myself, [and] about a half hour before the game I will say a quick prayer. Then I get out to the mound and do my thing and hopefully everything works.
You were named the A-R-C Male Athlete of the Week. What does that mean to you?
It is just a stepping stone. I'm not really big into accomplishments for myself, it's more about the team and whatever I can do to help the team. Given that opportunity to go out and start against our conference rivals, Wartburg [on April 2], was just a very exciting moment to go out and pitch. The accomplishment of winning that award is amazing, and I am just happy that I could share that moment with my teammates.
What are some personal and team goals for the rest of the season?
[My] personal goals are to go out and compete as much as possible. Whenever given the opportunity to compete, [I do so] to the best of my ability and try not to give up any runs. I know it is going to happen, but [I] try my best to limit that. As a team, hopefully [we] win the A-R-C conference [title] and then make a deep push in the playoffs and hopefully get to the DIII College World Series.
What are you looking forward to during your time here at Luther and with the team?
The bond with all of the guys. I have become really close with the seniors this year, [but] I have started to really have a brotherhood with the [first-years and sophomores] too. [I hope] to just build that in my four-year span. As the [first-years] come in next year, just try to make a good bond with them too. Hopefully try to win the A-R-C every year that I am here.