The Luther Ringers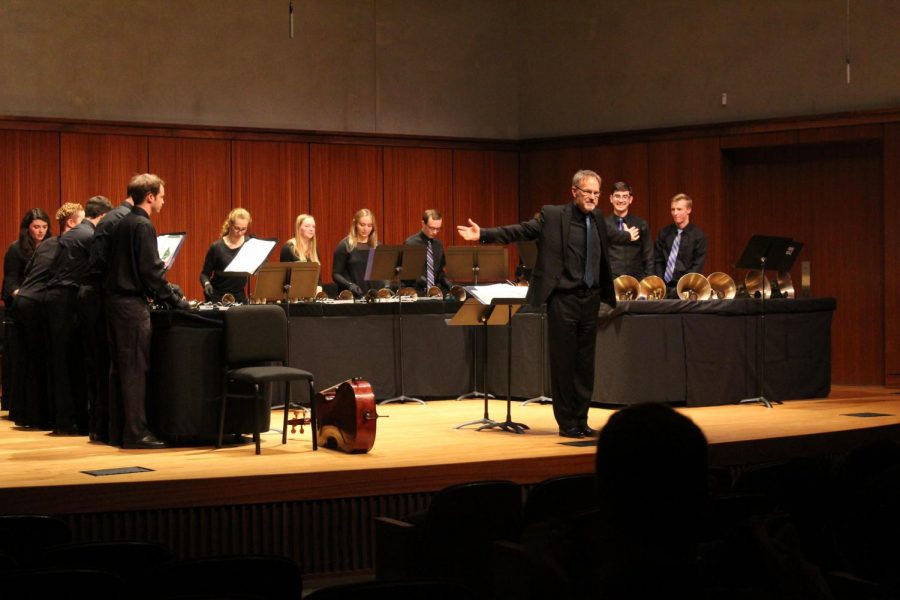 Ursula Damtse and Elyse Grothaus
May 9, 2019
The handbell ensemble presented their annual spring concert on Friday, May 3.
The Luther Ringers, a handbell ensemble that Professor of Music and College Organist Gregory Peterson ('83) founded in 2008, brought an audience of students, faculty, and members of the Decorah community to the Noble Recital Hall for their annual spring concert on Friday, May 3 at 6:30 p.m.
The theme for this year's spring concert was "seasons." The ensemble played a variety of songs that reflected this. Luther Ringers were the only ensemble featured in this concert for the first time because in the past, they shared their spring performance with Cantorei. This allowed them to perform a greater variety of songs within their theme.
After a processional into the NRH to the piece "Processsional in C" by Sandra Eithun, the concert started with an arrangement of Antonio Vivaldi's "Four Seasons."
"Our theme considers the various ways in which time is marked — seasons of the year, seasons of the Church Year, and the seasons of our lives," the program notes stated.
To celebrate the Christmas season, for example, the Ringers performed their Christmas at Luther medley again, "Christmas Eve (Sarajevo 12/24)" by Paul O'Neill and Robert Kinke and arranged by Hart Morris, which received thunderous applause from the audience. Other pieces from the concert ranged from "Exulate" by Jason W. Krug to "Yesterday" by John Lennon and Paul McCartney and arranged by Karen Roth.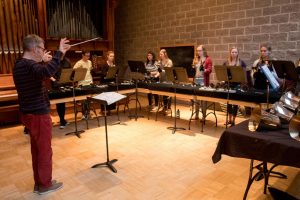 According to Peterson, all the equipment and instruments used in the performance were a donation from Blanchard Kangas, a friend of the late Professor Weston Noble. 
With the help of Noble, the ensemble connected with Kangas who had a handbell business in Spokesman, Washington. She then decided to donate everything she owned to the ensemble when she retired.
"We were doing a little bit of ad hoc work with borrowed handbells and it was clear that there was interest in having a handbell ensemble in Luther," Peterson said. 
This donation allowed Peterson to start a fully functioning hand bell choir in response to student interest in 2008. The Luther Ringers now perform on a six-octave set of Schulmerich Bells and a six octave set of Malmark chimes.
Apart from their annual spring concert, the group also performs at other events both on and off campus, including at Christmas at Luther, the Palm Sunday service, and the Reformation Sunday service. The group also goes on run-off tours — they have played in La Crescent, Minnesota; Spring Grove, Minnesota; Madison, Wisconsin; and Rochester, Minnesota in the past. 
Luther Ringers' rehearsals take place once per week on Wednesday afternoons for an hour and a half. Ringers are expected to have prior experience in handbell music and have a good sense of rhythm.
The 13 ensemble members cover the six octaves of bells and chimes. While each member is responsible for many bells at a time, players will often share bells. In more complex pieces, this can mean passing bells back and forth or even transferring a bell that is still ringing.
"All the notes are together so you have to pick out the notes that you are going to ring, so some music reading ability is important," Peterson said. 
According to Emily Riley ('20), because the ensemble is so small and requires a great deal of teamwork, every year with new members takes adjustment.
"Each year when we get new people, the dynamic changes," Riley said. "Getting used to what it is going to sound like with a whole new group is a bit nerve-wracking, but once it merges together, it's just amazing."
Lydia Juma ('21) was entertained by Luther Ringers' spring performance on May 3, and she was particularly impressed with the coherence of the ensemble.
"I thought that it was a really good show," Juma said. "I was shocked at how good the different sized bells sounded together. At one point, it sounded like there was only one big bell being rung."
Peterson recognized the graduating seniors at the concert. Three of these seniors — Alex Sekora ('19), Jonathan Baccam ('19), and Landon McNamer ('19) — have participated in this ensemble for all four of their years at Luther.
McNamer has been playing handbell since his freshman year of high school and attended Luther primarily because of this ensemble. He is thankful for his experience with the music and people in the Luther Ringers.
"My biggest takeaway from Luther Ringers is to stay passionate about what you are passionate about," McNamer said. "Even if there aren't that many people who have the same passion, don't lose that. Even though I'm leaving Luther Ringers and I won't necessarily have an ensemble to play with, I will still keep that passion."