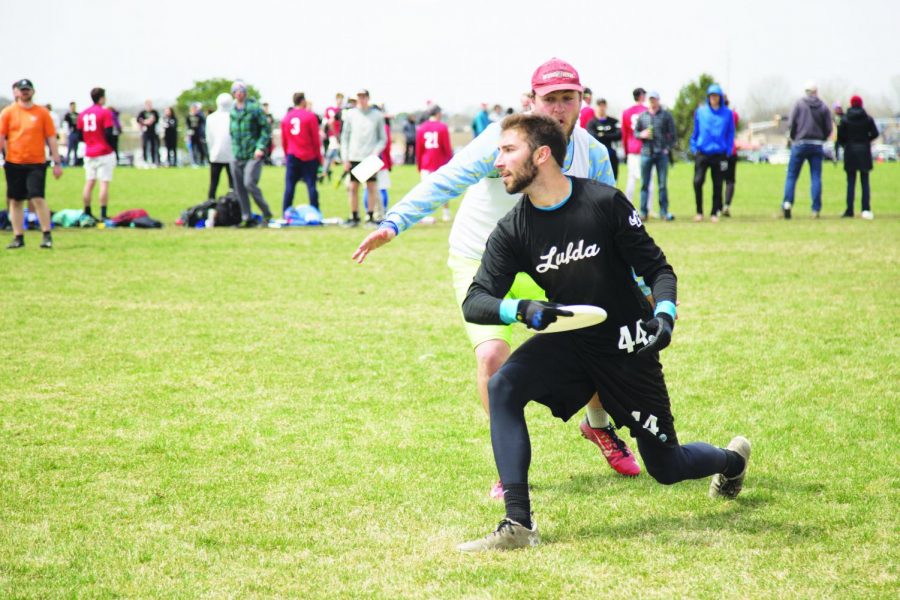 Tania Proksch ('19) | Photo Bureau
Luther Ultimate Flying Disc Association earned a bid to the DIII USA Ultimate College Championships, which will occur on May 18 and 19 in College Station, Texas. This will be the first time since 2013 that the team will compete at the national level. Sixteen DIII teams will play for the national title at the championships. LUFDA will play approximately eight games over the two days.
There were only three bids available from this year's DIII North Central Regional tournament in Blaine, Minnesota, and Luther entered the tournament as the 4th seed.
At regionals, LUFDA lost the first game 10-14 to Michigan Technological University, which has the No. 1 seed in the region. LUFDA came back to win the next two games 13-7 and 15-7 against St. Olaf College and Macalester College, respectively. Another loss against Michigan Tech in the final round placed LUFDA third in the tournament, securing them a spot to nationals.
According to captain Kaelib TeeGarden ('19), the team has been preparing all season for this.
"The team made it to nationals because our guys have worked their tails off five days a week since September and trusted our systems," TeeGarden said. "Our defense this season has been stifling. Every team that comes against us has difficulty retaining possession. That's a testament to the work our guys have put in on the practice field this year, to learn our systems and fine-tune individual mechanics."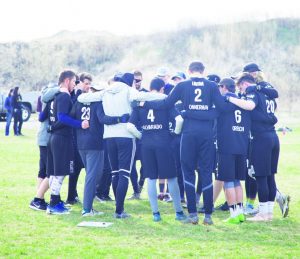 This was the fifth time LUFDA has earned a national bid. Created in 2003 by Dave Curtis ('04) LUFDA is now a nationally recognized ultimate frisbee team. Their first appearance at the national tournament was in 2009.
Captain at the time and current LUFDA board member, Greg Shirbroun ('10) competed on the first team LUFDA brought to the College Championships.
"We set a goal at the beginning of the season that year," Shirbroun said. "We had never been to nationals before, so we talked really in depth about what that would mean for the program if we made it to nationals. We had serious conversations about what that process would even look like and if it was worth the sacrifices that would have to be made. To see all that hard work we put into it come to where we actually made nationals and have it pay it off was just really exciting."
Though the members on the team have changed over the years, they still stand by the same foundation. LUFDA believes in the three Fs: frisbee, fun, and fellowship.
While frisbee may have been what originally connected players, they are sure to find time to connect outside of practice.
Joel Alvarado Morales ('21) enjoys the opportunities for team bonding.
"[Over] spring break, we went to Tybee Island, Georgia," Alvarado said. "We were all just hanging out on the beach and having a good time, not worrying about frisbee, [and] just hanging out with each other. That's what we really wanted to do: get to know each other off the field."
Like Alvarado Morales, one of Shirbroun's favorite memories with LUFDA came from off the field.
"We practiced four to five times a week and spent a lot of time together as a team," Shirbroun said. "But it was the time after practice, where you are tired and you are going to the Caf with each other and just talking about life on campus, that's a really good experience, having a team to go to."
One difficulty the team faces is the challenges that come with not being a school sponsored sport, which means they do not get funding from the college.
But according to TeeGarden, funding is not the main issue.
"The most difficult thing about not being a school sponsored sport is that we are constantly having to fight for things that should be non-issues," TeeGarden said. "From having to have a chaperone on trips, to not being allowed to fly to tournaments, to limitations on how many hours we can drive in a day, nothing is made simple for us when trying to get out to actually play our games."
While these limitations may have made traveling and competing difficult, the team still earned a bid to the national tournament.
Chad Messerich ('21) is looking forward to nationals and has optimistic goals.
"[Our goal is to] play our best game every time at nationals," Messerich said. "Just go out there with the goal to win, and whatever happens, happens."
Shirbroun understands the challenges that come with making it to nationals and offered the team some advice.
"This is a tough time because you have made nationals," Shirbroun said. "You are super excited to make nationals, but if you want to actually win it or come as close as possible to winning it, you have to mentally prepare for the fact that you are playing the best teams in the nation. Keep working hard through the finish line [and] finish strong."