Track and Field duels Wartburg in dual meet
On Thursday, May 2, the Luther Men's and Women's Track and Field Teams hosted a dual meet against Wartburg College. The location of the meet alternates between Luther and Wartburg each year, and this year's competition, Luther hosted. The Wartburg Men's Team won 125-62 and the Wartburg Women's Team won 133-55.
The Luther-Wartburg rivalry has long fueled competitive spirit in various athletic spheres on Luther's campus, and this meet was no exception.
Track and field captain, thrower, and sprint-distance runner Aubrey Highum ('20) said that the one-on-one nature of a track and field dual is something special.
"It's really cool to be able to compete in a small setting because [athletes get to experience] more of a camaraderie than a rivalry," Highum said. "It's really fun to be able to welcome [Wartburg athletes] to our home, get to know them a little bit, and see them compete."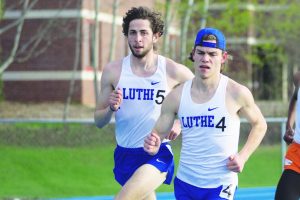 Head Men's and Women's Track and Field Coach Stephen Fleagle also said that camaraderie is more commonplace during the meet than one might imagine. According to Fleagle, both teams demonstrated excellent sportsmanship.
"I think that when you actually see the two teams together and you're watching them at the meet you'll realize that a lot of the athletes were encouraging and cheering on the other team," Fleagle said. "It almost seemed like a friendly rivalry."
Track and field captain and distance runner Kyle Gilberg ('19) thought that the meet went very well, despite the fact that Wartburg claimed more victories.
"Everybody was excited and ready to compete at their best that day," Gilberg said. "The dual [with Wartburg] was our last meet before our conference championships, and I think it got us excited and thinking ahead to what we can accomplish at conference."
Though the meet was competitive, the dual was also somewhat relaxed, as athletes gear up for higher pressure events at the American Rivers Conference meet on Friday, May 10 and Saturday, May 11.
"It's the week before conference, and we want everyone to have opportunities [to compete well]," Fleagle said. "We are not trying to rush people or put unnecessary pressure on them."
Several athletes achieved personal bests at the meet. Gilberg snuck under four minutes in the 1500 meters, running 3:59.83 and placing third. Tom Altier ('22) and Dan Iselin ('21) earned the second and seventh spots on Luther's top-10 all-time list in the 3200 meters running 9:20.38 and 9:24.68, respectively.
Anna Restemayer ('19) placed second in the 1500 meters running 4:45.61 and Katie Fetting ('22) placed second in the 3000 meters running 10:52.31. Sarah Holtz ('20) also placed second jumping 5-0 ¼ in the high jump, and the 4×100 team of Isabella Audetat ('22), Marikka Coltvet ('22), Rylea Ranum ('22), Jessica Junker ('21) placed second running 0:52.74.
Highum was proud of how everyone performed, the high level of respect shown by Luther athletes, and the great number of personal records attained by her teammates.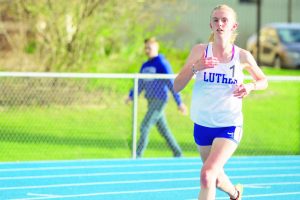 "There were a lot of [personal records] at the meet, which was good because it means that [the Wartburg athletes] pushed us to do our best," Highum said. "They are good competition."
According to thrower Stone Grell ('22), the dual helped set the tone for the future of Norse Track and Field.
"[Luther's performance at the meet] shows that the future [of the team] is really bright," Grell said. "As a team, we are very small number-wise, and we can still compete with large teams, so with how the recruiting is going I know that in the next few years we will be [a] force to be reckoned with."