T-Pain performs at Luther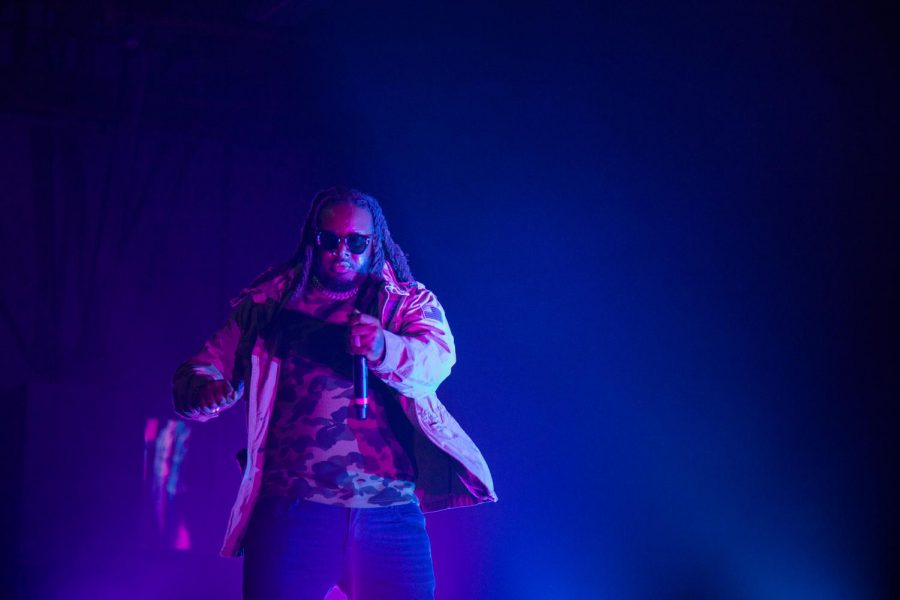 Aidan O'Driscoll, Staff Writer
May 9, 2019
Two minutes into his set, T-Pain sang his 2011 single "Booty Wurk (One Cheek at a Time)." Projected on the wall behind him were images of dancers twerking in a monochromatic filter. T-Pain — the "Ringleader Man" himself — bobbed his head, dreadlocks swinging. As the chorus hit, he swayed back and forth and the cargo overcoat covering his camouflage shirt flapped against his sides. He sang: "Now let me see that booty work, booty work, booty boo-boo-booty work." Whether he knew it or not, T-Pain had just set a new precedent for Luther College concerts; one that allowed for untouched, explicit, and artistically true music and that dispelled of the slightly anachronistic notion of musical censorship. The crowd sang along: "Go ahead… Go ahead…"
Prior to the concert, Student Activities Council Concerts Committee Co-Chair Annie Goodroad ('19) reflected on the process of getting T-Pain to come to Luther and her expectations for the show. The SAC committee had sent out a poll so the student body could vote on who they would most like to see.
"[T-Pain] won the polling by like a lot," Goodroad said. "Then it just came down to, 'Ok, how are we actually going to get him here,' because still, all of this seemed like such a fantasy."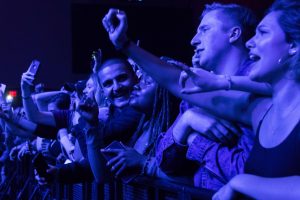 After some back-and-forth discussion with a middle-agent, the two parties reached a consensus. T-Pain would perform at Luther on Friday, May 3.
"I think I am just most excited to see everyone on campus coming to a space together and having a really good time," Goodroad said.
T-Pain, for all his notoriety, is an artist whose career trajectory has arguably played out in reverse. Bursting onto the scene in 2005 with his album "Rappa Ternt Sanga," which featured hit singles such as "I'm Sprung" and "I'm N Luv (Wit a Stripper)," he has since faded somewhat into musical obscurity. His major awards all came in the years 2008, 2009, and 2010, when he was nominated for multiple Grammys, BET Awards, and BMI Urban Awards. He won two Grammys: Best Rap Song in 2008 for "Good Life" with Kanye West and Best R&B Performance by a Duo or Group with Vocals in 2010 for "Blame It" with Jamie Foxx.
The past decade has seen T-Pain featured on a number of memorable songs, but he failed to produce any notable works of his own. His most recent albums "Oblivion," released in 2017; "Everything Must Go Vol. 1" and "Everything Must Go Vol. 2," released in 2018; and "1UP," released in 2019; showcase the same crooning, autotune-using T-Pain his listeners have become accustomed to, but the albums have been met with modest reviews. Reed Jackson, writing for Pitchfork, says of "1UP," "Rather than giving his vocals a go minus filters or switching the production to lean into the acoustic nature of his viral performances, T-Pain instead relies on a tired formula."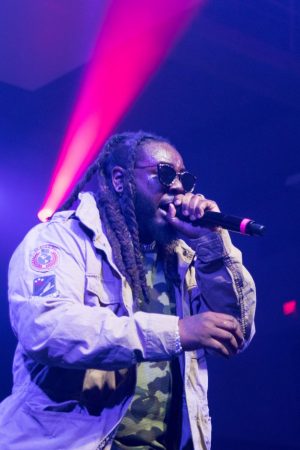 However, there is no doubting that T-Pain has left an imprint on the industry. Additionally, the reverberations of his pioneering autotune style — that now "tired formula" — has had influence on countless artists after him. It is for this reason that T-Pain still retains some of the admiration he garnered so early in his career. It is also for this reason that, on Friday, May 3, around 1,300 people filed into the Regents Center to get a glimpse of T-Pain and his music — music, strangely, at once timeless and outmoded.
For Erin Jennings ('19), T-Pain's songs meant the resurgence of old memories and a sense of nostalgia.
"I enjoyed 'Buy U A Drank (Shawty Snappin),'" Jennings said. "It threw me back to my middle school dances. It really got the crowd going with those throwbacks."
The same can be said for Max Pardo ('22). Just before the show began, he recalled when he frequently listened to T-Pain years ago.
"Before every sixth grade traveling basketball game I listened to '5 O'Clock,'" Pardo said. "I'm so excited for T-Pain. I've been listening to this man since sixth grade."
T-Pain's concert relied heavily on his older songs, those from his more successful musical endeavors in the late aughts. But he also played songs from his new album "1UP" including "Getcha Roll On" and paid homage to other artists, including the recently deceased Los Angeles rapper Nipsey Hussle. As he sang and danced on stage, visuals flashed behind him on a projector, new clips appearing for every song. His dancing was sometimes herky-jerky, other times languid and smooth, and at other times downright explicit — just as his music is — filled with a raunchy promiscuity. He ended his set with a bit of good-natured indecency. "Suck a butt," he said. And walked off.
Goodroad hopes the uncensored nature of concerts will continue into the future.
"Based on the excitement of T-Pain's show, I would hope that administration would recognize the importance of bringing all artists to campus based on talent rather than explicit content," Goodroad said.