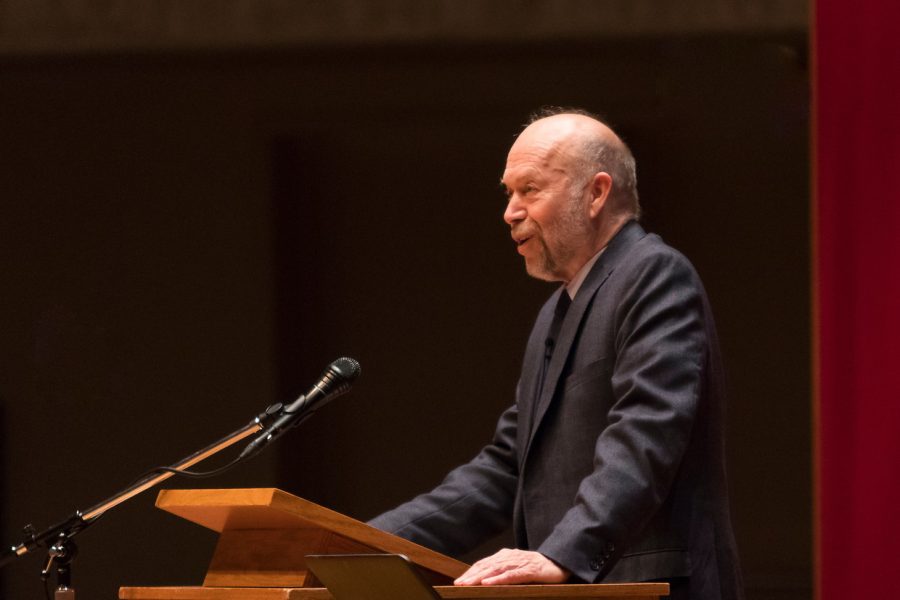 Emily Turner ('19) I Photo Bureau
Professor of climate science at Columbia University James Hansen gave the David J. Roslien Distinguished Lecture titled "Shape Your Future: Energy, Climate, and Human Rights" on May 1.
Hansen received multiple degrees that were all from the University of Iowa: a bachelor's degree in physics and mathematics, a master of science in astronomy, and a Ph.D. in physics. He is renowned for his public testimony before Congress in 1988 where he and other experts became the first to testify about the fact that climate change was a crisis that demanded immediate attention. Years later, many groups including Yale University and the WorldWatch Institute consider his testimony to have been heroic and prescient.
He currently serves as an adjunct professor and Director of the Climate Science, Awareness, and Solutions Program at Columbia University's Earth Institute. He also worked as Director of the NASA Goddard Institute for Space Studies in New York City as a part of the Goddard Space Flight Center for 32 years before retiring in 2013. His book "Storms of My Grandchildren," is a Q&A-style book that discusses how climate change will devastate future generations.
"We need a party of the people, by the people, and for the people, and a third party can have a major impact if it is founded on principles of climate activism that young people can help define ."
-Professor of Climate Science at Columbia University James Hansen
Member of Luther's Board of Regents and friend Mike T. Osterholm ('75) introduced Hansen before the lecture. Hansen was then awarded an honoris causa Doctorate of Humane Letters by President Paula J. Carlson.
Hansen began his talk by directly addressing the young people in the room.
"You must be tired from hearing about climate change," Hansen said. "You understand that old people burned fossil fuels for a better life, and changed the composition of the air. Climate responds with a delay, because of the inertia of the massive change in composition. So, the crap will hit the fan during your life. And to top it off, adults are not solving the problem. Instead, they reduce taxes, borrow money, and leave the debt for you. You better figure this out, and shape your own future."
A common theme throughout Hansen's talk was that climate change was caused by older generations, yet younger generations must pay the price and fix the issue. Hansen discussed how climate change was brought about through the use of fossil fuels and why, exactly, the problem will not fix itself.
Hansen offered several tools for addressing the issue of climate change, including discussions about nuclear energy, policy changes, and even the formation of a new political party.
Lecture attendee Collin Kern ('20) noted that Hansen's focus was not just on the problem, but on potential solutions.
"I thought it was an informative, interesting, and provocative talk, especially when addressing nuclear energy," Kern said. "I appreciated him diving into nuclear energy, because I think that subject is often overlooked. I also thought his addressing of political action to take was very valuable."
Hansen proposed the idea that younger generations should add a new political party that focuses primarily on climate activism. He believes that neither Republicans nor Democrats have good policies to address climate change. Both parties support environmentally unsustainable economic policies.
"My suggestion is that immediately after the 2020 election, young people work assiduously on forming a third political party," Hansen said. "We need a party of the people, by the people, and for the people, and a third party can have a major impact if it is founded on principles of climate activism that young people can help define. There are lots of ideas, but the bottom line is that we need a third party. We need to make America America again."
After the lecture, Hansen took questions from the audience for half an hour. These included questions about geopolitical solutions, technical topics surrounding proper irrigation of farmland, and how social justice issues relate to climate change. During the Q&A period, Hansen told the audience that he was not in support of the Green New Deal, a current plan supported by several members of Congress designed to combat both social justice and environmental policy concerns, as he found that mixing social justice and climate change issues was often unproductive.
"[My proposed solutions] would actually help improve social justice through redistribution of wealth," Hansen said. "However, somewhere along the line the environmental community decided that they didn't have enough people, and so they hooked up with social activists, and the relationship has been unfortunately unproductive. This is the problem that we have, that social activists are trying to take the climate issue and make it into a Green New Deal, which is a social program wrapped in green wrapping, and unfortunately is not what we need and will just keep us divided."
During the lecture, Hansen often spoke about how the time for taking action is now, and that does not just relegate itself to easy and simple solutions, but bold and unparalleled solutions.
Nate Matthews ('19) appreciated Hansen's focus on strong action.
"His idea of [a] third party I thought was somewhat unrealistic, but I liked that he was open to working through existing legal channels to create legislation," Matthews said. "I felt like he understood the need for extreme action. His proposals weren't just relegated to talking about what was realistic or what we could accomplish short term, but what was needed to actually solve the problem."