Luther's top ensembles to present showcase concerts
As the semester draws to a close, Luther's music department is preparing for their annual spring showcase concerts in honor of the 2019 graduating class and the ensembles' hard work over the year. The first showcase will take place in the Center for Faith and Life Main Hall on May 24 at 7:30 p.m., featuring Nordic Choir and Symphony Orchestra. The second showcase concert will be held on May 25 at 1:30 p.m., featuring Concert Band and Jazz Orchestra. 
According to Professor of Music and director of the jazz program Tony Guzman ('90), the Spring Showcases remind audience members that a community cannot exist without music. He said that Luther's group of musicians perform the best music they can because of this sense of community among the various ensemble members.
"With musicians across cultures, you find that they are always the artisans of sounds and songs, but also they are the people who shape the emotional component of a culture," Guzman said.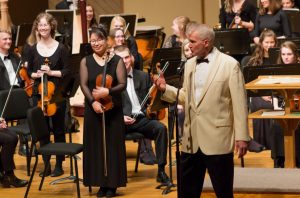 Due to these ensembles touring during spring semester, they had limited time to prepare for performances and therefore rehearsed intensely after touring. Lauren Sather ('19) has been a member of Nordic Choir for three years and Jazz Orchestra for four years. In her experience, the preparation for these concerts has always involved months of rehearsals.
"For Nordic, we are singing five songs," Sather said. "We've been working on those for the last few months."
Conductors also go through intense preparation for the show. Guzman, who is the director of the jazz program, said that preparing for these shows requires intellectual rigor to master new repertoire.
"We learn something new and special in most cases," Guzman said. "Everything we do is intense and dedicated, and it takes concentration when it comes to performance."
But beyond all this, participants described these to be bittersweet concerts. Guzman has grown emotionally attached to his students over the years.
"It's sweet that we get to see our seniors graduating from Luther," Guzman said. "But it's a little bit bitter and kind of sad because it's the last time they will perform with us or the last time we will see this senior in the context of the college program."
Showcase concerts are more than just a show for parents and visitors in town for commencement week. This is because these are their last performances at Luther for graduating seniors. Elliot Douma ('19) is a current member of Symphony Orchestra, Concert Band, and Collegiate Chorale. He has also participated in Nordic Choir and Jazz Orchestra during his time at Luther.
"Knowing that these will be my final performances with Luther College particularly as a music education major, I think that's a really big deal," Douma said.
Sather said that first-year students and students who have yet to join campus ensembles should fully invest themselves mentally and emotionally in order to have a fruitful experience.
"Prepare to have the best experience you'll have during your four years," Sather said.