What Would Love Do?
Luther's visual and performing arts department put on its spring dance production titled "What Would Love Do?" from Thursday, May 9 through Saturday, May 11 in Jewel Theatre. Each performance took place at 7:30 p.m., along with a matinee show on Saturday at 1:30 p.m. The performance lasted approximately 70 minutes, during which time the dances examined the ideas of writer and philosopher Alain de Botton using music, a painting, a podcast, a dog, and people.
The production was built around the question, "What would love do?" and featured 27 cast members. Professor of Dance and director of the performance Jane Hawley ('87) developed this theme following the events of the 2016 presidential election.
"I was really distraught, shocked, all of the feelings I had: the disbelief, anger, and hate," Hawley said. "These feelings are not those I would want to act on, so I replaced those feelings with the question, 'What would love do?', and decided to use that to fuel my actions rather than all of the negative emotions I'd first been filled with. And then I thought it would be kind of fun to ask my students the same question, and around this time I heard a podcast called 'On Being' with Krista Tippett."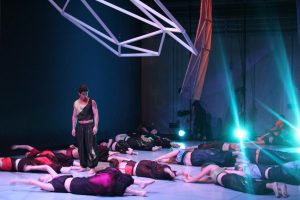 The particular episode that inspired Hawley, titled "The True Hard Work of Love and Relationships," featured an author named Alain de Botton. His article, "Why You Will Marry the Wrong Person," was the most read publication in "The New York Times" in 2016. Through research, Hawley decided that the messages and thoughts contained within his works were reflective of how many people experience love, so she decided to incorporate a section of the podcast into the show itself.
To develop the choreography, each performer was asked to interview another   person in the show and ask, "How are you crazy?", a question Botton recommends all couples ask each other on the first date. During rehearsals, partners would then embody one another's "crazy," and while they were watching each other they were required to ask themselves, "What would love do?", and respond with dance. These early movements from rehearsals were at the core of all of the dances.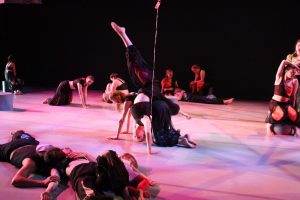 "We as dancers are representing what love means to us," Sakchham Karki ('21) said. "We try to express it as much as possible through our movements and emotions. We reflect back on what love even means, what pieces hit our heart, what pieces inspire us, or what pieces frustrate us, what pieces didn't represent us, and what pieces are a perfect fit. I think the show will give a better insight into what love really is."
The production consisted of 17 segmented dances that were designed with contact improvisation techniques and collaborative choreography, with accompanied musical arrangements by Robert Dean ('22). All of the performances depicted both real and imagined scenarios of love and relationships, as experienced by the performers. 
"I think it gives a lot of new perspectives on what love can mean for yourself and others," Stage Manager Ga-Young Kim ('22) said. "[The interpretations] are all really unique and I catch something new every time I watch the show. I think the fact that this show is so abstract has the potential to divide the audience, but hopefully they will recognize the universal elements present in all of the dances."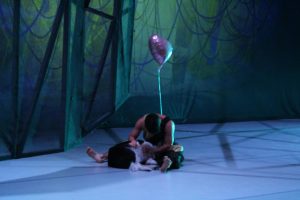 One component of the highly subjective performance that seemed to unite the entire audience was the presence of Hawley's dog, Ruff, the toddler Alvina, and the infant Iona, who were also involved with the program.
"I thought it was absolutely beautiful," attendee Carolyn Wrightsman ('22) said. "I had no idea what to expect and I thought the innocent play of the children and the dog was a nice surprise in addition to the amazing music and choreography."