POTENTIAL ENERGY RATE INCREASE
Alliant Energy hosted an open forum at the Winneshiek Hotel on May 2 to provide consumers with information on the proposed 24% rate increase for those in its jurisdiction, including Luther and Decorah. This forum is part of a 10-month review process before final rates are established.
Alliant Energy announced their intended increase on March 1. This would to go into effect, pending the review process, on January 1, 2020. According to Alliant Energy's electric rate increase proposal, the reason for the increase is to help Alliant Energy make advancements in green energy.
"The company is investing in new wind farms, energy grid technologies including advanced metering infrastructure, and environmental controls that reduce emissions," the proposal said.
Vice President for Finance and Administration Eric Runestad attended the meeting to represent Luther. He said that an increase in price would pose an extra financial burden for Luther and the Decorah community.
"This case in particular is really significant for us and will equate to a 24% increase by the time it is fully implemented," Runestad said. "The net effect for the college is around $250,000 per year which is remarkable, and a lot of money for the college, so it's really important to us that we understand the implications, and important that we insert ourselves into this sort of process to make our concerns about these rates known publicly."
Runestad explained that, for Luther, this increase will mean an additional $125 per student. There will be no change in tuition for students for the 2019-20 year because that value has already been set.
In the future, Runestad said students will likely not be responsible for covering the entire cost increase.
"[The increase in student cost is] not a direct one-to-one," Runestad said. "Our goal would be to insulate our students from that as much as possible. On the other hand, these are exactly the kind of expenses that increase on a yearly basis that require the college to continue to increase tuition because we can't absorb those on our own. We can absorb some, and we have, and we will absorb as much as we can, but if we want to stay open, we have to continue to make sure that we have more revenue than expenses."
While Luther will absorb any increase for the 2019-20 academic year, tuition is likely to increase in the future if Alliant Energy's rate increase is finalized. Students like Levi Bird ('21) are concerned about the potential increase and its impact on tuition costs.
"Hearing about an increase in charges by 24% from Alliant Energy absolutely terrifies me as a student," Bird said. "Coming from a lower-middle class background, I'm responsible for nearly all of my expenses and covering the Luther tuition and fees.  My parents aren't able to help that much in comparison to other families at Luther. I've already lost several friends who had to drop out or transfer because of the outrageous costs of higher education. So, hearing about the possibility of those costs increasing even more than the typical inflation rate makes me fear for students like me who can't afford this education and rely so heavily on aid."
According to Runestad, the proposed increase is much higher than Alliant Energy indicated it would be. As a result, they received a significant amount of backlash from the community during the forum, so the proposed increase is still under review. While Alliant Energy is conducting its review, there are steps that Luther can take to try to prevent the increase.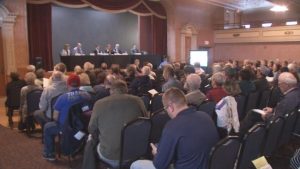 "The way that that works is that you become a formal intervener into the rate case, and so Luther will formally intervene along with a few local community partners to say, 'Hey! We object, and here's why,'" Runestad said. "We will submit some written testimony to the utility board about this. The idea is that we make a written case to them, and they hold some hearings, and then at least some representation from the college and others will make a case in person to them about the negative impact this rate case could have and see what happens."
Stephanie Viayra ('22) believes it is important for people to advocate for themselves in this situation.
"I mean, people are going to protest and they are going to hate it, but if they don't do anything else, I don't think that anything is going to change," Viayra said. "They are going to charge us anyway. I want the people to make a difference."