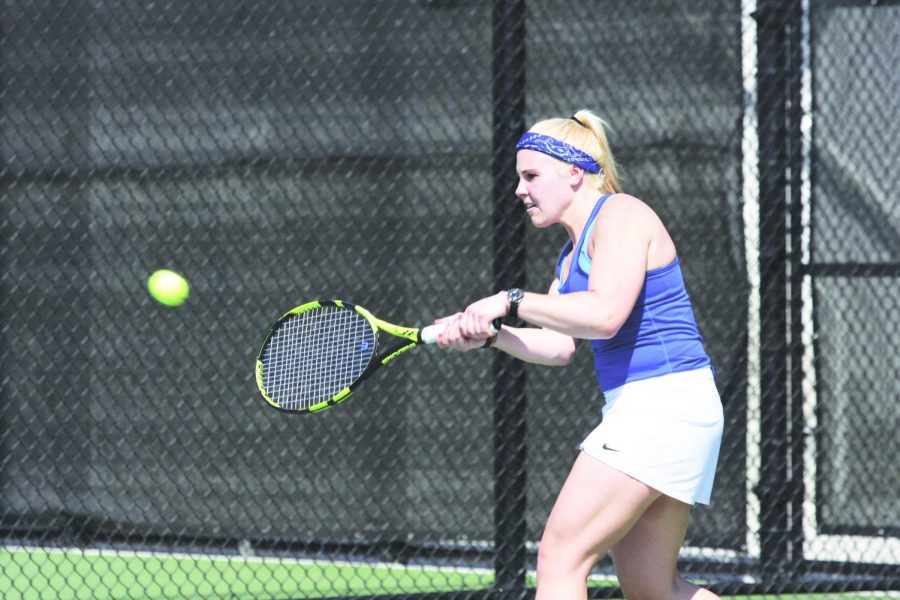 Photo courtesy of Photo Bureau
The Luther Men's and Women's Tennis Teams advanced to the NCAA DIII National Tournament and competed in first-round matches on Friday, May 10. The men competed in Chicago, Illinois, and the women competed in Kalamazoo, Michigan. This was the fourth time in Luther history that both the men's and women's programs went in the same year; the past three times were in 2009, 2010, and 2011. 
Head Men's and Women's Tennis Coach Adam Strand ('04) is proud of how far the program has come and the work that the athletes put into making it to Nationals. 
"The whole program has embraced the journey of all of it," Strand said. "From the preseason practices, to tournaments in the fall, to practices in the winter and now practices outside, and even our spring trip together, they've really embraced the grind. I think that's where this group has been really amazing. They support each other, they work hard, they want to get better, and they've just been growing and making little improvements every day along the way." 
Both the women's and men's teams qualified after winning the American Rivers Conference Automatic Qualifier Tournament on April 28 and May 4, respectively.
Brian Murman ('19) was excited to win the A-R-C AQ Tournament because it meant ending an eight-season streak of Coe College winning the tournament and securing a spot at Nationals. 
"For the past four years, we've been very close and inching closer each time to beating Coe and reaching the national tournament," Murman said. "We lost to Coe in the regular season 5-4, which was a very close match, and we were able to beat them to go. Coe has been our rival for a long time, so it was a big deal that we got to beat them."
The men finished their season after losing 5-0 to Augustana College in Friday's match. The Luther No. 1 doubles team of Nate Parsons ('19) and Cole Schneider ('21) lost 8-3. No. 2 Ryan Ortega ('21) and Murman were defeated 8-4, and No. 3 Grant Morton ('21) and Brook Norwood ('21) lost 8-5. For singles, Schneider lost straight sets 6-4, 6-2 and Morton lost 6-3, 6-3.
Women's tennis player Stephanie Almquist ('21) remarked that she wanted to play to win before the first-round games.
"[We] just [want] to play some good, solid tennis and have some fun," Almquist said.  "I'm hoping to win doubles personally; I'm having a fun streak with doubles."
The women also competed on May 10, losing to Lake Forest College 5-1. For their doubles matches, Britta Pressler ('19) and Shelby Cook ('22) at No. 1 earned a victory of 8-4. No. 2 Kelsey Kruse ('20) and Devon Bourget ('21) lost 8-2 and No. 3 Almquist and Anna Spencer ('21) lost 8-6. In the singles matches, Kruse lost 6-1, 6-1, Bourget lost 6-3, 6-2, and Pressler lost 6-1, 6-1.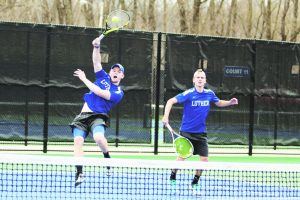 Though the teams did not advance to the second round, Associate Head Men's and Women's Tennis Coach Miriam Blom Skrade ('04) is proud of the connectedness of the team and their ability to support one another.
"It's the 14th time that the women's team has made it [to Nationals], it's the seventh time the men have, and it's only the fourth time both teams have gone together in Luther history," Skrade said.  "This is a perfect group for that to happen with. They really enjoy each other. We're basically one tennis program and so any chance that they get to see each other compete, or hang out outside of tennis even, is something that we really have tried to develop over the years. It seems fitting that it's these two teams that get to experience this together."