Decorah PRIDE
Cheerful noise resounded through downtown Decorah on Saturday, May 11, as Decorah held its second annual Pride parade and community celebration. A sea of rainbow-clad local organizations held signs with phrases such as "Queerest Farm Around," "Shakespeare — challenging gender identity since 1591," and "Decorah Friends Meeting Celebrates Diversity," while the Luther Pep Band played music that echoed through the streets.
The Decorah Pride Planning Committee is comprised of Ellis Arnold, Storme Barr, Catalyze Coach Daniel Brown ('18), Andrew Ellingsen ('03), Jarret Johnson, Luther PRIDE President Filiberto Lopez-Garcia ('19) and Amalia Vagts ('95).
The Pride events kicked off when Decorah Pride committee member Lauren Westbrook held a panel on Wednesday, May 8, titled "Here's My Story: LGBT+ Experiences and Identities," in which panelists discussed positive experiences in the LGBTQIA+ community.
The panel was moderated by Associate Professor of Psychology Joe Breitenstein. The panel featured Maya Tuff ('21), Colin Cosgrove ('20), Associate Dean and Director of Faculty Development and Associate Professor of Religion Sean Burke, and Queer Campus Coalition Program Coordinator at Iowa Safe Schools Ric Tennenbaum. Panelists prepared stories to share during the event and also answered audience questions.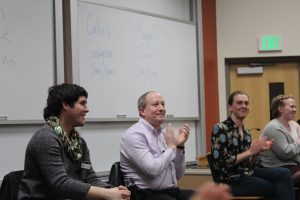 Cosgrove enjoyed the panel and believes that it is important for students to listen to each other's experiences.
"I thought it was fun," Cosgrove said. "The anxiety inducing part came in the writing process, but once I was in the swing of spewing the most vulnerable components of my personal life, it sort of was just happening. When you have an environment where people are open and willing to share, and willing to embrace questions and make mistakes, and grow, I think that is a start for the revolution."
Lopez-Garcia hopes to see this revolution continue. He was instrumental in planning the parade and also expressed joy in all of the strides Luther's student organization has taken recently.
"Just looking back a couple years, we've had speakers come to PRIDE and have talked about how being gay was not something you talked about on campus and seeing now that we have a parade downtown, it is just amazing that we have come so far," Lopez-Garcia said. "I can't wait for what is to come in the future."
Decorah's Pride parade began at 2 p.m. Various organizations from the community marched down Water Street holding banners, playing music, and sporting a variety of costumes and rainbow attire.
Eli Leupold ('22) was a last minute participant in the parade.
"I wasn't originally planning on being in the parade," Leupold said. "I walked down there and I ended up walking down to the area where all the people gathering for the parade were. I talked to a couple people from our school and they [said] we need more people to walk in the parade. I have been to PRIDE a couple of times, and I identify as a queer person, so it was something that I was really proud to be in."
Following the parade, people gathered in the Oneota Community Co-op parking lot for a "Party in the Park." There were different booths, music, and dancing at this event.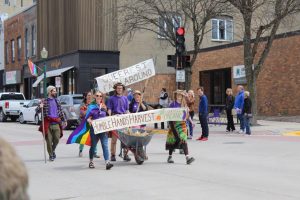 Pulpit Rock Brewing Company hosted the "Pride After Party" for the second year in a row. One addition to this celebration was a specially brewed, commemorative Pride IPA made specifically for the Decorah Pride event. Pulpit Rock also hosted dancing in their front event space with music by DJ Smiley, a local DJ.
New events were also scheduled for this year's Pride celebration, such as a Pride trivia night event at the Courtyard and Cellar, where questions were all related to the topic of Pride. All ages were welcome to attend this event, and local businesses, such as T-Bock's, donated appetizers for attendees.
Leupold thinks it is significant to have a Pride presence on campus and in Decorah.
"I am very happy [Decorah has] Pride," Leupold said. "I know Iowa is a red state now, so it is very important to have stuff like this, even in more conservative areas."
Anna Tahnk ('22) believes that the annual Pride parade gives people a chance to celebrate their identities.
"I think it is important to have Pride, because I think in a small town like Decorah people have this idea that there isn't support and especially intersectional support for the LGBTQ+ community," Tahnk said. "I think it is essential that we recognize that they are present and it's something that should be celebrated. It shouldn't be hidden or not talked about, because everyday people are more and more comfortable with their sexuality and wanting to talk about it and it is giving people a platform and space to talk about it."