Nordic studies lecture explores identity through ink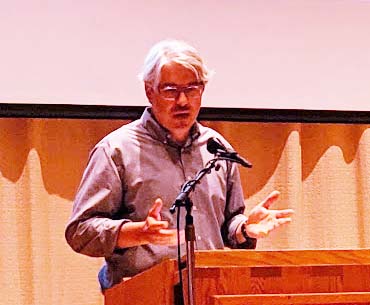 Anthropologist Lars Krutak shared his research on the personal, cultural, and historical significance of tattoos in a lecture titled "Tattooing in the Ancient World" on Sept. 19 in the Center For Faith and Life Recital Hall. The Nordic Studies Department partnered with the Vesterheim Norwegian-American Museum to bring Krutak to campus.
Krutak is the guest curator on an exhibit titled "Tattoo: Identity Through Ink," which is on display at Vesterheim until April 26, 2020. He has also co-curated exhibits that toured at the Field Museum in Chicago and the Natural History Museum of Los Angeles County and written books including "Ancient Ink: The Archaeology of Tattooing."
Assistant Professor of Scandinavian Studies Maren Johnson hoped Krutak's lecture would expand conversations about Nordic Studies at Luther.
"For the Nordic studies program, it is really vital that we work collaboratively with other organizations and other peoples, to both diversify the types of stories that people have heard about the Nordic region, and help to provide forums for conversation about the intersections of many different areas," Johnson said.
Krutak's exhibit features Norwegian and Norwegian-American artists and modern neo-Nordic tattooing styles, but it also explores tattoo traditions of many other cultures.
Johnson also saw this event as a way to catalyze conversations between Luther students and the Vesterheim.
"The strength of an organization like Vesterheim gives us a really amazing opportunity to think about how we tell similar stories and how we can collaborate on the stories we tell," Johnson said. "Even though the museum is so close, we just don't get as many students down to the museum as we would like to, so hopefully this will be a catalyst for that as well."
During the lecture, Krutak shared many different tattooing practices and types of tattoos. Many tattoos in the ancient world had a special cultural or tribal significance. For some, it was a mark of adulthood. For others, it was a protection against evil spirits. Some tattoos marked which tribe a person was from.
Krutak explained his reasons for entering the field of tattoo anthropology.
"I double-majored in art history and anthropology as an undergrad," Krutak said. "When I discovered indigenous tattooing as a graduate student, it seemed to be the perfect subject to bring together my interests in art, Indigenous cultures, history, and field research in remote regions."
The lack of research in the field of tattoo anthropology was another inspiration for Krutak, as indigenous tattooing practices were largely understudied when he began his career over 20 years ago. Humans have used tattoos for thousands of years, creating a history that Krutak believed was overlooked.
"I quickly realized many of these ancient traditions were vanishing around the globe and not being documented for future generations," Krutak said. "This inspired me to act and get involved in whatever way I could because tattooing is an incredibly important expression of human experience in an always changing world."
Krutak's research on the cultural importance of tattoos has informed his opinion on issues of cultural appropriation with contemporary tribal tattoos. His own tattoos are based on traditional patterns, but he was careful not to include motifs that would be innappropriate.
"I think we need to be extremely careful in what we are trying to do with tribal tattoos, especially as cultural outsiders," Krutak said. "Even though they may look cool and have a deeply rooted history, you need to be informed about what these tattoos mean and their cultural context before you start acquiring them or giving them. There are many cultural implications of putting other people's symbols and culture on someone's body."
This lecture was the first of a series of lectures on tattoos. On Oct. 29, Associate Professor of English Lindsey Row-Heyveld will give a lecture titled "Tattoos, Medievalism, and White Nationalism." On Nov. 24, Professor Carson Bruns of the University of Colorado, Boulder will give a lecture titled "The Future of Tattoos."