Biology Colloquium: Drug Resistance in Melanoma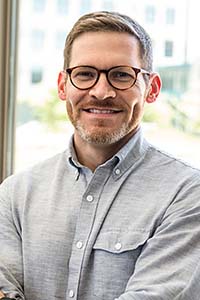 Associate Professor of Anatomy and Cell Biology and Pathology Adam Dupuy at the University of Iowa presented his research on "Functional genomics screens to identify novel mechanisms of drug resistance in melanoma" at a Biology Colloquium on Sept. 19, in Valders 206.
Dupuy's research objective is to find mutations that cause cancerous tumors or drug resistance in those tumors. During the lecture, he described how life choices and environmental factors damage DNA and may lead to cancer, a weakened immune system, rapid aging, or neurological disorders. Melanoma is widely considered to be one of the most aggressive forms of cancer due to its ability to resist treatments, according to the Institute of Cancer Research.
Dupuy focused on the Sleeping Beauty transposon system. This is a system that cuts and copies DNA, inducing a mutation to reverse the growth of cancer cells. This transposon can "turn on" or "turn off" a segment of DNA, which helps delay the process of cancerous growth within the tumor.
Biology major Jill Richards ('22) noted that Dupuy was able to make a tough concept engaging.
"I loved how passionate Dr. Dupuy was about his work," Richards said. "An expressive presenter always makes the lecture more enjoyable. This lecture was probably the most interesting biology colloquium I have attended so far."
Richards said Dupuy's research is important because it focuses on something people might not know  much about.
"Drug resistance and melanoma are relevant topics themselves, but drug resistance of melanoma is something more of us should be aware of," Richards said.
As a biology major, Richards is required to attend  twelve colloquia during her time at Luther. The biology department usually holds four-six colloquia per semester.
"I try to go to as many colloquia as I can, especially if the title seems interesting," Richards said. "It is always good to stay updated on ongoing research within your field of study and Luther makes this very accessible to biology majors."
Luther has a long history of biology colloquia. The visiting scholars come from other colleges, government agencies, and other organizations. Sometimes Luther faculty and students present research as well. While the biology colloquiua are a part of the curriculum for biology majors, everyone is welcome to attend. Professor of Biology Kirk Larsen said the colloquia are especially helpful to biology students in thinking about their careers after Luther.
"Many of our speakers give a little insight into their own story of how they became a biologist, and this is helpful to our majors to hear the different ways biologists evolve into their positions," Larsen said. "They also often share information on how Luther students may get connected with their program for internships, research experiences, or even post-graduate study."
Jarrod Gross ('21) appreciated that the research had the potential to help people.
"I enjoyed learning about real world research that is detrimental not only to curing, but to the prevention of malignant cancer," Gross said.
This biology colloquium was the first of six that will take place during this fall semester. Each will feature a guest lecturer. The next biology colloquium will be on Oct. 5 at 11:15am in Valders 206. The colloquium is titled "Vitamin D: Super-Size Me!" and will be presented by Karen Hansen, an Associate Professor of Rheumatology and Endocrinology at the University of Wisconsin-Madison.