Women's golf takes first place at Luther Invitational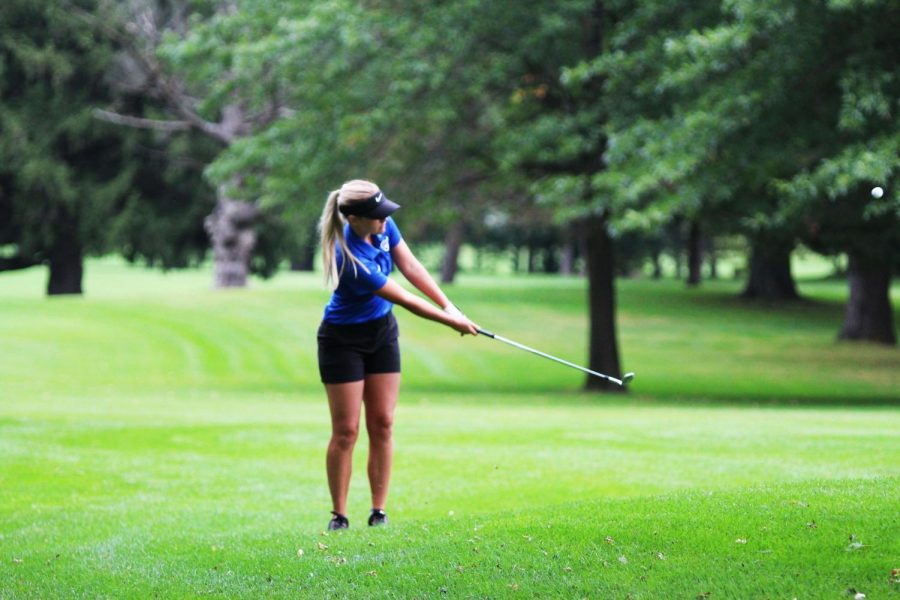 The women's golf team placed first at the Luther College Women's Golf Invitational on Sept. 21st-22nd, which was held at the Oneota Golf and Country Club golf course.
The team took first place overall at the invite with a total score of 667 and +91 over par. Morgan Kranz ('21) ranked first at the invitational with a score of 156 and +12 over par. Kelly Schultz ('21) finished third with a 165 over 36 holes, and Sydney Maule ('20) finished fifth with a score of 169. Kranz has also been named Golfer of the Week by the American Rivers Conference for the past two consecutive weeks of this season.
"Morgan Kranz has been our go-to person," Interim Head Golf Coach Jane Hildebrand ('74) said of Kranz. "She's one of our top golfers. She shows great leadership and is really consistent."
Hildebrand was confident the team would come out on top, especially with the home-field advantage.
"They have been working very hard and they have really been pushing themselves," Hildebrand said. "Everyone is striving to be the best they can be, working hard and competing well. I'm looking forward to the next few weeks. They are excited about competing on their home course, and they are excited for friends and family to come out and watch."
Elayna Kiehne ('21) was confident in her team, even with this being her first year in golf. She placed 33rd at the invite, shooting 229, and showed up with the intent to play her best.
"It looks pretty good going into this weekend besides the weather," Kiehne said. "I'm kind of getting the hang of it now.  I've done a lot of practicing."
Despite the misty weather and threat of rain, the team remained competitive. Associate Professor in Health Promotion and Exercise Science Jacki Wright has been working with the women's golf team to develop their mindset by stressing the importance of focusing on the current hole, rather than past mistakes.  According to Maule, it has given the team an advantage.
"Golf is a very mental game," Maule said. "Tournaments can take up to five hours, and you have to be focused the whole time. If you have one bad round, you can't let that affect you."
After their performance at this invite, the team is looking forward to the conference tournament. 
"Conferences will have a competitive field of teams," Hildebrand said.  "It should be a challenging one, so we'll see which team does best.  We have high hopes." 
The Luther Women's Golf team has defeated Wartburg College, University of Dubuque, and Central College this season, so they are hopeful for a good result at conferences.
According to Hildebrand, the performance of the newcomers is one key to the team's success. 
"The first-years are coming along well," Hildebrand said. "I'm very excited for their future, and for the future of this team.