Bernie Sanders holds town hall at Luther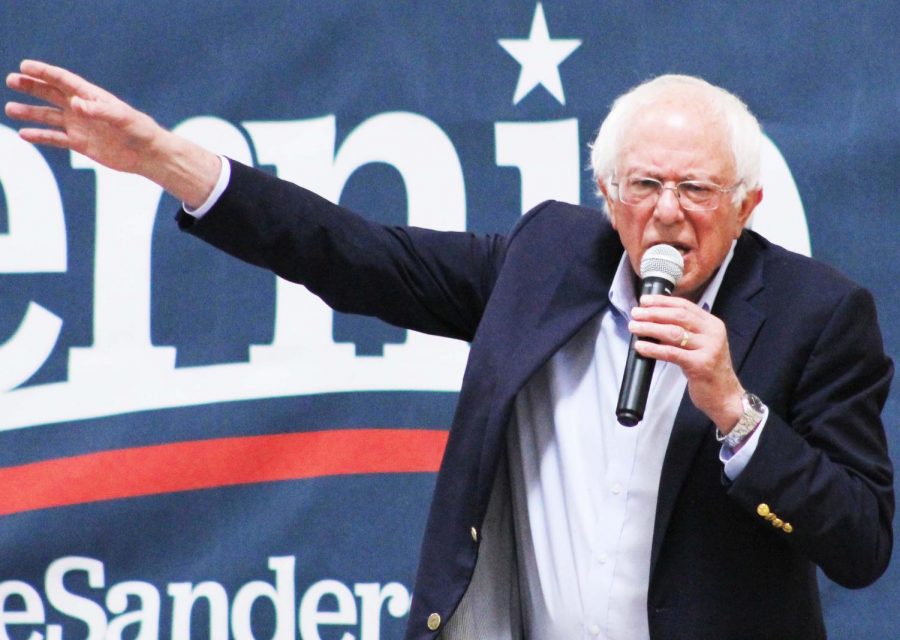 On Sept. 3, Sen. Bernie Sanders addressed college students and community members about topics such as universal health care, climate change, and student debt.
Luther was one of the stops on his "Bernie Beats Trump" tour, referring to current President Donald Trump, which is part of Sanders's effort to flip Midwest states such as Iowa, Michigan, and Wisconsin from Republican to Democrat.
"We decided to come to Decorah because it's in a county that flipped," Midwest Press Secretary Bill Neidhardt said. "It voted for Obama in 2008 and 2012, and then voted for Donald Trump in 2016. It represents one of the 31 counties in this state that flipped and really shows how Bernie can really win this state in the caucus, but it also represents how he can win this campaign in the general [election]." 
Sanders began the town hall by describing his plan for removing Trump from office, combating climate change, and raising the minimum wage.
Sean McKenzie ('20) was invited to speak on a panel at the town hall that consisted of two Luther students and one Decorah community member. McKenzie has noticed a shift in popular political beliefs that now favor Sanders's key issues rather than oppose them.
"His ideas that were kind of laughed at in 2016 are now the benchmark to compare other candidates to," McKenzie said. "I think issues like ' Medicare for All, ' free college, and climate justice are the tone for this. Those things are the most talked about in the Democratic debates, and those are the things that Bernie was talking about in 2016 and Clinton wasn't. I think that's what sets him apart from other candidates – his long history of being on the right side of every issue that a lot of people at Luther care about."
Samantha Douglas ('21) was also invited to speak on the panel. Douglas endorsed Sanders's history of supporting the working class and eliminating racial divides in the United States.
"His entire career has been devoted to fighting for the rights of working class people and all these oppressed groups and he hasn't really done anything different for almost 40 years," Douglas said. "He has just been consistently on the side of the vulnerable and the weak and trying to make
them stronger."
Although the gym was full of students waving blue "Bernie Beats Trump" signs, not all students supported anti-Trump rhetoric that Sanders uses.
"Honestly, I thought it was kind of unprofessional," Kaitlyn Freimuth ('21) said. "I don't think people should be hating on the other side of politics, and I don't think anyone is perfect, especially not Trump, but it was a lot of bashing and that was it. I wish he would have touched more on his own personal beliefs or talked about the beliefs of Trump that he didn't agree with. It seemed to just be a lot of negative slander."
Sanders's visit to Decorah comes at a time when he finds himself slipping in the polls. According to Real Clear Politics, which takes the average of all the major polls in the U.S., Sanders has fallen to third place since June in the national Democratic primary race behind Senator Elizabeth Warren and former Vice President Joe Biden.
Additionally, the most recent "Des Moines Register"/CNN poll, which was conducted between Sept. 14-18, found that 11% of likely Iowa Democratic-caucus goers support Sanders, while Warren led with 22%, followed by Biden at 20%. However, in June, the same poll found Sanders in second place among likely Democratic-caucus goers with 16%. The "Des Moines Register"/CNN poll has a margin of error of plus or minus four percent. 
Despite Sanders's decline in the Democratic primary race, most national polls have the senator edging out Trump in a general election. Sanders is popular with small donors and despite falling in the polls, he is currently at the top in terms of fundraising.
Mckenzie was thankful for the opportunity to speak with the Senator, regardless of the outcome of his campaign.
"I think Bernie would do a fine job, but I want to stay open minded about what will happen," Mckenzie said. "I support his campaign a lot and I have worked the most with it, so he is my top contender but I'm definitely interested in what other people have to say."