Increasing accessibility with design thinking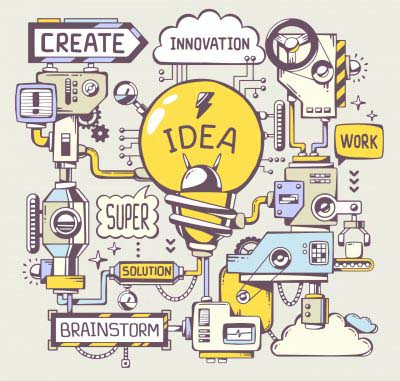 Destination Medical Center and the Mayo Clinic held a Design Thinking Workshop on Oct. 3 in the Mott/Borlaug room of Dahl Centennial Union. Students, faculty, staff, and Decorah community members participated in the event which focused on using design thinking to develop ideas that could improve the lives of people with disabilities. The workshop defined design thinking as a process and mindset for creative problem solving using a human centered approach.
Director of Business Development at DMC Chris Schad said the workshop was meant to prepare attendees to participate in the DMC Assistive Tech Challenge, which is a pitch competition for ideas that could help people with disabilities.
For example, pitches can focus on ideas for public infrastructure improvements or ways to alleviate employment barriers. Participants in the workshop who wanted to develop their ideas further can apply for the competition, which will take place in Rochester in April.
"Ultimately, we are looking for people to apply for the Assistive Tech Challenge, and the Design Thinking Workshops are a way to equip people to submit better ideas that have a better chance of winning the competition," Schad said.
Service Designer at the Mayo Clinic Olivia Foss was one of the leaders of the workshop. She explained that one of the goals of the workshop was to aid attendees in making their ideas more achievable.
"This workshop is helping people understand how to come up with an idea, work it to its best format, and walk away with something they're able to start doing tomorrow towards answering the question that they have," Foss said. "It's designed to be very actionable and to break down, or demystify, this creative experience and process."
In the activity, participants worked in small groups using fictional characters with background information, personal struggles, and various physical or mental hardships while moving through the design thinking process. Design thinking does not necessarily need to focus on creating a physical object, instead it can be a way to think about the design of institutional policies or procedures  that impact people with disabilities.
For example, one group focused on a character named Rasha, a fifteen-year-old girl with anxiety disorder who was involved in a robotics club, but secretly wanted to try out theater.
In the first component of design thinking, framing, participants were asked to identify their character's central problem and brainstorm all of the possible factors affecting the issue. In Rasha's case, her central problem was an unfulfilled wish to participate in theatre. This could be caused by family expectations, her economic situation, or her recent move to a small town. All of these factors could also impact her anxiety. The next step in the process is ideating.
In this step, participants continued to explore the issue by generating possible ways to solve the main problem. In the last phase, experimentation, the ideas from the previous phase are tested out in order to find any remaining issues that the proposed solutions did not address.
Associate Professor of English Lindsey Row-Heyveld was the on campus organizer of this event and the faculty advisor for the Luther Disability Alliance. She explained the connection between design thinking and accessibility issues for people with disabilities.
"Design thinking can be a really valuable tool in terms of working on things like universal design which is the idea that instead of building things and then retrofitting parts of them to be accessible to people with disabilities, that you build them to be accessible to everyone from the ground up," Row-Heyveld said. "Design thinking is a useful tool for lots of people and projects but particularly useful when thinking about how to make places accessible to people of all abilities."
The strategies used in the Design Thinking Workshop could be helpful in thinking about accessibility at Luther. Row-Heyveld hopes the focus on creative, innovative, and empathetic thinking will help people to think beyond issues of physical accessibility.
"The services that Luther provides for disability are very much focused on accessibility and not disability as an identity," Row-Heyveld said. "[Luther Disability Alliance] helps make places where people who have disabilities can be together with other people who have a shared experience and a shared identity. The other thing that we work on is to help make campus more accessible. We do that not just in terms of physical accessibility, although that's something we're working on, but also in terms of institutional practices."
Andrew Avila ('20) is a student leader of Luther Disability Alliance. He said one of the group's current objectives is to make the Center for Faith and Life restrooms wheelchair accessible.
"The CFL is used both by the community and for alumni events, such as Christmas at Luther," Avila said. "If you were in a wheelchair and you needed to use the bathroom, you would have to go to the Union, which is not acceptable. There are also laws saying that the CFL has to be compliant with the Americans with Disabilities Act, a law setting guidelines for buildings to follow to prevent discrimination for people with disabilities."
Vice President and Dean for Student Life Corey Landstrom appreciated that the workshop focused on collaboration with others.
"Trying to address a human-centered problem is hard to do in an hour," Landstrom said. "What it requires is pulling a group of people together who can bring different perspectives so that you can run the process in a way that has integrity."