Luther men's rugby celebrates history at alumni match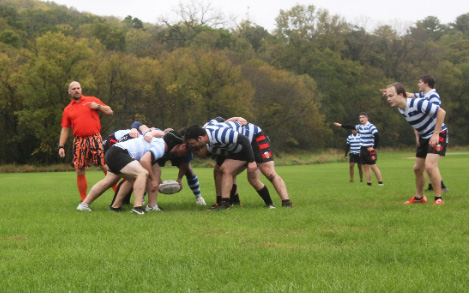 Hang on for a minute...we're trying to find some more stories you might like.
The Luther men's rugby club hosted an alumni game at the Luther rugby field on Oct. 5.  Current Luther rugby players and alumni of Luther rugby played in a sevens match, which is a fast-paced type of rugby with seven players on each team. The alumni won the game 28-7. 
Lucas Brown ('22) scored the lone try for Luther rugby, while Mark Gisleson ('13) scored two for the alumni and Alex Gisleson ('11) added another.  This game was followed by a Northeast Iowa Barbarians rugby game against River City. 
Due to a recent dip in amount of players, Luther men's rugby has joined the Barbarians, the local rugby team based in Decorah, in order to get in-game experience.  This alumni game marks the celebration of over 40 years of rugby at Luther and is a tradition that honors the legacy of the Luther rugby program and first Luther rugby Head Coach Joseph Callaghan.
Callaghan was a surgeon in the Decorah area who coached the rugby team for many years. Before coaching at Luther, Callaghan played for the Irish national rugby team. According to Ray Hansen ('83), the Doc, as the team referred to him, made an immediate impact on the Decorah community upon his arrival and was most known for his sideline stitches that he provided for the players when they got deep cuts and scrapes during the game.  Additionally, The Joseph Callaghan Rugby Endowed Fund, which funds the rugby program, is named in his honor. 
Justin Jaeger ('03) explained the positive impact of the program and the alumni game.   
"Luther is such a small school, and I've played across the country, and people know Luther rugby across the country,  so that it continues today is a huge thing to me," Jaeger said.  "The fact that Luther rugby is reviving itself is a huge, huge deal.  Being able to be part of this game, and being able to pass it on to the next generation, is a big deal."
According to Brown, the game is extremely important to the alumni because it gives them a chance to bond with the new generation and tell stories. 
"It really gives the old boys a chance to shine," Brown said.  "They love to play, and they're pretty good, and they love to tell stories about their time, back in the good old days." 
Jacob Hansen ('23), son of Ray Hansen, is just beginning his rugby career at Luther.  He pictured the alumni game going differently, as he wanted to beat the alumni, but was impressed with the attitude of the alumni themselves. 
"It's kind of an inspiring thing to watch," Jacob Hansen said.  "Some of these guys are in their 50s, but they still come out here to play.  They also know a big part of Luther rugby is passing down what they learned while playing, and even after." 
Along with the alumni game being important for generations of Luther rugby players to come together and share their knowledge, it is also important for the team to carry on the legacy of Callaghan and his role in the Luther rugby community. Both current and former Luther rugby players describe the program as a brotherhood, and according to Jacob Hansen they are trying to continue the legacy today. 
"This game is trying to kickstart the program here at Luther," Hansen said.  "The program recently stopped playing, and we're trying to get it going again."