First open community forum held at Java John's
In an effort to establish a stronger relationship between Luther College and the City of Decorah, Mayor Lorraine Borowski ('70) and Vice President for Institutional Equity Inclusion and Student Success Lisa Scott lead the first monthly community forum at Java John's on Oct. 24.
This new monthly meeting was created in order to facilitate conversation between Decorah citizens, city representatives, and the college. The meeting was held in Java John's with free coffee and snacks provided for participants by co-owner Kim Bosworth. Borowski's goal for this first forum was for community members to get to know their city representatives. Scott believes the forum can offer an opportunity for open communication between Luther and the Decorah community.
"This event comes from when Lorraine and I met over the summer and really follows Luther's student plan," Scott said. "We [are] really hoping to create an informal opportunity for campus community dialogue and really create opportunities for problems to be raised and strengthen the relationship with Luther and the town."
Other college and Decorah area representatives who participated in the forum include City Manager Chad Bird, Chief of Police Dave Smutzler, City Council Member Emily Neal, and Director of Campus Safety and Security Bob Harri. Borowski believes the forum was structured differently than what some expected, as participants were encouraged
to mingle and form small discussion groups rather than sit in an audience and ask panelists questions.
"It looks like a wide variety of people that might have a lot of questions, it's sort of as if you went to a party," Borowski said. "Spend a little time on this site and little on the other. Get up and walk around, talk to people. We want to make sure the conversation lasts around an hour."
During these small group discussions, Bird spoke about the importance of open communication between the city and the college.
"When people sit down and talk, it breaks down barriers and misconceptions," Bird said. "For me, representing the city, and Lisa representing the college, we both have very different thoughts about the other's organization. When we get together and visit, we start to break down those barriers and misconceptions about the other."
Like Bird, Smutzler believes that open communication is valuable and appreciates the opportunities the city offers to attend community events and get to know new people. "It is definitely a community where if I'm driving by and there's a soccer game going on, I'm going to walk over and watch it," Smutzler said. "We get talking to people and get to know them. Too many times people view us as a robot in a car. When you get out and talk to people, they get to see that you're a person too."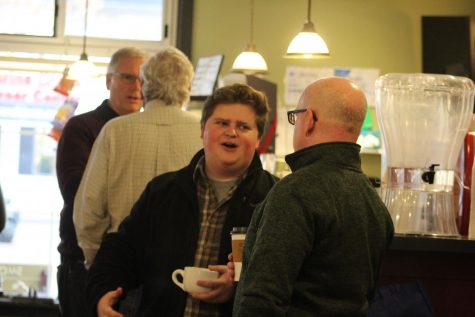 Many believe it is important to foster an inclusive environment for everyone in the area, whether that be on campus or the city itself, which Scott addressed during her speech at the beginning of the forum.
"Whenever I say campus and town it feels odd, because the campus is town and town is campus, right?" Scott said. "The goal is to not be incident-driven, but to find a way to build a relationship between students and the faculty and the community and how we share the experience with all who live here."
President of Student Senate John Lof ('20) believes the forum is a strong starting point for Luther and the Decorah community to develop a closer relationship.
"I think having more intentional discussion between members of the community and Luther is terribly important," Lof said. "Decorah isn't the campus, but the campus is part of Decorah. It's important that we have some sort of way to bridge that, especially with the bias incidents that have happened last spring and into the fall semester as well."
The next community forum will be held on campus at the Gjerset House on Nov. 26. The main topic of discussion will be race and diversity in connection with the "Race: Are We So Different?" Exhibition currently on display in the Women and Gender Equality Center.