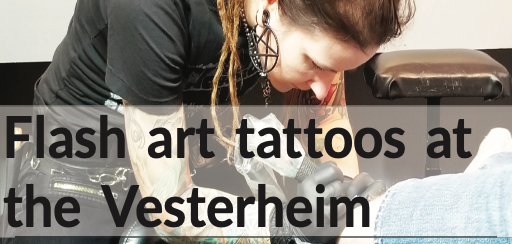 Simon Engstler ('20) Chips
Erica Bessler leans over her subject's arm, brow furrowed in concentration. The mechanical whir of the needle dipped in and out of the client's skin. The design is simple, and won't take more than half-an-hour, but she has 10 more to get through before the event is over.
As a part of the Vesterheim Museum's exhibit, "Tattoo: Identity Through Ink," the museum hosted walk-in flash tattooing on Nov. 2.
The exhibition, which opened June 1, details the history of tattooing across the world and the various traditions that have arisen over time. Unlike other exhibits at the Vesterheim, this one has a more global scope.
"In an earlier version of this exhibit we were focusing entirely on one tattoo artist, Amund Dietzel," Exhibition Manager Zach Row- Heyveld said. "But very quickly we decided that we could tell a more broad, more interesting story if we focused on the global history of tattooing."
The exhibit features sections about the history and science behind tattooing across its history, from Otzi the Iceman, a tattooed Tyrolean Iceman from around 3250 B.C. who was discovered in the Austro-Italian Alps, all the way to the work of local tattoo artists working today. The exhibit also dives deeper into tattoo traditions around the world, from the Japanese policy of tattooing criminals, the regional differences in Pacific Islander tattoos, and the influential work of Norwegian American immigrant Amund Dietzel.
"[Dietzel] ended up going on to become one of the most important tattoo artists working in America in the 20th century," Row-Heyveld said. "The focus of our museum is telling the story of Norwegian immigration to the United States, so it was really an intersection of interests that led us to this person and his flash-art."
Dietzel is primarily known for his "flash art," pre-drawn tattoos that typically line the walls of tattoo parlors. These exist so that walk-in customers can select them off the wall without the long and expensive design process.
Common flash art tattoos, such as knives, birds, and hearts started in the sailing tradition and are meant to represent different sailing milestones. These flash art tattoos have since come to have different meanings to different people as tattooing has grown in popularity, due in part to the work of Dietzel. The exhibit features two sheets of Dietzel's flash art, and other pieces of Dietzel's work on loan from Jon Reiter of Solid State Tattoo in Milwaukee, WI.
The walk-in flash tattoos at the event were offered and designed by Erica Bessler, an artist from Brock's Valhalla Tattoo in Decorah. By the time the event started at 10 a.m., the 11 open sign-up spots were filled, and customers were looking over the flash art she had to offer.
"Response has been really great [to the exhibit] so far," Row-Heyveld said. "We have had three drop-in tattoo days so far since the exhibit has opened, and they have been wildly popular."
The Vesterheim is also a co-sponsor of the series of tattoo related lectures given at Luther. The most recent, "Tattoos, Medievalism, and White Nationalism," detailed how Nordic Runes, and other Norse symbols like Thor's Hammer have been co-opted by white nationalist groups as a way of identifying each other.
Brennan Strain ('20) attended the event to get his first tattoo, a Nordic symbol for "Luck" on his ankle. He described how he had to be selective about what tattoo he got, and where.
"I got it on my ankle because it's not a painful region, and it's easy to cover up if I need to," Strain said. "I looked [the symbol] up online before I got it, because I wanted to be sure it wasn't associated with any hate groups. I think the price, $60, wasn't bad at all. Tattoos can be really expensive, so I'm happy with what I got for what I paid."
Benji Klimesh ('20) expressed some interest in having a tattoo done at the event, but ultimately decided against getting one.
"I had a lot of time to burn, so I stopped in," said Klimesh. "There were a lot of really cool tattoos, but they weren't really my style. With my other tattoos, I've put a lot of thought into them, and they are all commissioned works. The Nordic tattoos look cool, but they aren't for me."
The Vesterheim plans to have another drop- in tattoo event in December, with seasonal flash tattoos.