Jill Osier ('96) wins Yale Series of Younger Poets Award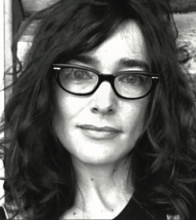 In March 2019, Luther alumna and former faculty member, Jill Osier ('96) was awarded with the 114th Yale Series of Younger Poets Award for her work "The Solace is Not the Lullaby," a collection of poems focused on people and the natural world.
The Yale Series of Younger Poets Award is the oldest annual literary award in the U.S., and this year marked the centennial of the national competition.
Presented by Yale University Press, the competition aims to publish the winning competitor's first manuscript, and introduce to the public an emerging voce in the American poetry cannon.
The contest is open to poets who are currently unpublished and live in the U.S.. Notable winners of the prize include Adrienne Rich, W.S. Merwin, and Margaret Walker.
Osier grew up in northeast Iowa before attending Luther, where she majored in English. Osier went on to earn a Masters of Fine Arts from the University of Alaska Fairbanks, where she currently resides and acts as the George Bennett Fellow and Poet-in-Residence for the Phillips Exeter Academy. Her poetry appears in printed journals, such as Crazyhorse, The Georgia Review, Ploughshares Poetry, and The Southern Review.
"Jill is a great example of the liberal arts," Emeritus Mark Muggli said. "She took in the whole range of experience that her Luther education provided her, ad she has since then specialized in a way that has brought her personal and professional rewards."
After graduating from Luther in 1996, Osier returned for the 200-01 academic year to serve as a Visiting Assistant Professor of English.
"I had Jill in a J-term class called 'Reading Fiction,'" Professor of English Lise Kildegaard said. "I remember her for the liveliness of her mind, for her high level of engagement. She has, what I would say is a lucid, engaging voice. She writes about real life experiences, but there is this luminous quality of insight, of expression, that she manages to attach to common happenings that is outside of the ordinary."
Osier's writing gained the attention of current Yale Series of Younger Poets judge Carl Phillips, who selected her piece "The Solace is Not the Lullaby," from hundreds of submissions to receive the prestigious award.
"Certain mysteries, most of them, remain mysteries in an Osier poem," Phillips said. "[Her poetry is] incongruously – dare I say magically? – like closure, a steady place to land. Osier's is unlike any I've encountered before. Her poems are thrilling and strangely new."
"The Solace is Not the Lullaby" will be published by the Yale University on March 17th, 2020.
"Jill gave a poetry reading while she was teaching here, with powerful and beautiful, and one might say generous poems," Emerita Professor Carol Gilbertson said. "I've read her more recent collections ad I think she has moved toward a bit more experimental poems. She's worked diligently on her craft these last years and expanded er skill and practice at some highly regarded poetry centers. There's a gentle confidence in her voice, thoughtcrimes the poems are delicately imagistic."
"
The paint on the hood glistens. If she looks deep, glints of light like fish or stars start swimming. She thinks she's sen this before in nail polish. She smells her fingers, checks the middle one's last knuckle. Swollen. A crescent purpled one side this morning. Some grounder's bad hop she doesn't remember. The boy's still trying to say it, leaned back on the windshield, but all the Irish blood in the ground can't help. Quiet, quiet, all the way home. He corners carefully like someone older. In two years she will learn to drive. Her temple rests in one small circle on the window, all the blood leaving there, a cold coming in.
Excerpt from "The Solace is Not the Lullaby" by Jill Osier ('96). – Courtesy of Yale News"
— The Field Wasn't Always a Field
Jill Osier was not available for comment.