Norse of the Week: Ben Keller ('20)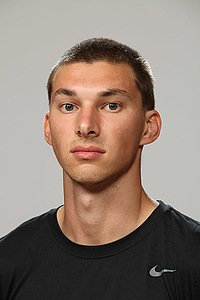 Ben Keller ('20) is a forward on the Luther Men's Soccer team. This season, he has 13 goals and 12 assists. He currently leads the team in goals, assists, game winning goals, and is tied for the team lead in shots. He has received two All-Conference awards, and following the 2017 season he was named team Offensive MVP. He hails from Vadnais Heights, Minn. Keller attended White Bear Lake High School.
Tell me about your soccer career.
I've played soccer my whole life. My older brother played soccer at Luther and was actually the assistant coach for six years after he graduated, so he's the reason I'm here. He left two years before I graduated high school, so I didn't have a chance to play for him. He was always my coach growing up. He played soccer, and I wanted to be like him, so he always made me play. Coming here, I started playing as a freshman because three people above me at my position got injured, so I got shoved into the spot. I tried to grow and play for the people around me while working my tail off.
How do you prepare for games?
Three hours before the game, we eat a team meal. A lot of people have specific food they eat, like Steven Johnson ('21) has to eat a sandwich before every game no matter what time it is. We all eat together, we try to spend time off our phones and just hang out. From there, we head down to the locker room. Some guys will go and watch the women play, and other guys just stay inside the locker room. Do your specific training, get yourself mentally ready, then an hour before kickoff we have our pregame meeting. Coach comes in, talks with us and gives us the starting lineup. Around 45 minutes before kickoff we walk outside, we get our warmups started around 30 minutes before kickoff and then we just get going.
How has the soccer team grown since you came to Luther?
In my four years so far, the idea of success has become expected. Before my time, we hadn't won many conference tournaments or appeared in many national tournaments. We had some scattered around, but it wasn't consistent. We've won a trophy each of the last three years and we're seeking another one at the end of this season. I feel like we have a lot higher expectationsmoving forward.
Describe your role on the team.
I think my role is to be an example for the guys behind me, especially because I'm the furthest player up the field. So if I'm running around and working my tail off, then everyone can see that. I think it's a good visual of what the team should look like. Games that I'm on, I'm working hard, and the people behind me tend to be doing the same. When everyone's working hard and playing together, I tend to get rewarded. I have 12 goals, and maybe two of those are by my own doing. It's a lot of team play, and I end up being in the right place and get the goal and the personal accomplishments and all that jazz. But a lot of the times I'm just working for the team and making sure everyone behind me can see what I'm doing and match that.
What personal and team goals do you have for the season?
Personally, I want to win another trophy. Four trophies in four years would be pretty sweet. Going to the national tournament is a big one. Personal accolades are kind of on the back-burner. It's kind of like five years down the road I'll be like, oh, I got All-Region, that was super cool. It'd be amazing to be an All- American, be All-Region, that'd be super cool, but I'm more focused on keeping the team together as long as we can. As a team, we want to win the national tournament and I think we can. We have the players to do so, and when we play well there aren't many teams that can beat us.
What are you looking forward to during the rest of your time at Luther?
Man, there's not much. The fall is my favorite time of the year, and we're rolling. I'm super competitive, so this is when I get all my competitive energy out. I'm excited to relax, just to sit down and not be doing something. I'm looking forward to finishing our season.
Who's an athlete that you look up to?
My oldest brother was the biggest one, just because he was 11 years older than me and he was always the model of what I wanted to do. He was dope, and he was so good at everything he did, so I always wanted to be like him. And at Luther, I would say Aidan O'Driscoll ('19). When I came as a prospective student, I stayed with him and hung out with him. I watched Aidan play as a freshman, and he was very studious, very smart, and just an all around great person. And last year I got to live with him, we spent a lot of time together, and he was just the base example of what it meant to be a Luther College soccer player.
What's a fun fact about you that's not related to soccer?
I was Student Council President in 5th grade. Also in 5th grade, there was an All-School race where we raced against all the other elementary schools, and I tripped and fell and our school got disqualified. I'm the youngest of five, and I'm an uncle to two beautiful little girls.