Zeta Tau Psi addresses toxic masculinity on campus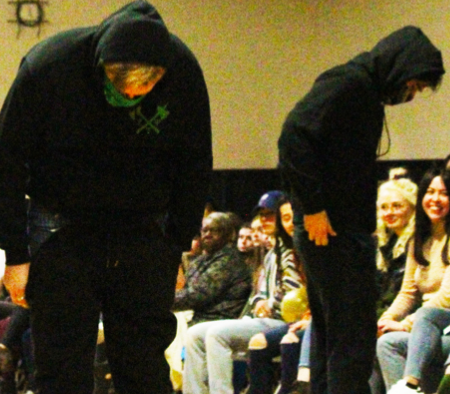 Luther's service fraternity Zeta Tau Psi announced a campaign focused on toxic masculinity for the 2019-2020 academic year. Zeta Tau Psi will host a number of events to further explore and create dialogs surrounding toxic masculinity.
Perceptions of toxic masculinity can vary, but it is typically defined as a cultural concept of manliness that glorifies stoicism, strength, virility, and dominance, and that is socially rigid or harmful to mental health.
"I think it is a false representation of the male figure that is instituted at a young age," Zeta Tau Psi treasurer Winter Hawley-Bourcier ('20) said. "It gives inaccurate representations of what a male is supposed to be in terms of physical appearance and expression of affection."
The fraternity started raising awareness about their campaign with the help of the International Students and Allies Association on Nov. 1, at their international fashion show. The ISAA reserved a segment of the fashion show for three Zeta Tau Psi members to exhibit a piece about toxic masculinity
The three members walked out in all black with bandanas over their faces, emulating the socially defined male persona. When they got to the end of the catwalk they changed and revealed a different outfit underneath. These second outfits were what the members might actually wear around campus. Hawley-Bourcier was one of the three in the fashion show.
"It was kind of a group discussion about what we should do for the fashion show," Hawley- Bourcier said. "I decided we would all walk out in all black. Then we agreed we would wear something we would normally wear outside. We wore that to represent who we actually were, as opposed to conforming to the male persona of wearing clothing that is male based."
Zeta Tau Psi is hosting a screening of the documentary "The Mask that You Live In," a movie that covers the corrosive nature of toxic masculinity, on Nov. 13. Hawley-Bourcier said the fraternity hopes to see as many people as possible make it to the screening. Professor of Religion Guy Nave said that this screening is especially valuable for the sports teams on campus.
"I hope we'll get turnout from sections of campus that aren't as actively involved in these kinds of things," Nave said. "We live in a culture where people talk about locker room talk. That type of male bravado, sexual kind of stuff that is inappropriate, normalizes it as locker room talk, suggesting it's just what men do. I would hope that engaging the type of men who are in the locker room will raise the conversation about the appropriateness of those kinds of conversations and what it means to be a man."
The fraternity hopes to reach a large audience with their message, and their desired outcome is to foster more knowledge of toxic masculinity on campus.
"I wouldn't say toxic masculinity is a problem specific to Luther or limited to campus," Will Peterson ('21) said. "I think in general it's an issue, and I think colleges, and especially Luther, are a good place to point it out and figure out how to move away from it. I think a good place to start is just talking about it."
A common concern that arises when addressing toxic masculinity is the balance of criticism and support of traditionally masculine values. Nave hopes to find a way to reconcile these two concepts.
"I think it is important to understand that toxic masculinity is in no way an attempt to demonize men or male attributes but to emphasize the harmful effects of conformity to traditional male behaviors," Nave said. "You feel you have to conform to not showing emotions or not being sensitive. It leads to misogyny, homophobia, and insensitivity. I think it is important as a fraternity for men to lead that conversation. I applaud the Zetas for initiating the conversation."