Rabab Mohamed Nafe ('22) and Sofia Martinez Cruz ('22) speak at United Nations General Assembly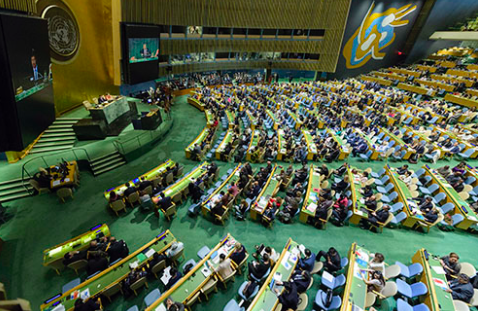 Luther students Rabab Mohamed Nafe ('22) and Sofia Martinez Cruz ('22) spoke in front of the United Nations General Assembly in New York City on Oct. 10, in order to share their views on the current issues of Western Sahara.
"I could not reject such an invitation, especially since the [Western Sahara] conflict has not only impacted me, but impacted the people around me," Nafe said. "That makes an even stronger reason for me to speak and bring my experience to the attention of others, and how that conflict has not only affected my country politically but has affected the people of Western Sahara. We are Africa's last colony, and we're basically the forgotten people in North Africa."
Western Sahara is a disputed territory on the northwest coast of Africa, semi controlled by the partially recognized Sahrawi Arab Democratic Republic, and partly occupied by the neighboring nation of Morocco. According to worldometers.com, the population is estimated at just over half a million and the territory covers an area of 103,000 miles, making Western Sahara the largest entity on the United Nations list of non-self-governing territories, both by land mass and populus.
The Western Sahara conflict can be traced back to the
Spanish colonization of the region, which was legitimized by the Berlin Conference in 1884. Almost a century later in 1975, the UN general assembly pressured Spain into relinquishing control over the territory. A joint- administrative rule by the nations of Morocco and Mauritania was instated by the Spanish government.
"Spain made a contract without consulting [the Western Sahara people], that stated Mauritania would take 1⁄3 of Western Sahara and Morocco would take 2⁄3 of Western Sahara," Nafe said. "So in one day, we were celebrating our independence then were invaded by two countries."
Soon after, a war erupted between Morocco and Mauritania, and the Sahrawi (Western Sahara nationals) nationalist movement, known as the Polisario Front. This group established the SADR, whose government is in exile in Algeria. Mauritania withdrew its forces and executive claims in 1979, allowing Morocco to instate political authority in the region, despite the UN's assertions that the Polisario Front is the legitimate representative of the Sahrawi people.
The invasion by Morocco has led to over 165,000 Saharawi's living in refugee camps in western Algeria for the last 28 years, according to UNHCR. Nafe, who was born in an Algerian refugee camp after her parents fled the conflict in 1975, still considers herself Western Saharan.
"I grew up in Algeria, but I grew up in a very Saharawi community," Nafe said. "I still see myself as a refugee. I still have family living in Western Sahara who are violated daily by the Moroccan police. They are not able to stand up for any of their rights, you cannot share any of your political views. Even though you're from Western Sahara, you are still discriminated against by those who [have occupied] your land."
Cruz wanted to take a stand in support of the people of Western Sahara, after hearing about the childhood and people Nafe grew up around.
"My country used to support [Western Sahara], but a couple of months ago my president [Nayib Armando Bukele Ortez] tweeted and basically said that there was no issue," Cruz said. "I was just talking to [Nafe] and I told her that I wanted to go."
The process that led to Nafe and Cruz to speak in front of the United Nations involved the application of a petition to the General Assembly. After three days, their petition was accepted, and both were approved as representatives of the Sahrawi. The Luther students also had a connection to the United Nations through a Luther alumna, Fatimetu Jatri Emhamed ('17), who assisted them with the application process. Emhamed also addressed the United Nations on the colonization of Western Sahara in 2017.
"It was nice to speak on behalf on my people," Emhamed said. "This year was more exciting because two current Luther students, Rabab my countrymate, and Sofia from El Salvador were there to speak on the question of Western Sahara too."
However, the two Luther students did not get the answers they were looking for. The resolution proposed by the United Nations mentioned looking into the issue and getting in contact with the nations involved: Morocco, Mauritania, and Algeria.
"They aren't even including the people of Western Sahara in the solution," Nafe said. "How can we not be present for discussion in a conflict that involves us?"
While listening to other speeches and pleads for help from members of many nations, Cruz was disheartened by the lack of attention from the members of the United Nations.
"The representatives, they were using social media in the meeting," Cruz said. "You would see them on their computers just chatting with friends, one of them was even playing games. It's just disappointing to see that the people who are there to actually solve issues are just there doing anything but solving a real problem. At the end they gave us a resolution, that's what they called it, which said the same thing it said last year. The same thing it's said for over 44 years."
Both Nafe and Cruz are determined to keep fighting for the freedom of Western Sahara.
"It's going to be a long process." Cruz said, "but I hope that one day I will see [Nafe's] country free."