"Harriet" comes to Fridley Viking 3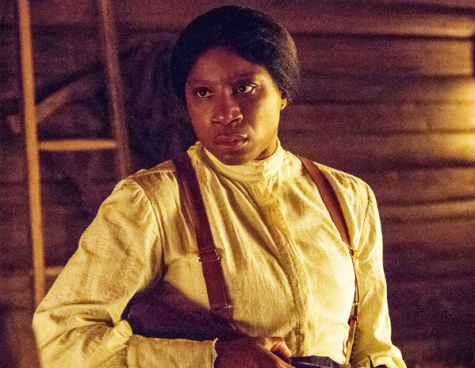 On Thursday night, members of Black Student Union loaded into Luther vans and set off towards the Fridley Viking 3. The air was buzzing with excitement as they purchased tickets and filed into the movie theater. They were all there for one reason: to see "Harriet," a biographical movie about the life of Harriet Tubman, a slave who became an abolitionist.
Fridley Theatres did not originally intend on bringing "Harriet" to any of their franchises, partially because they only have three theatre screens which limits their movie options. When members of the Luther community realized that "Harriet" would not be playing at the theatre, they began contacting Fridley Theatres to request bringing the movie.
"I emailed the theatre company contact and they said, 'Oh, we're not planning on bringing it opening weekend'," Assistant Professor of Africana Studies and History Kelly Sharp said. "I immediately emailed Guy Nave since he's been here for 19 years and he has a lot more experience navigating in the community. He said that he had organized a Facebook petition for folks on campus and in the community."
Professor of Religion Guy Nave first contacted the Decorah Chamber of Commerce to determine if President of Fridley Theatres Brian Fridley was a member, but learned that Fridley Theatres is controlled by the corporate offices located in Des Moines. Fridley decides which movies will be played at Fridley Theatres, so Nave began to contact Fridley directly to request bringing the movie.
Nave's Facebook petition called for community members to fill out the online contact form to request bringing the movie to Decorah. Nave said he received a large response from community members who filled out the form to support hispetition.
Though Nave originally received the same response to his online request as Sharp did, Fridley eventually sent an additional email about the status of showing the movie.
"I got another email response saying that the president was going to bring ["Harriet"], but Focus Feature Films was only releasing it in major markets, so we wouldn't be able to get it the opening weekend," Professor of Religion Guy Nave said. "So, I reached out to Focus Feature and said that this is a college town and we think that there may be people interested in seeing it. We think it would be a good turnout if we were able to get it opening weekend."
Nave believes that it is important for "Harriet" to be shown during opening weekend because it is a true representation of how many Decorah residents want to see the movie. Since some movies do not arrive to the Fridley Viking 3 until weeks after their release, Decorah residents may have already seen the movie by this time and will not be interested in seeing it again.
Fridley continued to have conversations with Focus Feature about bringing "Harriet" to Decorah. After weeks of waiting, Fridley announced in an email that the Decorah Fridley Viking 3 wouldbe showing "Harriet" on opening weekend with an additional preview screening.
"Hello Viking 3 Theatre Patrons — I have great news!" Fridley said in the email. "After many back and forth emails between Focus Features and Brian Fridley, President of Fridley Theatres, the film Harriet has been confirmed to open in Decorah on 11/1 with advance shows on 10/30 at 7 p.m."
Students also submitted requests to bring "Harriet" to Decorah. Tony Perez Soto ('20) submitted the request form twice before Fridley announced that they were bringing "Harriet" to Decorah, and he appreciates the fact that Fridley Theatres listened to the requests of students.
"When I submitted the form, they replied back to me and said 'you know what, we're looking at it, and we'll see what we can do," Perez said. "On both occasions, the people who read those requests were very active and they were engaging with the people, at least with me."
With movies like "Harriet" being shown at the local movie theatre, the Decorah community is exploring more avenues of educating community members on historical events that are not just Norwegian. Maya Mukamuri ('22) believes that showing movies like this help to educate the community on other historical events they might not learn in the classroom or through other interactions.
"It is important for movies like these to come to Decorah because it's important for all communities in this country to be aware of topics like these and to be educated on the truth behind the stories," Mukamuri said.