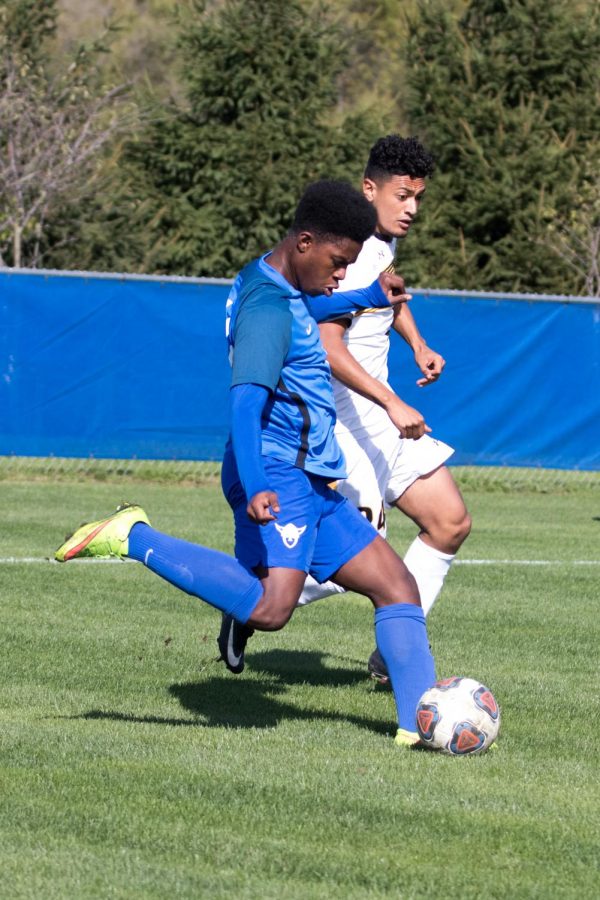 Photo courtesy of Faydane Ouro-Akondo
Faydane Ouro-Akondo ('22) is a forward on the Luther Men's Soccer team. Currently, he ranks sixth on the team in goals scored and seventh in assists. He has played in 35 matches for the Norse.
How did your soccer career begin?
I've been playing soccer since I was about two or three. I was born in Togo, West Africa, so soccer has been a big part of my life for as long as I can remember. My whole family plays, my dad used to be really good–emphasis on used to be. I grew up only knowing soccer. I didn't play for a team until I was 16 or 15. I never played competitively because I usually just played on the playground.
How did you find your way to Luther?
It's a funny process, actually. During my junior year, I joined this group called DA. It's the U.S. National Team Youth Development Academy–we just called it DA. So I was playing for them, and me and one of my best friends, Rory, who is Aidan O'Driscoll's ('19) younger brother, we went to the same high school and played together on the DA team. When I was looking for colleges, he told me about his brother who played at Luther and showed me some videos. When I saw that, I was like, I'm kind of interested, and then the Luther coach contacted me right after. I think Rory gave him my number. So that's actually how I found out about Luther.
How do you feel you've grown since you've been at Luther?
I think I've grown, just maturity- wise, especially this season, because it's been pretty tough. It started out well coming off of last season. I came into this season with some pretty high goals for myself. I wanted to be a big asset to the team, make a big impact, play a lot, and score a lot of goals. I came out the first couple games and I didn't score, but I had good performances and I felt like I was just getting started. Then I got injured, and then coming back from my injury I lost my starting spot, which was tough. It's a tough thing to deal with, and I'm still trying to deal with it, but it's kind of brought me down back to earth and humbled me. Yes, I'm not starting any more, and it hurts, but I still can have an impact on the team and be an important figure. I'm learning how to not let the disappointment of not being a starter anymore affect how I play and how I affect the team, and I just try to do what I can.
What would you say your role on the team is?
I would say, well, I think coach would say that I'm like an impact sub, basically. I play differently than I did last year, like last year I would come in, take the ball, and run straight down the line. I've tried to change my game. I've slowed down my pace a little bit. I just try to make the most impact I can coming on the pitch, because I know I'm not going to get as many minutes as the starters, but I have to make do with the minutes I get. If I don't go out and try to do my best with the time I get, then I lose some of that time. I try to be the best impact sub I can.
Who's somebody that you admire? It can be related to soccer or not.
I have two. Professionally, the player I admire most is Thierry Henry. He's a professional soccer player. He played for Arsenal, the New York Red Bulls, and the French National Team. He was one of my biggest influences. He's a guy I look up to and somebody that influenced me to play soccer. It wasn't just how he played, it was the impact he made off the field. He wasn't only a good player, he was a good captain, and he led the people around him very well. The other person that I look up to is Brunno Colon ('19). Brunno was never the fastest guy, he didn't look like much, but he was a darn good player. It wasn't just because of his skill; he worked really hard. He helped me out through a lot of stuff, and he also said a few key things to me when I was feeling down that I still remember to this day. It makes me want to keep playing and it makes me want to keep fighting, especially when I'm in a situation where things aren't going as well for me.
What are your goals for the rest of the season?
The team goal is to do better than we did last year. Last year we made the Elite Eight, and I want to go even farther than that. I had some personal goals coming into the season, like scoring ten goals or ten assists, but clearly things didn't work out that way. I missed games and got injured. My goal after that was to get back on the team and back into the starting lineup. But that's not possible now. My goals have changed throughout the season, and right now it's just try to impact the game as much as possible and try to help the team. My goal is to take the team past the Elite Eight and to the finals, hopefully.
What's a fun fact about yourself that's not related to soccer?
I have to always multitask. Whenever I'm doing homework, playing FIFA, whatever it is, I have to have something playing in the background, like a cartoon. I love cartoons, by the way. It's a weird thing about me, I can't focus without having something on in the background.