Fall Opera performances
On Nov. 15 and 16,  Luther College Department of Music put on the Fall Opera scenes showcasing ten opera scenes ranging from Mozart's "Le Nozze di Figaro" from the 18th century, to a 1960 contemporary rendition of William Shakespeare's "A Midsummer Night's Dream" by Benjamin Britten and Peter Pears. 
The performance began with a scene from the first act of Benjamin Britten's "Albert Herring," composed in 1947. Titled "I Hope We're Not Too Early, Florence?", the scene centered around Miss Wordsworth, a school teacher, Florence, the maid, Mr. Upfold, the mayor, Mr. Gedge, the Vicar, and Mr. Budd, the superintendent, anxiously awaiting the arrival of Lady Billows, a wealthy aristocrat. "I Hope We're Not Too Early, Florence?", was directed by Adjunct Faculty in Music Carol Kreuscher and was accompanied on piano by Rachael Brolin ('21). 
The next scene was from the third act of Mozart's "Le Nozze di Figaro" and was directed by Professor of Music Beth Ray Westlund and accompanied by Nathan Eck ('21). This scene was performed in Italian and portrayed the love between Count Almaviva and Sussana, who is engaged to Figaro, the main character. 
According to Assistant Professor of Music Nicholas Shaneyfelt,  selecting the repertoire for the performance started with a blank slate.
 "Each of us, Kreuscher, Ray, and I, came up with some ideas, and then we spent several hours over the course of a couple days making selections, envisioning different combinations of singers," Shaneyfelt said.  "We all agreed that programming some scenes by Menotti was a priority, and then a sampling of Britten's repertoire made for a good variety of English language work.  It is no small feat to craft a program that is equitable and challenges singers to grow and take risks, but also plays to their strengths."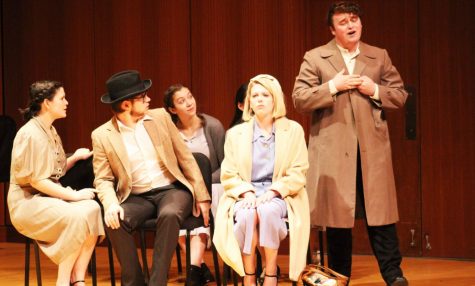 Another scene from Gian Carlo Menotti's "The Consul" was also performed. It was about a magician, played by Hunter Meyer ('22), using his magic tricks to impress the secretary, played by Kiley Korey ('20), to have his visa application approved. Magda Sorel, played by Grace Simpson ('20) is among others in the wait-room of the consulate patiently waiting for her visa to be approved as well. The magician repeats the line  "art is an artist's only passport". While the magician adds comedy to the scene, there is an undertone of desperation. The magician actively waits for his visa, while Magda quietly waits for hers.     
Near the end of the program was scene from Shakespeare's "A Midsummer Night's Dream" adaptation composed in 1960, directed by Ray, and accompanied by Brolin. Like the earlier scene in the program from Mozart's "Le Nozze di Figaro," this scene deals with love but serves as a resolution as the characters Hermia, Helena, Lysander and Demetrius reacquaint with their lovers after being separated.  
The ending scene from Charles Gounod's "Faust" balances silliness and sadness. (Faust, played by both Ben Meyer ('22) and Caleb Kruckenberg ('20), is made youthful by the Devil (Méphistophélès), played by Colin Cosgrove ('20), and longs for Marguerite. His longing is contrasted by Méphistophélès' indifference and comical reactions to Faust's interactions with Marguerite.   
The scenes were all performed in their original languages: English, German, Italian and French. Although English seems to be the easiest to give a performance in, Liz Burton ('22) believes that performing the songs in their original languages added a new dynamic to the performance.
"English is my least favorite language to sing in," Burton said. "The text is pretty clunky. It's easier to memorize, but other languages just flow better, and I think it's really fun to get to sing in other languages because it's not something you get to use every day."
The  fall opera  scenes provide an opportunity for students to perform based on ability and experience.  Unlike the spring opera production, in which a singer learns a whole role, fall performers have the chance to learn excerpts from a few different time periods and appreciate the broader appeal of opera.