Vera Lindhorst ('20) and Ian Kelly ('23) qualify for cross country national meet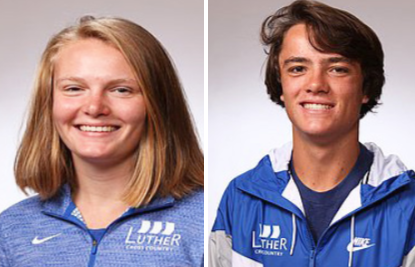 The Luther College Men's and Women's Cross Country teams competed on Nov. 16th in the NCAA DIII Central Regional Competition at Wartburg College in Waverly, IA.  The women's cross country team placed seventh out of the 30 competing teams in the 6k race, and the men's team placed fifth out of the 28 teams in an 8K.  Ian Kelly ('23) and Vera Lindhorst ('20) qualified for the NCAA III National Championships, which will be held in Louisville, Kentucky, on Nov. 23. 
Lindhorst earned All-Region honors after finishing in eighth place overall with a time of 22:42, while Kelly finished 17th with a time of 26:04, which also secured him All-Region honors.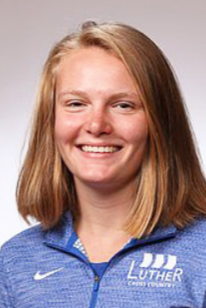 Following Lindhorst on the women's team were Katie Fetting ('21) who finished in 44th, Heather Hostager ('22) who finished 48th,  Amelia Morrow ('22) who took 49th, and Amelia Hornseth ('21) who placed 51st.  The team took seventh place with 200 points. 
The men's team had three members receive All-Region honors. In addition to Kelly, Sam Schillinger ('21), who finished in 18th place in 26:06, and Tom Altier ('22) who finished  35th in 26:28, qualified for All-Region honors. Dan Iselin ('21) and Collin Kern ('20) followed, finishing 38th and 44th respectively.  Luther ended the day with 152 points and earned fifth place. 
Saturday's temperatures were around 40 degrees, and conditions of the race were muddy due to melting snow.  However, this was not as much of an obstacle as the conditions at the conference meet.  Several racers said the muddy conditions at the conference meet prepared them very well for the regional meet.
On the men's side, Iselin was disappointed in the team result, as placing in the top four would have given them a good shot to make the national tournament.  
"We were all disappointed in the team standings as we really did have a shot at making it into the top four," Iselin said. "It would have set us up well to get an At-Large bid into the national championships. We had some guys that had a great day and we're extremely excited for, and some of us know that we are capable of having a better performance, which is frustrating. We're all excited, however, about our All-Region performers and the individual qualifiers."
On the women's side, the team shared a similar sentiment.  Placing seventh as a team meant that they wouldn't qualify for the national tournament.  Morrow, who placed sixth at the conference meet last weekend, was pleased with the performance of the national qualifiers, but had higher expectations for herself.
"Going into the race, I expected to place much higher up in the field," Morrow said.  "I think in general, Luther came in with pretty high expectations. Overall, even though not everyone placed where they were expected to, there were some awesome performances across the board, including good races from Vera Lindhorst, Sam Schillinger and Ian Kelly, to name a few."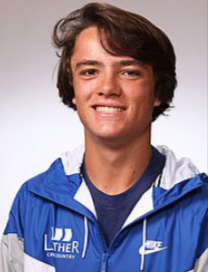 Altier, who placed second at the conference meet last weekend, was disappointed in the team's performance.  
"We're all pretty bummed out that we didn't race as well as we could have," Altier said. "But we're excited to see Ian and Vera run at the national meet as individuals."