Looking back on Pastor Mike's 28 years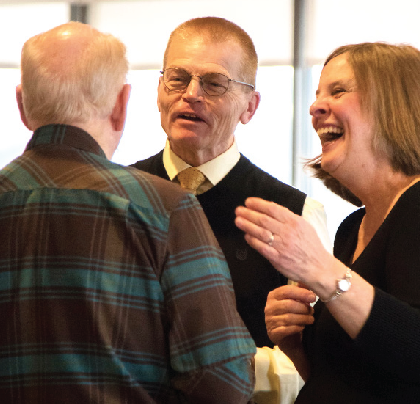 On Nov. 24, Pastor Mike Blair preached for the last time as a pastor at Luther during the Sunday morning worship. A celebration for all of Blair's years of service took place on Nov. 20 from 2-4 p.m. in the Peace Dining Hall. That same day, Blair had preached for the last time during Luther weekday chapel. Blair will begin serving at a Lutheran retirement community in Waverly, Iowa starting next year.
     Blair has served the campus for the past 28 years, starting in 1991. Before serving at Luther, he was campus pastor at Augustana College in Rock Island and Associate Pastor at First Lutheran Church in Freeport, Illinois. He has a Bachelor of Arts in music and psychology from Augustana College and a Masters degree in divinity from the Lutheran School of Theology at Chicago. However, ministry was not the original plan for Blair. 
     "I had people encouraging me before [my college years], but it was really a combination of professors, youth leaders, and some family members and pastors as well, that were mentors that encouraged me," Blair said. "I was a music and psychology major, but it became clear to me that I enjoyed music immensely, but I didn't have the sense that teaching music was my calling. But church and ministry were the place where all those interests intersected very well: psychology, music, and chances to use them in fruitful ways."
     Originally from Illinois, he had no interest in moving to Iowa. He did not know much about Luther or Decorah, but when he learned of the possibility to serve at Luther, he was surprised at the campus and the city itself. 
     "I remember the first time even coming here, being too surprised at the beauty of the land, but also, there is a character of quality to the Luther community, that still rings true today," Blair said. "I see that in Luther students, in the ways that they have a strong commitment to service, in the way that they have a strong curiosity – there's also a kind of energy and joy in Luther students. Those are things that really drew me here, and I found that to ring true in the years that I've served here."
     During his time at Luther, Blair has worked with a diverse range of colleagues and students. He served with College Pastor Anne Edison-Albright, who started in 2016, as well as Vicar Amalia Vagts ('95), who is taking part in a collaborative internship as part of her study at Wartburg seminary. He also works with the Administrative Assistant to College Ministries Tricia Crary and Professor of Music and College Organist Gregory Peterson. Blair mentions that working with these people has been an enriching and joyful part of his experience as Luther's college pastor, and Edison-Albright feels the same way. 
     "In the midst of some very intense ministry experiences, Mike has been someone I could always count on for mutual support and to come to everything we are called to do invested in our work together as a team," Edison-Albright said. "He also brings extraordinary gifts for ministry, and it's hard to even fathom how much his specific presence will be missed."
         Blair said that he was blessed to work with his colleagues through the years. More so, Blair looks to Luther students as the defining characteristic of his experience on campus. He recalls a trip to a youth conference in 2015, where one of his colleagues had asked him why he was traveling with five other staff members. But they weren't staff members, they were Luther students. According to Blair, Luther students carry themselves in a way that represents the mission and the community very well.
     "I think my experience – the thing that really stands out for me –  it goes back to that character of Luther students," Blair said. "I think there are some pretty unique things, a mix of a commitment to something larger than themselves, and exploring questions that connect faith and justice and service, being aware of the larger world and the needs of others, and even having a sense of collaboration and consideration." 
     Blair has served the Luther community for a long time, and he says he will miss the students most. Although Blair is looking forward to learning how to serve a new community, he is sad to leave Luther College and Decorah behind, especially the students, the community. Luther students will miss Blair as well. Kirsten Melaas-Swanson ('22) taliked about her experience with Blair. 
     "I work with Pastor Mike in College Ministries, and he is always just a very positive, very helpful person," Melaas-Swanson said. "My dad actually worked with him for a little bit through pastoring jobs, and so it was really nice having that connection. And then just knowing him through the college as a student has been really awesome and a very positive experience."
     As Blair gets ready to say his final goodbyes on Dec. 7, he will never forget the Luther students, the faculty, the staff, and the purpose he has felt while serving on the Luther campus.      
     "Your story is told by the community and I think that tending to community, building community, fostering community is something that we've [he and his wife Susan] looked to try to do in creative ways," Blair said. "I'm very grateful for this place, for the community, and the gathering that was on Wednesday. The community sending has been very generous and has left our  hearts very full."