ASAA night celebrates Asian culture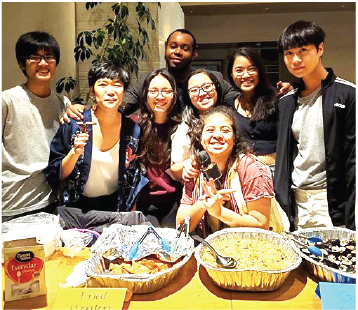 The smell of homemade Asian cuisine and the sound of K-pop music filled the 8th floor Farwell lounge starting at 6:00 p.m. on Nov. 23, as Asian Night, hosted by The Asian Students Association and Allies celebrated Asian food, music and culture.
The ASAA was formed in 2008 and works on campus to promote and celebrate Asian culture. After taking a year-long hiatus, the ASAA is back this year under new leadership and with new initiatives to actively promote and celebrate the traditions of diverse Asian cultures amoung the Luther and Decorah communities. The organization has hosted two major events so far this semester, a Mid-Autumn Festival and an Asian American Heritage Appreciation movie night where they screened "The Farewell" directed by Lulu Wang and starring Awkwafina. These events have fallen in line with what the organization is all about: celebrating Asian culture.
"This year, our aim is to recognize and acknowledge Asian American heritage on campus," Juli Nguyen ('21) said, "At this organization, we welcome everyone and our end goal is to celebrate and spread Asian culture to the Luther community."
The organization advocates in different ways than do other student groups.
"I think we focus on more low key, cozy types of events," Phuong Anh Hoang ('20) said."The ISAA and the BSU have debates and shows that they advertise a lot, but I would say we focus a lot on activities that just introduce the culture of Asian countries."
Because of this focus on culture, the ASAA includes members from numerous Asian countries, but also members from Europe, Africa and the Americas. The only requirement for their members is that they have an interest in any part of Asian culture. For the members of the ASAA, food has always beenof interest.
"We focus a lot on the food because a lot of us just happen to enjoy eating and cooking," Anh Hoang said, "So we have some events in that category every year, like Asian Night."
Asian Night is one of the organization's marquee events held every year. It brings together Asian food and music into a three-hour party open to all of campus. 
There were 14 homemade dishes on the menu from different Asian countries. Among the favorites were Asian American staples like wontons and fried rice, to Chicken Biryani, an Indian rice and chicken dish, to Indonesian Satay, a sort of chicken kebab with peanut sauce, and Gimbap, a Korean sushi roll.
Desserts featured sweet sugar dumplings and mung bean soup, a delicacy from Vietnam. Thai bubble tea, a milk based sweet green tea with tapioca balls, which were reminiscent of 'bubbles' was enjoyed by attendees.
"The food was good," Jorge Chavez ('20) said. "You can't get food that good at the Caf, that's for sure."
The food was so popular that most dishes were nearly gone by 7 p.m., leaving the attendees to enjoy the music, mostly pop songs from Korea and Japan, whose popular music has recently captivated American audiences. Songs by K-pop acts such as BTS and PSY played before the karaoke started to pick up.
While karaoke participation was dismal at the start of the evening, by the time the food had run out, poeple were more inclined to join in the festivities. Whole groups belted out Queen songs and danced along to Beyoncé. Over 100 students attended the event and left race reviews, and the ASAA members were thrilled with the outcome.
"It went better than we expected." Nguyen said afterwards. "We didn't know so many people would show up to the event, but it was a lot of fun."
For anyone interested in joining the ASAA, meetings are held every Wednesday at 7 p.m. in Valders 252.