APHRODISIAC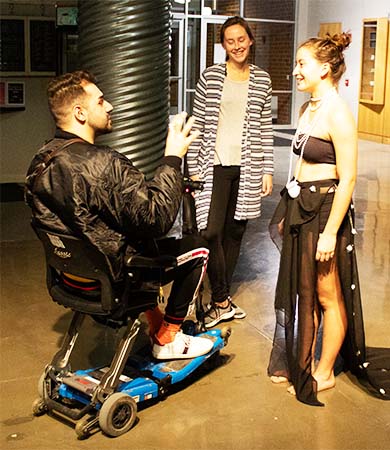 The inspiration for Mikayel Simonyan's ('20) collection, "APHRODISIAC", stems from his home country of Armenia and ancient Greek mythology, specifically Aphrodite, the Greek goddess of lust, love, and beauty.
"My inspiration comes from my native culture, from Greek culture, and from my own spirituality," Simonyan said. "[It comes from] this connection, this interest in Aphrodite as an essence and as a power because she is known in so many cultures under different names. In Scandnavian culture, she's Freya; she's Venus in the Roman culture; in my own culture, she exists. It's about the essence, the process that I call Aphrodite. For example, when it's spring and flowers are blooming, then you see bees stealing nectar from the flower, it's an Aphrodite. It's the feeling of sensuality and physical presence."
The idea of "APHRODISIAC" first came to Simonyan while he was at the Black Sea last August. While staring out at the sea, Simonyan was reminded of the birth of Venus, the Roman counterpart to Aphrodite, who was born as a fully- grown woman from sea foam.
Simonyan showcased his clothing line on Feb. 8 in the atrium of the CFA. Simonyan has been working on both the line and the fashion show sincethe fall semester.
Simonyan captured the characteristics of Aphrodite through sheer tops, Greek and Armenian patterns, embroidery, and sparkles. While designing the line, Simonyan wanted the clothing to be simple and emphasize people's vulnerabilities.
"I describe my clothes as very chic, very simple, but at the same time, very interesting to look at, and interesting to wear," Simonyan said. "They provide a heightened sense of physical awareness and also sensory awareness. My clothing does not make people somebody else, my clothing makes people more of who they are; that's why there's a lot of ornament and nudity. The nudity represents, for me, this honesty with yourself and honesty with others."
The show opened with an interpretative dance by Cory Eull ('21). The dance was accompanied by an audio recording voiced Fezile Mnisi ('20) describing the inspiration behind "APHRODISIAC." After the dance, 12 models showcased 16 pieces designed by Simonyan.
However, Simonyan stresses that his work is always open-ended and not intended to be interpreted a certain way. Simonyan views fashion as a language, and he designed the clothing in "APHRODISIAC" to express his spiritual devotion to nature.
"My references usually come from nature, and I look at the human body not in standards of beauty we have in society, but more of how [the body] communicates with the fabrics," Simonyan said. "The human body, first of all, is just a body, it's physiological anatomy, it's part of nature."
Simonyan organized the show because he wanted to share his work in a professional setting. For the past six months, Simonyan has collaborated with models, choreographers, and light and music technicians. Although Simonyon was the main creative director and fashion designer, he emphasizes the importance of collaborating with others to create the show.
"Without collaboration, this project would not happen," Simonyan said. "It does not matter if you cover one percent of the project or 10, 50, or 60%. Every person is a vital, important, and an essential part of the collaboration."
The show was not just about his clothes and his story. Simonyan and his collaborators put effort and ingenuity into accessories, makeup, and music. Attendee Navia-Ayauna Erbst ('23) said that her favorite part of the show was seeing how the clothing interacted with the other art in the collection.
"I think my favorite part was the beginning of the show because it was a really good introduction to what was going to happen," Erbst said. "It was interactive and got you hooked on the whole thing. I liked how everything was put together; I liked the specific details with makeup and stuff, making them all fit. I also liked the hand detailing. It was dipped in paint or something, and it was probably my favorite part, seeing all their hands."
Simonyan plans to continue his study of fashion by applying to master's programs for design. He wanted this line to create an impression that suggests a new meaning for the term "aphrodisiac."
"In my work, I want to make a statement that aphrodisiac is not just a biological substance," Simonyan said. "Clothing can be an aphrodisiac."