Luther Mock Trial team qualifies for Nationals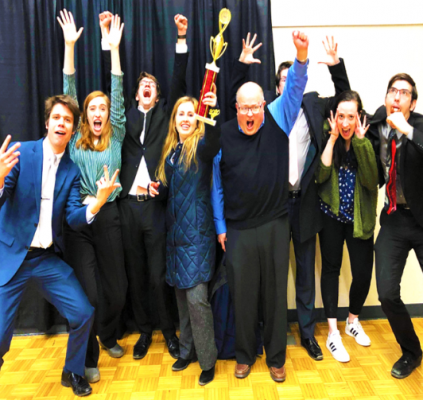 The Luther College Mock Trial team qualified for the Opening Rounds Championship Series for the first time in five years on Feb. 16. At the regional competition, Luther's team was not projected to be in the qualifying stage for the national competition, but pulled off a third place finish at the Des Moines conference.
The A-team will travel to Cedar Rapids, IA, to participate in the first rounds of the national competition Mar. 6-8.
At the regional competition, Luther's A-team walked away with a 7-1 record, losing only to Drake University. This ranks Luther third behind Washington University in St. Louis and the University of Chicago, both of which went undefeated during the tournament. Peter Stelter ('21) was named as an Outstanding Witness.
"We have a lot of potential going into nationals, especially because we are a young team, but also because we got third at regionals," Maren Gabor ('21) said. "They do projections, like March Madness, and we weren't projected to make it on to nationals, but we got third. That was a big upset, and super encouraging."
Mock Trial is a student club that simulates the proceedings of an actual court trial, competing on the high school and collegiate level. The trial features a fictional criminal case that members recreate throughout the season.
Luther College's Mock Trial team is made up of three sub- groups, A,B, and C-team. Each consists of six roles, played by up to 10 participants. Teams prepare the prosecution and defense sides of the dispute for competition. Teams are ranked on how convincingly they argue their side of the case and on the performance of individual members.
Professor of Political Science and Mock Trial faculty adviser Michael Englehardt believes that mock trial's goal is to educate students about a potential career path, rather than to promote competition.
"In general, I think that it's not really aimed at cutthroat winning, it's aimed at education for kids who may or may not want to go to law school," Englehardt said. "It's really about learning how the law works, not just trying to beat the other teams."
Luther's B-team also competed in the event, and finished with a record of 3-5, leaving them out of the final line-up.
Luther's C-team finished their season at the Wheaton Regional Tournament on Feb. 7-9 with a recird of 2-6.
"This season, we competed with some of the strongest and most experienced teams in the country, and I could not be more proud of our performance," B-team captain Maddie Gregurek ('22) said. "Everyone improved immensely from the beginning of our season, and I've loved watching my team grow in their confidence and excitement for mock. I really can't wait for [the A-team] to represent Luther at regionals."
Mock trial originated at Drake University Law School in 1985. The institution hosted the first competition that year, with 13 teams. Today, there are over 750 teams involved in the organization nationally.
The Luther Mock Trial team experienced unprecedented growth this past fall, resulting in the addition of a C-team, which consists of students with little experience in the activity. This is seen as advantageous by students at Luther, but can be an obstacle when the team travels to competitions with larger schools that have mock trial programs with better funding.
Many of the teams that Luther will compete against in the national tournament have entire courses dedicated to mock trial in which students spend time in class preparing for a competition. Hope Gilbertson ('22) is excited to compete against some of the top teams in the country at the national tournament.
"We are going against some really big schools and schools that have amazing mock trial programs, so it's going to be really cool to go against the top dog and see what they've been doing all year," Gilbertson said. "I'm also excited to meet with teams that we usually wouldn't run into at tournaments, just because it's a wider range of people. I think the competition is just going to be really high caliber and it's going to be really cool."
Team member Gabor expressed her excitement for what their performance at the competition indicates for the future success and further growth of the Luther Mock Trial team.
"We have one person that's on our team, who's going to nationals with us, who has never done mock trial before," Gabor said. "This is her first year. So, it's like anybody could do it and can be good at it.
You just have to be good at public speaking, and portraying your words, and also being passionate. If you want to get involved, you should definitely join."