Men's and Women's Basketball celebrate Senior Night against Coe College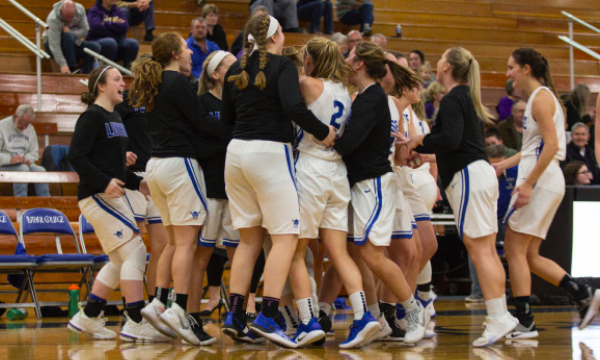 On Feb. 22, the Men's and Women's Basketball teams took on Coe College in their final regular season home games. The Women's team beat Coe College 79-72, while the men lost 76-60.
The women's teams honored captains Laura Hamilton ('20) and Sarah Holtz ('20) along with Maggie Anderson ('20), Madilyn Heinke ('20), Megan LaPlante ('20) and Madi Spence ('20).
In the women's game, after trailing for most of the first quarter, Luther went on a six-point run to begin the second quarter with Heinke scoring three points, tallying one assist and grabbing one rebound in the first four minutes to give Luther a 24-20 lead. Coe came back to take the lead at halftime, 33-29.
Luther would go on a run late in the third quarter and early in the fourth, building a 60-52 lead with five minutes to play.

A late comeback from Coe would see Luther trailing 64-62 with 0:09 remaining until Spence made two free-throws to send the game to overtime.
Luther took the lead with 2:27 of overtime on a 3-pointer from Holtz, and the Norse put up 15 points in the extra frame to win.
Holtz lead the team on offense with 15 points on 14 shots including going 4 for 4 on free-throws. Heinke and Spence finished with 14 points apiece. Anderson led the way with six offensive rebounds and Hamilton led with four steals. LaPlante added six points and two assists in 14 minutes off the bench.
The team enters postseason play with a 12-4 record and the third seed in the upcoming postseason tournament.
"We have been very lucky that this class is so well rounded and compliment each other on and off the court," Women's Basketball
Head Coach Amanda Bailey said. "[Holtz and Hamilton] both have scored their 1000th point and grabbed 500+ rebounds this season." While
Looking forward to the conference tournament, Bailey knows that the team has their work cut out for them. In the last four years, Luther has made it to the ARC Finals twice, losing in 2017 and 2018 to Wartburg.
"As a team, we want to play for each other until the end of the season," Bailey said. "We have been working hard all year and want to end giving it everything."
On the men's side, Seniors Ray Whitlock ('20) and James Kappus ('20) were honored for senior night and went into the final games of their collegiate careers looking to enjoy their last game on the court.
"I want to have fun honestly," Whitlock said. "now instead of having one last season, it's down to one last game."
The men fell behind 17-7 within the first four minutes of the game, but went into halftime leading 33-32 aftter a 26-15 point run. Coe took the lead in the opening minute of the second half, going 9-for-18 on three-pointers en route to a 44 point second half.
Garrian Wade ('22) led the team with 13 points on 15 shots, and Kappus added 12 points on eight shots from the floor. Whitlock added eight points on seven shots, going 2-for-2 from 3-point range.
While he reflected on his final game, Whitlock emphasized the supportive culture of the team.
"The family aspect was big to me when I got here," Whitlock said.
"Going through these four years has really taught me to rely on my teammates when things go bad. Everybody has bad days, and bad practices, and bad games, but ultimately we are all a team and throughout the four years I really saw that. I've enjoyed every minute of my time here."
Kappus, who came from Texas to join the team, echoed this sentiment.
"Coming in, I'm a thousand miles away from home," Kappus said. "The team made it feel very family oriented and I never felt I was away from home. All my teammates picked me up whenever I was down."
The Women's team begins Conference Tournament play at home on Tuesday, Feb. 24 vs 6th seed Central College.