Condom Bingo promotes sexual health at Luther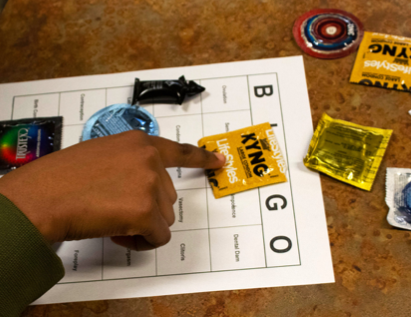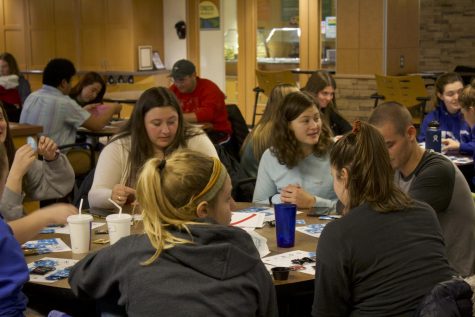 Students shouting "sex" and tables littered with condoms took over Oneota Market during the Luther Wellness Program's inaugural Condom Bingo game on Mar. 4.
Around 45 student participants participated in this sexual health awareness event, with winners taking home various prizes related to sexual health.
"Educational programming such as Condom Bingo has been a valuable way to engage students in a way that learning is happening during the fun activity," Director of Student Health Service Dianne Tappe said. "It helps alleviate fears and hopefully opens up conversation and answers questions many students have."
The players sat at tables covered with unopened condoms and lube packets. Each was given a card with grids of 30 words related to sexual health, such as anatomical parts of the body, methods of safe sex, and sexually transmitted diseases and infections. During the game, a wellness student ambassador would call out the definition of one of the words, on which players who knew the term would place a condom or lube packet.
Once they had a row of words covered, they would shout out "sex" instead of "bingo" and win prizes, such as Marty's cookie vouchers, condoms, dental dams, diva cups, t-shirts, and more.
"I think [the event] is a way to normalize saying these words, like STD and genital warts," Sexual Health Wellness Ambassador Jacey Davis ('21) said. "[They are] weird things to say, but the more we normalize it, the more it's okay to have honest discussions about it. I feel like, if you're not comfortable saying these things, perhaps you should ask yourself 'What can I do to be comfortable in my sexual health journey '"
Davis helped establish this event, after being inspired by Klarissa Geiger ('20), who first proposed the idea last year. Over the past semester, the Sexual Health Wellness ambassadors have been working to make the terms used as inclusive and mindful.
Before launching the game, the group performed a run-through with Luther College's People for Rights and Inclusion of Diversity and Expression and Norse Against Sexual Assault to ensure that the event was appropriate. The intent of the night was to expose students to various sexual health methods in a nonthreatening environment.
"It's really about trying to make people more comfortable with sexual health and sexual health topics," Health Education and Promotion Coordinator Jessica
Jepsen-Rupp said. "[Condom Bingo] makes it fun and approachable and not so serious and scary, which is what I think a lot of people maybe get at high school. Some things that might be new for people might be the different barrier methods that exist. A lot of people know about condoms in general but we are also going to have dental dams and internal condoms."
Luther students participated in the American College Health Association – National College Assessment last November. Of the 724 students polled in reference to the past 30 days, 88.4% reported never using a barrier method (such as condom, glove, dental dam etc.) during oral sex. 23% of those who participated reported that they did not use a barrier method during vaginal sex, while 53.3% did not use a barrier while engaging in anal intercourse.
41.7% of students reported that they never had oral sex, 47.8% reported that they never had vaginal sex, and 88.2% never had anal sex.
The report recognized that because of how the survey defines oral, vaginal, and anal sex, the data is limited and excludes couples who may be using toys or having other sexual experiences not captured in the survey.
Tappe believes that students are at a greater risk due to their age and other factors.
"Luther students should be aware that there are about 20 million new cases of STDs each year in the United States," Tappe said. "About half of these infections are in people between the ages of 15 and 24. Young people are at greater risk of getting an STD for several reasons: young women's bodies are biologically more prone to STDs, many young people are hesitant to talk openly and honestly with a doctor or nurse about their sex lives, not having insurance or transportation can make it more difficult for young people to access STD testing, and some young people have more than one sex partner."
Luther Health Services has partnered with the Winneshiek County Public Health department to sponsor an annual sexual health event. To commemorate "Sexually Transmitted Disease Awareness Week", Luther will be hosting a large walk-in STD screening event to detect the two most common types of sexually transmitted infections: chlamydia and gonorrhea.
This event is called "Get Yourself Tested," and is open to all Luther students for free. It will be held in Larsen's Health Services office on Apr. 16 from 8:15- 4:15 p.m., and Apr. 17 from 8:15-11:45 a.m.