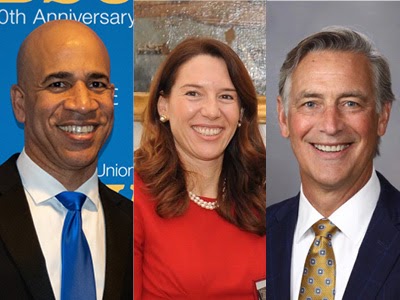 Photo courtesy of News Break
This past October, the Luther College Board of Regents welcomed three new members in, Willie Davismckennie ('84), Vanessa Frazier ('90), and Dr. Mark Larson ('78). Members of the Board of Regents are graduates of Luther who come from diverse fields and areas of study. These representatives serve four-year terms and attend board meetings three times a year for three days at a time. The Board of Regents is tasked with furthering Luther's mission as a college and addressing issues within the Luther community.
Dr. Mark Larson MD is a physician in Rochester, MN, where he has served for more than 30 years. Larson is a consultant of gastroenterology in the Division of Gastroenterology and Hepatology, Department of Internal Medicine. He is also the Mayo Clinic Enterprise Medical Director of Provider Relations and the Medical Director of the Mayo Clinic Care Network.
Vanessa Frazier is the permanent representative of Malta to the United Nations in New York City. Prior to this appointment, she was the ambassador of Malta to Italy from 2013 to 2019.
Willie Davismckennie is the founder and owner of 22 Wood Works in Mundelein, Illinois, which is a wood-working business specializing in commercial and custom cabinetry. He, along with his wife, Denise Davismckennie ('82), serve as co-presidents of the Luther College Alumni Council (2018-2020).
Larson, Frazier, and DavismcKennie were invited by Luther College President Jenifer K. Ward to become members of the Board of Regents. Prior to the invitation, there were a number of standards that were reviewed for the new members to be selected.
"We considered all different kinds of criteria, like what year they are from, what industry they come from, and how they have engaged with the college in the past," Ward said. "We thought about ethnic diversity, gender diversity, and their age. Since we don't want all super old people and all super young people, we try to have some balance. We also looked at what majors they took in Luther, since we don't want only a group of artists, or CEOs, or doctors. We wanted to have a diversity of voices."
Before they were invited to serve on the Board of Regents, Dr. Larson, Frazier, and DavismcKennie were interviewed by President Ward, Board Chair Wendy Davidson ('92), and Board Vice-Chair J. Robert Paulson ('78). At the end of the interview process, the candidates were voted upon by the entirety of the Luther College Board of Regents, at which point Dr. Larson, Frazier, and DavismcKennie became official members.
Dr. Larson expressed his excitement in being appointed to the position, and the plans to listen and learn from more seasoned members of the board.
"I think my main assignment in the board is to just really listen, learn, and get involved," Larson said. "Some of the members have been on the board for over 12 years, and they know intimately about how the board functions and what agendas the college is currently working on. But, I am new to the board. I am anxious to get involved, and I want to be in a couple of different committees which is yet to be interpreted, but the more I listen, learn, and get involved, the more effective I can be."
The new members were all chosen for the Luther College Board of Regents based on their continued investment in the college. Vice President for Academic Affairs and Dean of the College, Kevin Kraus, expressed his excitement in welcoming the three new members to the Board of Regents.
"I have met with the three new members before and already knew them for one reason or another," Kraus said. "They are wonderful people who are smart, energetic, and deeply caring about Luther College. All three of them are very successful in their different careers, and it is great to have them working with us."