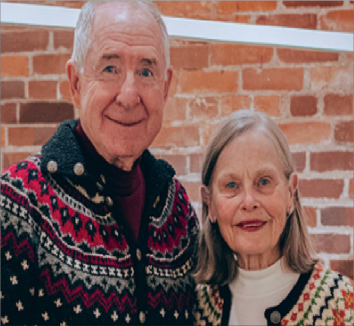 Photo courtesy of the Vesterheim Museum website
Regent Emeritus Richard "Dick" Hemp ('64) and Joann (Harr) Hemp ('65) will be donating $1.5 million from their estate to support an endowed chair in the humanities at Luther College. As per estate donations, the chair will come into effect after the Hemps have passed away. At that point, one faculty member will be chosen from a humanities discipline to control the allocated funds for development, travel, and research.
Most of the funds will be used to support the salary of the chair, with about 10% of the yearly funding to be used at the discretion of said chair.
Director of Development of Major and Planned Gifts Nathan Ersig ('98) worked with the Hemps to decide how they wanted their donation to be put to use. It is his job to connect Luther's institutional priorities with the donor's goals.
"Humanities disciplines support the advancement of knowledge of and generate work in areas that are distinctively human pursuits," Ersig said. "The donors found it really important that the chair should embrace and embody Luther's mission, support and practice the college's approach to education, and build a community around a lively and inclusive conversation of faith and learning. [They should also] participate in and encourage a balanced dialogue so that we develop an active and engaged citizenry."
The Hemp estate donation will allow Luther to free up funds within its own budget, as the humanities chair position will be completely paid for. Additionally, Luther will be able to recruit more distinguished faculty with the help of donor support.
"[Endowed chairs] affect how we are able to recruit and retain distinguished faculty, because having chairs gives more dollars to that department for supporting faculty," Ersig said. "Ultimately, having donor support for a faculty allows other dollars in the budget of that department to be used in other programs."
Joann Hemp graduated from Luther College in 1965 as an elementary education major, but due to the family's many corporate moves she was limited to substitute teaching. She considered her most important role to be the raising of her and Dick's two children, Erik and Kari ('90). She also served on various church committees from time to time.
Dick Hemp originally came to Luther to play football and majored in business. He appreciated the student, staff, and faculty's caring and genuine nature during his Luther years. Eventually, he became a member of the Board of Regents, of which he was a member for fifteen years. Later, he served as the Interim President of Luther College in 1999.
Hemp has worked for a Fortune 500 company, the Maytag Corporation, for 37 years, so he has seen firsthand how a liberal arts education is important in providing graduates with a wider, more globally engaged mindset.
"We are seeing the changes from our vantage point that are happening around the world so fast, and we thought that Luther College, with the liberal arts education and a mission, was fantastic preparation for students as they prepare to go out into the world," Hemp said. "It gives them an edge. I believe the humanities are the core of this education preparation. All the other studies, particularly in technology, or science, or math, or engineering, are very precise studies, but what can strengthen that is having a liberal arts background. We believe it strengthens the student for life and gives them an opportunity to deal with change."
For the Hemps, the humanities department was the best choice for their donation because they provide a broad background for students to become lifelong learners and well-rounded individuals.
"Students enrich themselves with the humanities study as a foundation of their education and preparation in life," Hemp said. "Luther gives them that edge, and it is recognized whether people go in the business world or the world of service or health. We think it is a more solid background for critical thinking, improving writing skills, being able to analyze, being creative, and understanding the human a little deeper. That comes down to relationships, empathy, and things like that, by studying all these different cultures and languages."
In a recent statement, President Jenifer K. Ward spoke of her gratitude towards the Hemp family for their donation.
"Endowed professorships and chairs are of the utmost importance to Luther's mission," Ward said. "I am grateful to Dick and Joann Hemp for their extraordinary dedication to their alma mater and their foresight in establishing the Hemp Family Chair in the Humanities, which will ensure that Luther College continues to benefit from generous curricular and programmatic offerings in the humanistic disciplines."