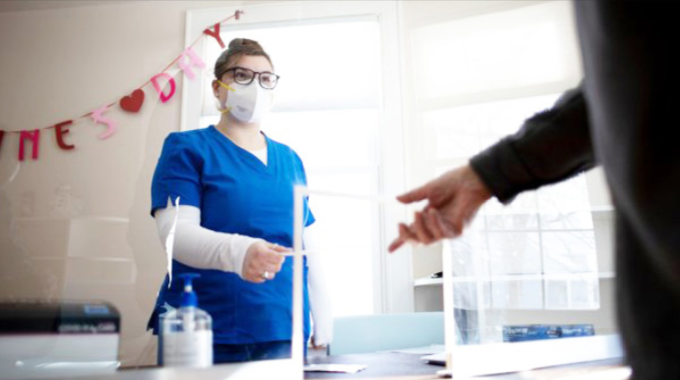 Photo courtesy of Luther College
On Wednesday, February 10, Luther College announced that current students, faculty, and staff now have the option to test for COVID-19 if they are asymptomatic. The Expanded Asymptomatic Surveillance Testing (EAST) program is intended to work in tandem with physical distancing, face coverings, and other existing protocols to prevent the spread of COVID-19. The testing center is currently hosted within Campus House at 404 High Street.
The EAST program has been in the works as a potential extra layer of protection since August 2020. Assistant Dean for Student Life and Director of Residence Life Kris Franzen acknowledged Luther's responsiveness to conditions on campus in an effort to keep the community as safe as possible.
"I appreciate the college's response in hiring staff to assist with contract tracing and COVID case management to assist students," Franzen said. "A couple of offices began the year trying to do their regular work along with managing COVID-19 quarantine and case management, and we learned that was too much. The CRT listened and quickly reacted by hiring additional assistance, and that has been incredibly helpful."
As this is an additional measure of prevention, Luther's face-covering and physical distancing protocols remain the same. Though participation in the EAST program is voluntary, it is strongly recommended by the COVID-19 Response Team. Individuals who are experiencing symptoms of COVID-19, have tested positive for COVID-19 in the last 90 days, or have been identified as a close contact of someone with COVID-19 are not eligible for the EAST program. The EAST program uses the BinaxNOW rapid antigen test developed by Abbott, consisting of a self-administered nasal swab under a healthcare professional's guidance. Assistant Director of Wellness and the manager of Luther's testing center Vicky Jaeger shares the ease with which participants can come and test.
"The test is very basic," Jaeger said. "The thing I like about the test is that [the swab] does not go as deep in the nostril as the test for Test Iowa. I would encourage all individuals to come and test once a month."
After ten days, 169 individuals have participated in the EAST program, with only one positive test result. The EAST program's goal is to administer 100 tests per day, allowing individuals to test once per month. Students, faculty, and staff must schedule an appointment using Luther's scheduling program. The testing center is open 8:30 am-4:30 pm Monday through Friday. Christian Teigum ('23) shared his thoughts on the new EAST program.
"If anyone who wants to get tested can get tested, I am for that," Teigum said. "People who are worried that they have been exposed and are asymptomatic can now get tested, which can help us track who has been in contact with who."
To prepare for the test, individuals are encouraged to download the NAVICA app developed by Abbott and create an account prior to arriving at the testing center. Test results can then be sent directly to the participant through the app. Participants can expect to receive their results within an hour of completing the test. The app allows test results to be presented at airports if the flight requires a negative COVID-19 test.
As of February 2nd, there was one active student case of COVID-19 on Luther College's campus. Teigum shared how he believes Luther has been able to maintain this low number of cases.
"Mask wearing has been a big reason that cases are low," Teigum said. "I also think that students strongly prefer in-person learning, so they are not risking getting COVID and moving to online classes."
In addition to the EAST Program, the COVID policy for residence halls has been updated. Students who receive multiple face-covering warnings in residence halls may now be documented. Additionally, students who engage in behavior to avoid a COVID violation such as running, hiding, giving false information, or refusing to present an ID may be suspended immediately.
Another notable change is violation forgiveness. Students who have had no violations for three months are eligible to have a previous violation removed from their violation history. Teigum believes the continued monitoring of teams at Luther will maintain a low number of cases going forward.
"If my memory is correct, most of the cases we had in the fall were from the sports teams," Teigum said. "I think that we can sustain a low number of cases by continuing to monitor sports teams closely as spring sports get back up and running."
In response to a request from the student body for more transparency, the Luther Administration now sends out a weekly "being community" update via email, informing the community on the status of COVID-19 on campus and the protective measures being taken by the COVID Response Team. Jaeger expressed that these updates indicate that the current COVID protocols are effective, but that even more individuals on campus can and should take advantage of the EAST program.
"Our numbers are very low right now, and we'd like to keep it that way," Jaeger said. "[The EAST program] also helps individuals know that what they are doing (masking, physical distancing, and washing their hands) is working. I would love to see even more students, faculty, and staff come and test."