Five hundred twenty-five thousand six hundred minutes? Not quite. More like fourteen hundred forty minutes to rehearse and prepare a play to perform. On Saturday, February 27, SPIN Theatre hosted their annual 1440-minute event in which they announce, rehearse and produce a show in the course of 24 hours (1440 minutes). This year, the group performed Aristophanes' "Lysistrata" over Zoom, which was rewritten to fit the virtual format, and to be more comical for the audience. The play "Lysistrata" is about women protesting to end the Peloponnesian War by refusing to have sex with their husbands until all the men agree to a peace deal between the Spartans and the Peloponnesians.
SPIN is a student-led theatre organization on campus that provides opportunities for students who do not want to commit to a Visual Arts production. Besides the 1440-minute production, SPIN also produces the musical cabaret in the fall and co-produces the one-act festival in the spring. Clare Rolinger ('22) is the Managing Director of SPIN and co-directed the 1440-minute play this year. She played a hand in adapting SPIN to fit a virtual format because of the pandemic.
"We have adapted in that we have shifted a lot of our events to a virtual setting," Rolinger said. "Traditionally, we would have in-person performances, but we can't do that because of the safety of the students. We have definitely found a way to work with the medium we have to use right now, and it's challenging, but I think it is really important that we are doing it because art needs to continue to be made."
Although the Zoom format is not the norm for a theatrical production, the group has adapted to the medium. Usually, the 1440 production is a musical, but this year SPIN decided a play would better fit the online limitations. Because of this, they lost some roles, such as choreographer or accompanist, but added roles in other places.
"The cool thing is even though we have lost some of the roles […] we have brought on some new team members," Rolinger said. "We have some scriptwriters to help us re-write and re-work some of the script, and they are going to lead the cast in some devising and improv the night of, which has not been done in years past."
The pandemic has placed many obstacles for the performing and visual arts to work around, but organizations like SPIN have found ways to continue to create and perform. Claire Twedt ('21) is the artistic director of SPIN and co-directed the 1440 minute show this year. Twedt explained why SPIN moved forward with the 1440 performance this year.
"We thought it was important for people to be able to connect this year," Twedt said. "That is normally our mission, but we felt that it was more important this year to do something, regardless of what it was, in order for people to make art."
For performers, there were mixed feelings about the short time for preparing and performing. Rhylan Peterson ('23) participated in the 1440 Minute production this year, playing the role of Cinesias, and expressed his reservations about, and anticipation of, learning an entire show in a day.
"I both love and hate the idea of doing a show in 24 hours," Peterson said. "I think it is quite minimal commitment. You get a day, and it takes a day, so it doesn't take up much of your life. For someone who is kind of busy in those respects such as me, I like the idea. I just hate the idea of not getting much sleep, even though it is my typical schedule."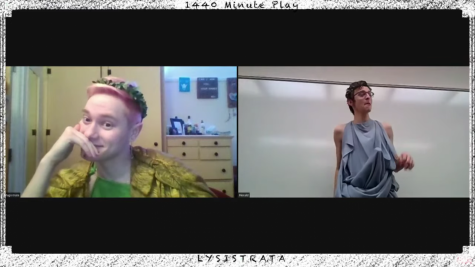 Even though the actors and directors get very little sleep during this event, Peterson was still excited to participate and share his art with an audience. Putting together an entire show in 24 hours is a grueling process, but for Peterson, it was a process that is worth the outcome.
"I think that theatre is really important, especially in the time we are in right now because we are all looking for a little bit of escape from what is happening right now," Peterson said. "The arts, in general, are one of the best ways to go about that. To escape from the world, to find a greater meaning, and to ultimately continue doing what you are doing with a feeling of purpose."
Anyone who may have missed the production, or would like to rewatch it, can find a recording on the SPIN Theatre YouTube page: https://www.youtube.com/watch?v=2BJ3axAuESs