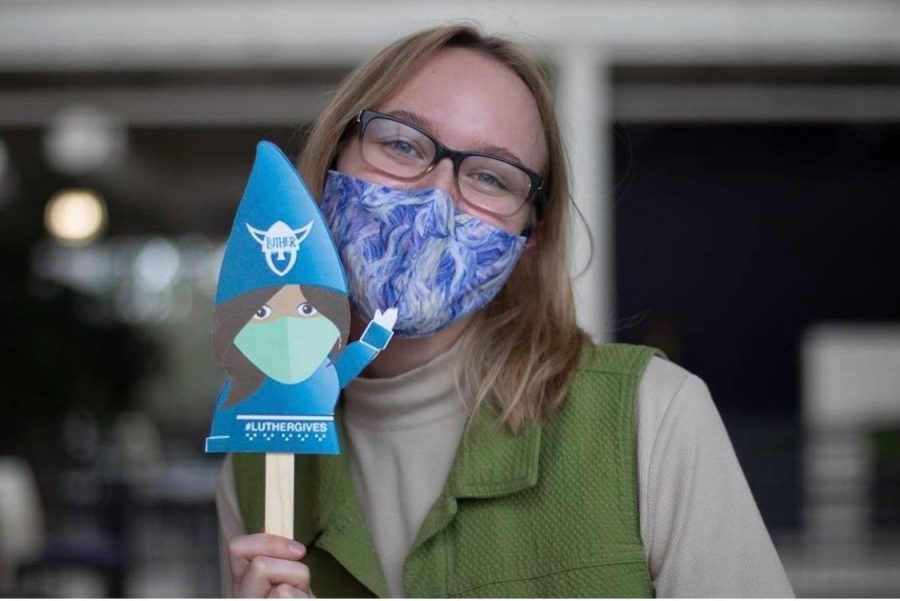 Photo Courtesy of Luther's Visual and Performing Arts Department
On Thursday, March 11, Luther College raised a total of $1,195,265.70 during their sixth annual Giving Day event. Donors from all fifty states participated in the Giving Day festivities, with alumni, staff, parents, faculty, and other friends of the Luther community helping to make the day a success. The event lasted sixteen hours with several 'power hours' that included alumni donating challenges to help maximize additional financial gifts to the Luther Fund.
The first Luther College Giving Day was held in 2016 with the intention of making financial giving a fun process. Director of the Luther Fund Megan Torkelson ('05) explained where the money from the Luther Fund will end up.
"The Luther Fund is [an] annual unrestricted fund," Torkelson said. "[The] dollars [raised are] used wherever they are needed the most. We say that the Luther Fund supports students […] wherever it is needed on campus: scholarships, financial aid, academics, student organizations, and intramural research."
Torkelson emphasized that the Luther Fund was especially important this year, as it helped keep the campus open during the COVID-19 pandemic. Many of the COVID-19 protocols were sponsored by the Luther Fund, which helped keep the case numbers low and enabled students to be on campus.
Although this event looked different than other years due to the COVID-19 pandemic, student volunteers were still able to show their appreciation for faculty, staff, and alumni donations by sending a virtual form of appreciation.
Bryan Wendt ('21), the Vice President of the Student Philanthropy Council and student worker for the phonathon for alumni donations commented on just how fun it was to thank the donors individually, even though COVID-19 made it different this year.
"It was really, really fun," Wendt said. "In years past we would walk around campus, give presents in person to faculty and staff who had donated. [However,] this year we made personal little thank-you videos for each faculty member that donated […] I worked about five or six hours yesterday for Giving Day and made just over fifty videos for faculty and staff. It was a blast."
President of the Student Philanthropy Council Rachel Clennon ('22) also viewed the day as a success. She really enjoyed seeing the involvement and reconnection from the alumni, which is always an exciting part of the event every year.
"It was not as visible this year necessarily, because of the pandemic and other things," Clennon said. "But overall it was a good day to interact with the Development Center staff [in addition to Luther] faculty and staff as well…a lot of whom are also alumni."
The 2021 Luther College Giving Day bypassed their monetary goal, despite restrictions on in-person gestures of gratitude. Volunteers from the Student Philanthropy Council were able to show their appreciation virtually for donors. The Luther Fund benefits all students, and Giving Day is just one day that the fund raises money to benefit the Luther community as a whole. Other fundraising events throughout the year, such as phonathons, reunions, and mail gifts also benefit the fund. Faculty, staff, alumni, and other friends of the Luther community are greatly appreciated.