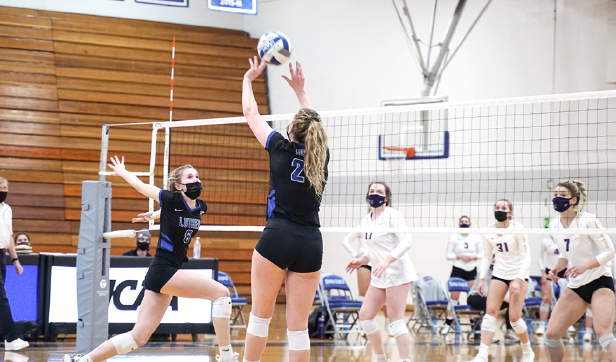 Photo courtesy of Photo Bureau
On March 20, 2021, the Luther volleyball team was swept by Central College in three sets, with scores of 25-19, 25-20 and 25-20. Setter Jess Callahan ('21) had a double-double with 11 kills and 13 digs, while setter Hailey Becker ('22) had 16 assists and defensive specialist Anna Jenewein ('22) had 15 digs. Right-side hitter Aria Schleiker ('24) added eight kills for the Norse.
The Dutch played very aggressively throughout the match; in the first set, Central hit 15 kills and committed only one error, finishing with 45 kills, seven errors and a team hitting percentage of .297. On the other hand, Luther only hit .174 and finished with 33 kills and 13 errors. Central also outplayed the Norse at the net, recording seven blocks while Luther recorded none. The Dutch also totaled six service aces; the Norse only hit three. A positive statistic for Luther: they recorded 55 digs, eight more than Central.
Outside hitter Coranda Vickerman ('21) acknowledged the fact that Central had a really good game plan coming into the match.
"[Central] served really well, so we weren't always able to get a ball in-system to our setter," Vickerman said. "They were also able to hit around our block. They saw our block really well, and then they were able to hit [the ball] where we weren't."
Middle blocker Maddie Jonas ('21) felt that Luther could have been more prepared for Central's aggressive playing style and was not expecting the Dutch to play the way they did.
"We watch film before every game, but sometimes film can kind of ignore certain things," Jonas said. "We have to keep an open mind and realize that film for a game only shows us one side [of an opposing team], so we have to be ready for anything."
Despite Luther's struggles against the Dutch, Callahan thought the Norse were hitting a lot of aggressive serves and swings, which was a positive take away from the game.
"We were trying to play a lot with [Central's] serve-receive, and see how far we could push them to the back line before they would call it out," Callahan said. "We had a more predictable offense, but I thought we were finding ways to score."
The game was a special day for the Luther team because it was senior day. For the 2021 season, the five seniors who were honored were: Callahan, Jonas, Vickerman, defensive specialist Paige Bartlett ('21) and middle blocker Paige Steward ('21). Jonas reflected on her relationships with the other seniors, talking about how the five women have been a "tight-knit group."
"We are all each other's best friends, and we have been for the past four years," Jonas said. "Everything came full-circle because winning and losing is all fun and good, but just to be remembered and honored for those friendships and relationships is really why we play."
Luther played their last volleyball game of the 2021 season against nationally-ranked Wartburg College on March 22. The Norse again lost in three sets, 25-12, 25-18 and 25-13.