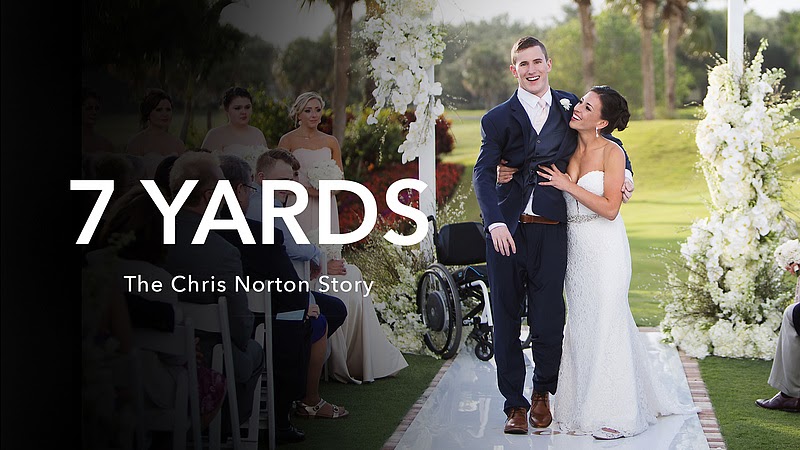 Chris Norton ('15) woke up on October 16, 2010 with eager anticipation. Saturdays in the fall meant one thing for the first-year defensive back: it was game day. He had no idea that this would be a day that would change his life forever. No one did. As the Luther Norse faced off against the Central Dutch, Norton lined up on special teams for a routine kickoff. Seconds later, he found himself face-down on the turf, unable to move a muscle. Norton was paralyzed.
Norton has been selected as the commencement speaker for the Luther College graduating class of 2021. The Luther alumnus will address the graduating class as they complete their education and life at Luther. In an academic year marked by the ongoing COVID-19 pandemic, Norton's story can be a reminder that adversity presents an opportunity for triumph.
Coming to Luther in the fall of 2010, Norton found himself in a position familiar to those that make the transition into college. He was filled with ambition and hope for the future.
"Coming into Luther, I had big plans," Norton said. "I was gonna be this 'All-American' football player, earn a business degree, or I was also maybe thinking about going into law. I wanted to, you know, meet the girl of my dreams."
All of that changed when a routine football play left him unable to walk. The severity of his injuries led the doctors at Mayo Clinic to conclude that Norton had a 3% chance to regain sensation below his neck. For Norton, 3% was more than enough.
After getting knocked down, Norton made it his mission to stand back up. In the days, months, and years following his injury, Norton dedicated himself to his rehabilitation. After seven months of intensive physical therapy at Mayo Clinic, Norton returned to Luther in the fall of 2011.
Released on Feb 23, 2021, a Netflix documentary titled "7 Yards" detailed Norton's story. In the film, Norton's father, Terry, recounted how Norton's determination separated him from the pack even as a kid.
"Chris was special because he wasn't necessarily special," Terry Norton said. "Chris was never faster than anyone else, he was never bigger or stronger than anyone else, but he just had no quit in him."
This determination served Norton well as he continued to train, even while he was a full-time student at Luther. Norton devoted himself to extensive 2-3 hour rehab workouts twice a day. As a result of his unwavering dedication, Norton set his sights on a new goal. 
On May 24, 2015, Norton was going to walk across the stage to receive his diploma. The past four and a half years and 4800 hours of training were about to culminate in a single act. For Norton, this monumental moment was accompanied by nagging doubts.
"I kept wondering, 'am I wasting my time?'" Norton said. "Is this really worth thousands of hours of therapy, and relocating myself and my girlfriend [now wife] Emily? Is this just a crazy pipe dream, and why am I doing this?"
Despite the uncertainties, he persevered, and on the day of commencement, Norton walked across the stage, shook hands with former Luther President Paula Carlson, and received his diploma. The video became a viral sensation, garnering over 300 million views across various social media platforms. Norton found strength in the inspiration he could provide for others.
"Something that really kept me pushing forward was knowing that there's a chance that my example, my commitment, my resiliency, could maybe influence somebody else," Norton said. "Maybe my example would give somebody that courage to go for their goals, and to work hard past their adversity."
As he gears up for this year's commencement speech, Norton once again finds himself in a position to inspire the community through his story. Graduating senior and student body president Maddy Lomprey ('21) looks forward to hearing Norton's perspective. She sees it as a great opportunity for the community and the class of 2021 to receive some much-needed hope.
"In light of the pandemic, it will be really nice to hear how to get through really hard things," Lomprey said. "I think that's what we really need right now as a community, and as individuals going into the world."