Luther celebrates Earth Day in a sustainable (and tasty) way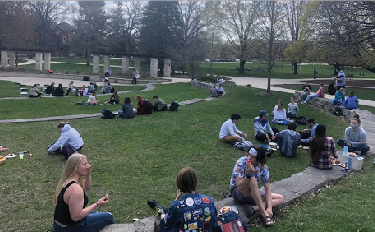 On Thursday, April 22, students, faculty, and staff recognized the planet we call home by digging into an environmentally sustainable plant-based lunch. The "Less Waste, Plant Based, Great Taste" luncheon was completely vegetarian in an effort to raise awareness about the variety of plant-based options and their importance in relation to  environmental concerns. 
Gathered picnic-style on the Bentdahl Commons and enjoying a beautiful afternoon, the Luther community celebrated Earth Day by nourishing their body and soul. Among the attendees was environmental studies major Tessie Easley ('22), who commented on the relevance of sustainable food sources and healthy nutrition. 
"It's important to remind students of all the different options that they have and the different foods that are out there," Easley said. "There isn't just one way of eating. There are some diets that are healthier for the planet than others, and this introduces us to them."
The outdoor luncheon was part of the celebration of Climate Justice Week at Luther, which included a diverse lineup of events and activities. Organized by dining services in collaboration with Luther sustainability, the lunch was free for all students, faculty, and staff to enjoy. The environmentally-focused menu consisted of a "green earth goddess" panzanella bread bowl, black bean and quinoa "social equi-tacos," sustainable chickpea samosas, "pollinator garden" cupcake cones, and fresh juice. 
For passersby who were not aware that the event was taking place, the winding line of people along the Center for Faith and Life (CFL) sidewalk and the flood of people littered throughout Bentdahl Commons was sure to inform them that something unique was happening. Ethan Braun ('23) stumbled upon the luncheon serendipitously and shared his thoughts on the menu.
"It was really good, I was surprised," said Braun. "The plant-based food was as good as meat-based food." 
General Manager of Dining Services Wayne Tudor and Sustainability Coordinator Chris Frantsvog jointly planned and organized this event in coordination with the sustainability team and Sodexo staff. The meal was served on reusable plates with metal silverware, a sustainable move that has been absent on Luther's campus due to the COVID-19 pandemic. This decision re-emphasized a commitment to make the luncheon as environmentally sustainable as possible, at a time when sanitation concerns make this increasingly difficult. 
Along with a crash course in sustainable eating, Easley noted how the luncheon also provided a sense of community that COVID-19 has deprived Luther of this year. 
"It was a great opportunity to get outside and experience community," Easley said. "Luther has not had that in a while. Being introduced to this new food that is delicious and good for you was refreshing."
To further encourage students to participate, dining services closed the CAF from 10 a.m. to 2 p.m., making the outdoor luncheon a unique opportunity for students to nourish themselves and learn about eating more sustainability. The meal was served on the front steps of the CFL in hopes of grabbing more attention from the wider Luther community. 
If the sight of a campus-wide picnic was not enough to catch the attention of those walking through campus, the sounds of the Luther College Jazz Quartet resonating from the center of Bentdahl Commons put an exclamation point on this lively celebration of the Earth. Braun noted how this luncheon can encourage students to consider their choices when eating.
"I think that it's really important to experience Earth Day in a way that makes us consider making a change and choosing an option that we may not have otherwise," Braun said. "Plant-based food is better for the environment and the planet overall. This is a really good way to get people to try new things in a way that they may not have otherwise."
A good number of the Luther community attended this plant-based party, but mother nature seemed to be keenly aware of the happenings on the Luther campus as well. Almost poetically, this Earth Day afternoon brought warm temperatures, a slight breeze, and plenty of sunshine to make for a delightful opportunity to both celebrate and give back to the Earth. Anneliese Barton ('21) shared why she felt this event was important and how it can have an impact going forward. 
"As a school that proudly states its emphasis on sustainability, it has been hard to remain sustainable throughout this pandemic," Barton said. "Having this lunch may seem like a one time show off to the community, but if you observe how this lunch was executed, sustainable choices can become a habit for us as individuals and a community."
Leave a Comment