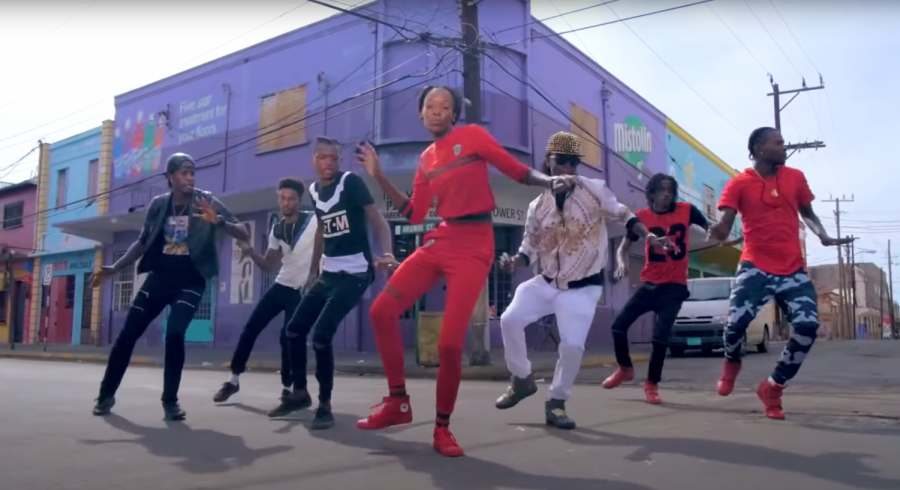 On Friday, April 23, the film "Out There Without Fear" was screened with a follow-up zoom discussion panel, and dance workshop the next day. The event was sponsored by multiple departments at Luther, including dance, theatre, and identity studies, as well as the Center for Intercultural Engagement and Student Success (CIES) and the Center for Ethics and Public Engagement (CEPE). 
The documentary highlights the Jamaican cultural tradition of dancehall. Dancehall began as a style of music, inspired by reggae and influenced by popular culture. The subsequent dance subgenre of dancehall promotes self-expression and body positivity, themes celebrated in African and Jamaican culture.
The documentary covered many important aspects of the history and significance of dancehall, both as a genre of music and as a style of dance, but it also delved into the cultural impact of the rise of dancehall. It touched on issues like socioeconomic inequality and the portrayal of Jamaican culture internationally. The documentary shows how dancehall is perceived negatively in Jamaica. In reality, it is an inclusive art form that is accessible to all kinds of people. 
Popular dancer Dwayne "Kool Kid" Samuels participated in the making of the documentary by sharing his own story and motivations. In the documentary, he explained how he was introduced to dancehall, and the impact it had on him.
"Dancing actually saved my life," Samuels said. "And it's not just me. A lot of our youths in Jamaica who have been dragged up, brought up, and grown up in the inner city communities. A lot of influences were around me, gun violence, drugs, everything that's bad. When I came outside after work and saw Colo Colo dancing down the street until he was wet with sweat, I would say wow, this is cool. This is exciting."
Samuels was on the panel along with Joelle Powe, the head filmmaker of the documentary, Professor of Literary and Cultural Studies at the University of the West Indies and leading academic in the field of Jamaican dancehall Carolyn Cooper, and Latonya Style, who teaches Jamaican dancehall internationally. 
The event was organized by Professor of Dance Jane Hawley ('87) and Juan Antonio Nelson ('21). The goal was to uplift and celebrate artistic styles that have been otherwise overlooked. Hawley noticed Nelson's personal connection to the music almost immediately. 
"When Joelle started playing the music, immediately Juan Antonio started to move, and smile, and express joy, and he misses his culture and his music," Hawley said. "He wants to share that culture and music and that dance style with his peers."
In the documentary, Cooper expressed her frustration with the lack of attention given to dancehall in academia. According to Cooper, other works have been published on the topic, but not enough to abolish the harmful stereotypes. 
"For now I think of dancehall as a bad pickney of reggae because [for] so many Jamaicans who are 'respectable,' dancehall represents a culture of violence, sexuality, and all of the things that are negative," Cooper said. "People forget that in the early days of reggae they were saying the same kind of thing about reggae. As one generation of music becomes respectable, something else comes to take its place as disreputable youth music." 
Hawley was especially excited to host the event, hoping to bring an interdisciplinary educational experience to her dance students. Hawley explained the importance of an interdisciplinary approach and the value it brings to the individual. 
"Once you start to think about what interdisciplinary means, you realize everything is connected," Hawley said. "And the more we start to see ourselves as a part of everything else, every other discipline, the body, which is the home of the self, lives and experiences all of the other disciplines. I think you can't then stop and go back to thinking that you're just in this room alone by yourself with your own discipline. It just changes you so much that you just can't go back." 
Dance student Kaitlin Poock ('22) found the event to be especially enriching. The documentary was particularly inspiring to Poock, who had not previously known about dancehall or about the negative attitudes towards the dance form.
"I thought the viewing of 'Out There Without Fear' was so interesting!" Poock said. "I had no idea of this type of dance form but loved it as soon as I saw it. I also was very intrigued to learn about society's view on dancehall and how even through challenges, they kept dancing the way they wanted to and not how society wanted them to." 
The overall themes of empowerment, body positivity, and self-expression resonated with many of the students who attended the screening, panel, and workshop. Dancehall encourages dancing to be performed for oneself without fear of judgment, in celebration of one's identity and self. It also allowed students to become exposed to a culture in which they may have otherwise been unfamiliar, including multiple disciplines for an engaging and enriching experience.