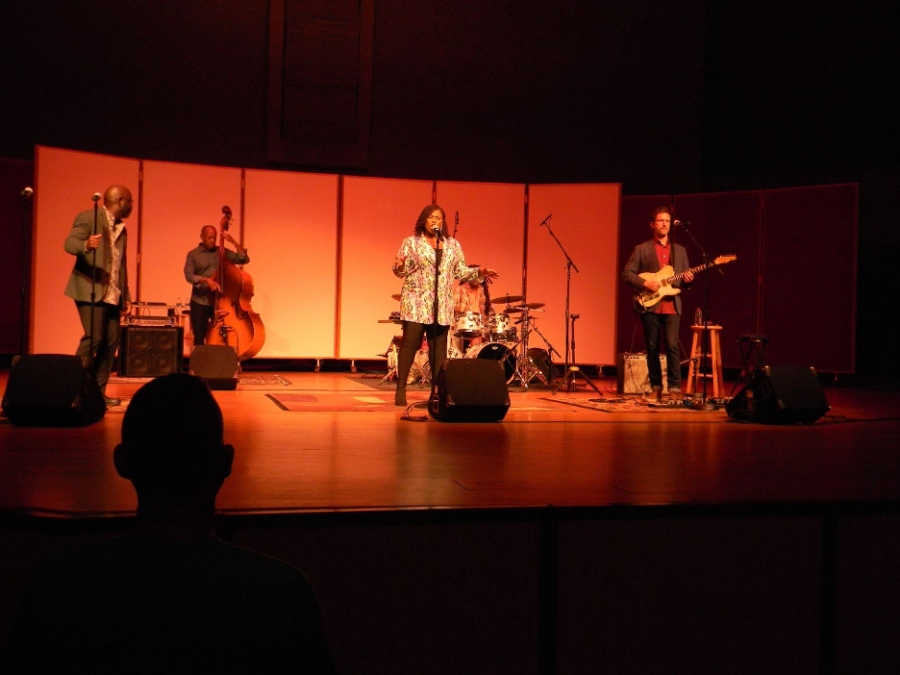 A unique musical tradition came to Decorah when South Carolina-based musical ensemble "Ranky Tanky" performed in the Center for Faith and Life. The event, held on Tuesday, October 5, opened Luther's Center Stage Series for the 2021-22 school year. Awarded a Grammy in 2020 for Regional Roots Album, Ranky Tanky's jazz-influenced music celebrates the Gullah culture and tradition rooted in the South Carolina Lowcountry.
Through their tunes, the members of Ranky Tanky lift up and preserve the sounds, rhythms, and traditions of those who arrived on the southeastern shores as enslaved persons. Vocalist Quiana Parler, an American Idol alumna, expressed how the unwavering spirit of their Gullah ancestors inspires the group's sound and stage presence.
"Even in the hard times, they still celebrated the good times," Parler said. "That's what we do with the band — we take the saddest song and turn it into a dance song, as that's what our people did, and they still do today."
Their Grammy award-winning album, Good Time, embraces this sentiment wholeheartedly, combining playful game songs with ecstatic shouts, heartbreaking spirituals, and original songs grounded in Gullah tradition. Soaring to the top of the charts after winning the Grammy, Ranky Tanky has toured domestically and internationally, receiving ample critical acclaim from prominent sources such as Afropop Worldwide, Downbeat, Paste, and Songlines. The Group consists of Parler on vocals, Charlton Singleton on trumpet and vocals, Clay Ross on guitar and vocals, Kevin Hamilton on the upright bass, and Quentin Baxter on drums and percussion. 
Director of Campus Programming Kristen Underwood shared what made Ranky Tanky's performance a valuable experience for her, and why the act was brought to the Luther community. .
"I appreciate their amazing musicianship, the storytelling aspect of their music, and the historical context," Underwood said. "It's great when you can enjoy a performance and learn something at the same time."
Although the CFL performance hall is not primarily designed for dancing, the playful sounds of Ranky Tanky and their interactive stage presence inspired audience members to move in their seats, holler passionately, and immerse themselves in the moment. The performance was both a moving musical journey and an educational taste of Gullah culture and tradition for those in attendance. BSU member Phoenix Bradley ('23) expressed the sense of comfort that experiencing Ranky Tanky gave her.
"Those of us with BSU felt like we could be loud and express ourselves when we were moved to shout," Bradley said. "There was something in tonight's performance that brought a lot of comfort for me as a Black student that nothing else has ever brought."
Presented by the Performing Arts Committee with Campus Programming and sponsored by the Landing Market, this performance welcomed the Center Stage Series back to campus after a long hiatus due to COVID-19. Officially coalescing as a performing group in 2016, the members of Ranky Tanky were longtime childhood friends who grew up together in Charleston. They have been making music together for over twenty years. Charlton Singleton, the group's trumpet player and vocalist, said that their long history together enhances their performances.
"As we have been playing together over the years, we know each other's tendencies quite well," Singleton said. "It's a joyful thing, and part of that is the joy of playing with each other."
Based in the sea islands off the coast of South Carolina and Georgia, the Gullah tradition has sought to keep the cultures of West Africa alive through art and music. The group's name comes from a phrase in the Gullah tradition that loosely means to "get funky with it". The phrase "Ranky Tanky" is also part of a children's clapping game derived from Gullah culture.
After the performance, the members of Ranky Tanky stuck around for a brief Q&A with the audience before hitting the road. As they answered questions and engaged personally with the Luther community in an intimate setting, the group shared some insight into their inspiration, story, and experience performing together. Closing the evening, Hamilton expressed how engaged and interconnected the group remains during improvisational solos in their music.
"We're all paying attention and moving to the solo," Hamilton said. "He [Ross] knows we're still playing, we're just silently accompanying him. None of us ever feel at all like we're playing our instruments by ourselves."