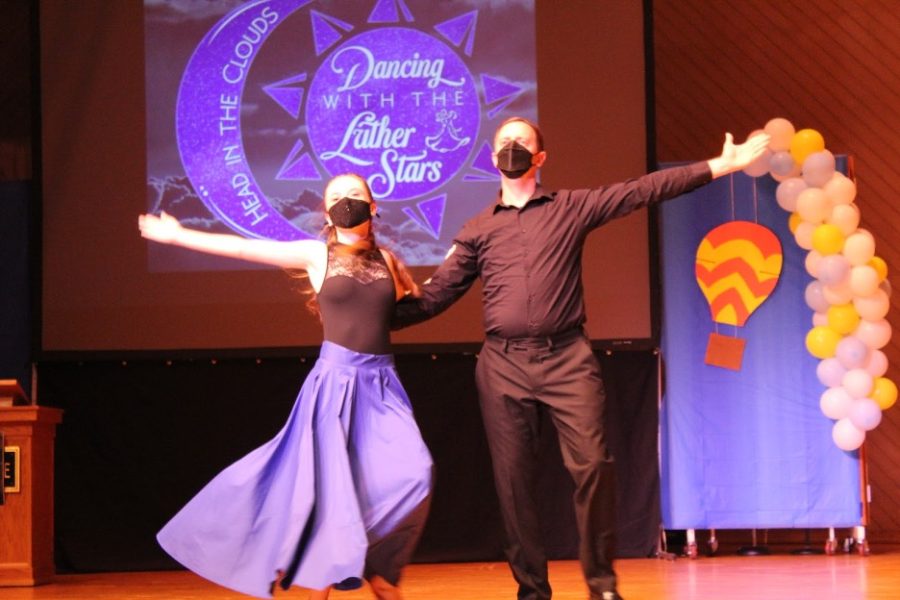 The auditorium lights dimmed as the spotlight dominated the stage, ready for the quick feet of the afternoon's performers. The audience settled in, and tension began to rise. The dancers backstage waited with anticipation, prepared for their chance to win the coveted mirrorball trophy. Finally, hosts Lukas Phillips ('18) and Jenna Mockler-Gjerde ('06) broke the silence with a warm welcome to audience members, and the competition began.
Community members were dazzled on Saturday, February 19th by Luther's very own fundraising event, "Dancing with the (Luther) Stars." Hosted by the Luther College Ballroom and Swing Club, popular Luther faculty, or 'stars', took the stage with classic ballroom dances they learned after training with 'professionals' from the organization. The event raises money for the Iowa Children's Miracle Network, as well as the Ballroom and Swing Club. Although this competition has not been held in four years, the club hopes the event will once again be held on an annual basis.
"This event has not been held since 2018, due to Covid and other circumstances," said President of the Ballroom and Swing Club Alison Merrill ('22). "We put it off for a few years, so we are really excited to get back to it. We got a board of people to start planning, and as soon as classes started this fall, we started meeting every week and getting everything together."
The Luther College Ballroom and Swing Competitive team started the afternoon with a tango to prime audience members for the competitive dancing that would follow. Merrill and Associate Professor of Religion Todd Green kicked off the competition by dancing a waltz, followed by Kira Dobberman ('22) dancing a tango with Professor of English Kate Narveson. The dancers received comments and a score from the judges, which were tallied up until the end of the event when the winners were announced. Next, Kylie Holdorf ('22) took the stage virtually with Professor of Music Du Huang for a foxtrot, as Huang was unable to make it to the live event, followed by a quickstep, performed by Gabriel Palacios ('22) and Associate Dean for Integrated Academic and Career Development and Professor of Biology Jodi Enos-Berlage.
Every 'pro' got to choose their 'star' partner with whom they would be dancing. Holdorf chose to dance with her piano professor Huang. As Huang has had no prior dancing experience, learning to dance foxtrot and rumba were new adventures. 
"It's mostly for fun, so I am not that serious or stressed out about it," Huang said. "What is hardest for me is the rumba and moving the hips. I spent some time practicing, but that is the hardest one. My hips are very frozen."
Huang was originally interested because he thought his musical background might help him in the competition. As many pieces of music have dance elements, he thought he could bring something new to the scene, while also learning a thing or two about dancing.
"I wanted to learn something about how to dance," Huang said. "We have a lot of music that is dance-inspired or dance-related, and dance relies a lot on association with music; rhythm, melody, mood. Even though I am a music person, I don't know how to dance."
Each competing pair performed two different dance styles. The 'pro' student taught their faculty member or staff partner the basics of the dances they would be performing and a routine for the performance. Each pair usually tried to practice about once per week, working to improve their execution for the big day.
After an intermission and a couple more group dances, the competition started back up with a cha cha, danced by Dobberman and Narveson, and a rumba by Huang and Holdorf. After another pairing of Ballroom and Swing Club dancers, Palacios and Enos-Berlage danced the triple step, followed by a hustle from Green and Merrill. Finally, the Ballroom and Swing competitive team danced another group number, bringing the competition to a close.
To end the afternoon, both an audience choice award and a winner were presented, along with prizes. Palacios and Enos-Berlage won the audience choice award, which, in addition to their two perfect scores, brought them to first place. The pair were then awarded the coveted mirror ball trophy.
"I hope that people get excited for this event like they get excited for other events, like the [1440 musical]," said Vice President of the Ballroom and Swing Club Grace James ('23). "Once I become president next year, I hope we can have fun, raise money for charity, and get more people involved in Ballroom, to see what we do on campus and at competitions."
For those interested in seeing more of Luther's dancers, the Luther Ballroom and Swing Club has their first competition of the new season on March 5th in St. Paul, Minnesota. They also hold open lessons for Luther students, faculty, staff, or anyone in the Decorah community interested in learning some new moves every Monday night at 8pm in the North Gym of Regents.