Keith Plessy and Phoebe Ferguson announced as 2022 Commencement speakers
Keith Plessy and Phoebe Ferguson met like most people do, through a mutual friend. Except, their connection carries a historic weight that most people's friendships do not. Plessy and Ferguson are the descendants of those involved in the landmark Plessy v. Ferguson court case, but instead of continuing to represent the divisive principles of Plessy versus Ferguson, they chose to form a partnership, emphasizing Plessy and Ferguson. Luther College recently announced that Plessy and Ferguson will address the graduating class of 2022 and audience at Commencement on May 22.
On June 7, 1892, Homer Plessy was arrested for violating the Separate Car Act, which required railroad companies operating within Louisiana to provide separate but equal accommodations for white and black passengers. The issue was taken to the Supreme Court, where Plessy's claim that the Act was unconstitutional was denied. The subsequent ruling allowed the South's Jim Crow laws to extend another 58 years. Two centuries later, in 2009, the Plessy and Ferguson foundation was founded; since its founding Plessy and Ferguson have visited schools, festivals, and academic and historical institutions to show how a shared history can be used to create unity and understanding between people of different backgrounds. 
In a press release published on February 24, Luther College President Jenifer K. Ward acknowledged Plessy and Ferguson's recent work, which resulted in Louisiana Governor John Bel Edwards signing an official pardon for Homer Plessy posthumously in January of 2022. Ward reflected on why she is excited for Plessy and Ferguson to speak at Luther, and why she thinks their message is important.
"Plessy and Ferguson have been steadfast in their work to seek justice for Homer Plessy," said Ward. "We are fortunate to have these two descendants of the key figures in a landmark case, as well as current champions for racial reconciliation join us at Luther as they celebrate this historic milestone, and as we ask our graduates to live out our mission to be enlivened and transformed by encounters with one another in the world."
In the same press release, Ferguson offered a bit of information on the topics she would be discussing, and why she believes her message of valuing diversity is important to share, especially at a graduation ceremony.
"We boil the case down for [students] to right and wrong," Ferguson said. "We have an amazing legacy to share, and we tell students that they, too, will have a legacy, and that it's important to think about that while you're young—that in your life you contribute your spirit, effort, and service in order to help make change, and that they, too, can be history makers."
Landon Hoppe ('22) is a member of the Student Senate and chair of the Leadership Committee, and will be graduating this May. Hoppe wants to attend law school after graduating from Luther, and believes that Plessy v. Ferguson is very important for students to study in school because of its continued relevance today.
"We need to recognize the unjust implications of the [Plessy v. Ferguson] decision, which [created] many hardships for those who were being treated differently [due to] the color of their skin," Hoppe said. "Plessy v. Ferguson reminds us how we as citizens can be better people. Building broken bridges and healing from the past will allow for a better future, not just for us, but for the future generations to come."
Commencement celebrating the class of 2022 will be held on May 22 at 9 a.m. in Carlson Stadium. Those who are not able to attend in person may watch the live streamed event at commencement.luther.edu.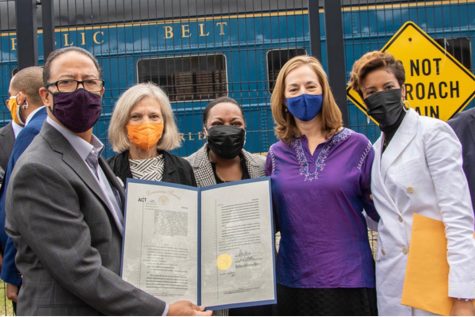 Leave a Comment