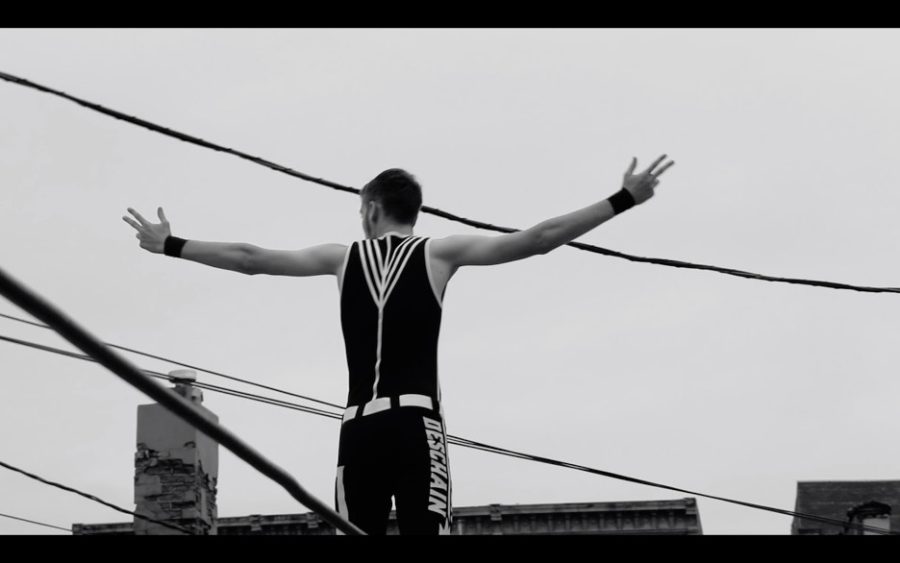 This past weekend, film-loving Luther students and Decorah community members  came together to attend the Oneota Film Festival and celebrate the work of a Luther alum. The festival began on Friday, March 4, and concluded on Sunday, March 6. The Oneota Film Festival marked an achievement for Luther alum Connor Hopkins ('21), whose premier documentary, Debut, was featured. 
"It's a very cool thing, and I feel very fortunate that I've gotten the opportunity to have my work shown," Hopkins said. "This was just something I was doing as a senior project, and it's kind of taken on a life of its own." 
The 2022 iteration of the festival aimed to embody the theme of "Reconnecting" in celebration of the event's first in-person showing since February 2020. Though this year marked the first time the event took place in downtown Decorah rather than on Luther's campus, connections to the college were far from absent
The Oneota Film Festival is an annual tradition for Decorah, and primarily features independent films that are not available on streaming services or television channels. Elise Skellenger served as the festival's director for the first time this year.  
"Our jury selectors look at a wide variety of films that are submitted, and we liked that [Debut] had a local tie and local connection," Skellenger said. "It was a good story, and Connor did nice work. It also fit well, because it was a piece that we didn't have anything like." 
Hopkin's 17 minute documentary follows the journey of Braeden Bend, an aspiring independent professional wrestler. The film chronicles Bend's experience of transitioning from a referee in the sport to developing his own persona and signature style inside the ring, all leading up to his debut match in Peru, Illinois. The concept was pitched as a part of Hopkins senior project, but was the result of an idea he had been developing since his first year at Luther.
"The film that is released out in the open now has sort of a weird beginning," Hopkins said. "My first year at Luther I went to my advisor, Dr. Thomas Johnson, and said I wanted to do a documentary on wrestling as my senior project. Flash forward a couple years, and it is spring semester 2020 and I am taking Dr. Johnson's documentary film class, where the final project is to make a short subject documentary film."
Originally, Hopkins wanted to make a documentary about a wrestler's final match in Kansas City in March of 2020. But the day before he was due to depart, Luther shut down its campus and sent students home for an "extended" Spring Break –  one that students wouldn't come back from until fall 2021. Despite the setback, Hopkins continued his efforts over the following summer.
"I had a friend who was in training at the time, this would've been August of 2020, and he was preparing to have his first match in September," Hopkins said. "That's really where the film began."
The film festival was not Hopkins' first feature, as Debut had already been selected for broadcast by the Iowa PBS program, The Film Lounge. He took advantage of the many online resources available to aspiring filmmakers and submitted the film to a wide variety of festivals, leading to some acceptances, as well as accolades.
"I finished the film January 28 of 2021, and from there submitted the film to a website called 'FilmFreeway', which is sort of a one-stop shop for submitting to film festivals," Hopkins said. "I submitted my film to 29 film festivals, and I was selected for 12 of them. I was an award winner at a few of them, which was pretty cool." 
In his time at Luther and in the Decorah community, Hopkins was able to make valuable connections that led to his film being shown in the festival. He credits his time at Luther as well as his work at Driftless Multimedia in town for giving him the skills and opportunities he needed to become an award-winning director. He knows that many current Luther students may be in a similar place, and offered some advice.
"It's been very cool to be able to look back on something like this and see tangible things that have happened in the world outside of Luther as a result of it," Hopkins said. "Any students who are in the Visual Communications major right now, also Coms, Journalism, what have you – if they want to reach out about filmmaking they certainly can. I'm not gonna claim to be an expert by any stretch of the imagination, but I am doing this somewhat professionally now."
Debut is available at no-cost to stream on Vimeo.