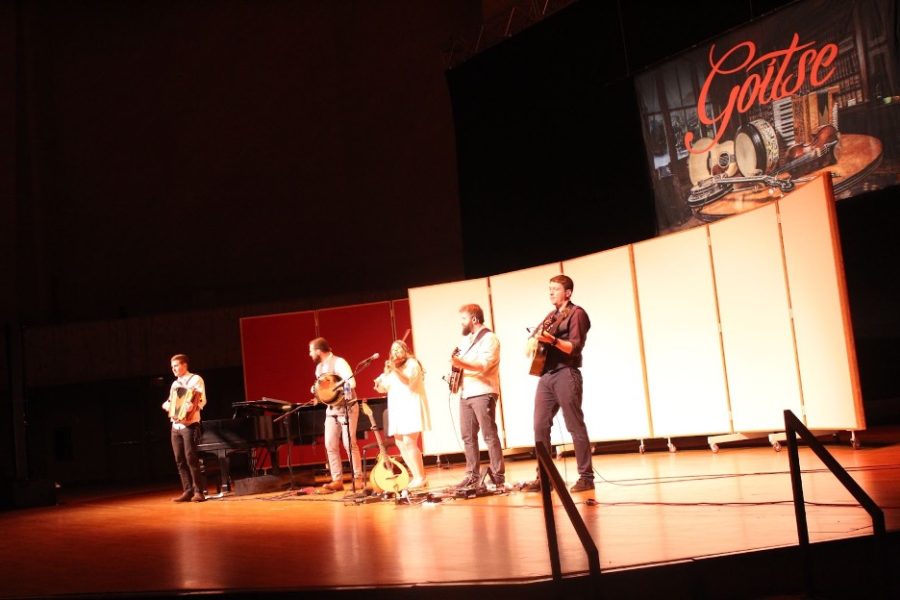 What started as five college students studying music at Limerick's Irish World Academy, the ensemble now known as "Goitse" is taking the contemporary Irish music scene by storm. Their latest stop was the Luther College Center for Faith and Life, where they entertained a spirited crowd on Saturday, March 12, at 7:30 p.m. The internationally renowned quintet previously performed at Luther in March of 2019, and have garnered an extensive following in the midwest.
Director of Campus Programming Kristen Underwood felt Goitse was a particularly fitting inspiration for Luther students, as the group formed through the course of their higher education journeys while studying in Limerick, Ireland. Underwood also explained that Luther has a tradition of bringing a Celtic band or some ensemble with ties to Ireland to campus around March every year, and shared her excitement for Goitse's performance. 
"It's great springtime music, as it's fun, lively, and hopeful," Underwood said. "I hope audiences leave with lighter hearts, experiencing a moment to travel in their mind to a different place through music."
Lauded as the forerunner of a fresh iteration of traditional Irish ensembles, Goitse delivered a set that encompassed classic Irish favorites as well as contagiously energetic original compositions. The band's unique name came about following a performance in Limerick, when some of the band members were walking just ahead of vocalist Áine McGeeney and pianist, Tadhg Ó Meachair, who would often speak to each other in Irish. McGeeney and Ó Meachair called to the others, shouting "Goitse", an informal Gaelic Irish greeting that translates to "come here." Not knowing what the word meant, the others found this hilarious. Pronounced "gwi-cha," the name stuck.
Hailed as providing "music that is brimming with energy and creative zeal" ("Irish Music" Magazine), the quintet has released five critically acclaimed albums, beginning with a self-titled debut in 2010, and their latest release, Úr, in 2019. The ensemble has enjoyed international renown, touring year-round throughout Ireland and the UK, Germany, France and the United States. 
The band performed a mix of cheerful, up-tempo jigs as well as soft reflective pieces, led by vocalist McGeeney, who was voted the 2016 Best Female Vocalist by Irish American News. Captivating the audience with her voice as well as her draw on the violin, McGeeney commented on the ebb and flow of the group's typical set.
"As our music is dance music, we want everyone to have a really good, fun time," McGeeney said. "We bring them down with our very sad songs that make them want to cry, and then we lift them back up with a happy tune."
Julia Lassner ('22) shared that she really enjoyed the song, "Henry Joy", a ballad that celebrates Irish national pride while envisioning a more just future. The slower, softly passionate tune recounts the role of Presbyterian Irish Republican Henry Joy McCracken in the 1798 Irish rebellion. Lassner also reveled in the liveliness of the more upbeat jigs that the band delivered. 
"It was so much fun," Lassner ('22) said. "The music makes you want to get up and dance. I was tapping my foot the entire time!"
McGeeney's vocals were supported by the foundations of World and All-Ireland Bodhrán champion Colm Phelan, rising guitarist Conal O'Kane, Ó Meachair on the piano and piano accordion, and Alan Reid on the banjo and bouzouki. McGeeney expressed how Goitse's style reflects the musical interests of the band members as well as the diverse palette of listeners.  
"We like to take audiences on a bit of a journey," McGeeney said. "They can appreciate the old melodies just as much as the newly composed ones, as we like to merge the two. We tend not to steer very far from music we enjoy ourselves in the hope that it will satisfy our musical cravings as well as those of the audience."
You can catch the Center Stage Series again on April 1, when Luther welcomes the Brubeck Brothers Quartet to the CFL Stage. Tickets to see the jazz group are currently on sale at the Box Office.