Loose Gravel Performance Demonstrated With Instability and Vulnerability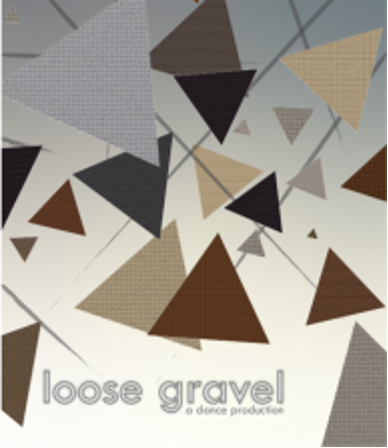 Instability has been a big part of our lives recently, especially due to the COVID-19 pandemic. Even nearly four years later, we are still facing its aftermath. But, life in general can seem unpredictable. When you go through a breakup or lose someone you love, that causes instability. Adjunct Faculty in Dance Christina Nelson created Loose Gravel, a dance production performed in Jewel Theater on May 4, 5 and 6. The piece navigates the idea that the artists within this production will work in a terrain that brings about perpetual chaos, but the key idea is that they must move through it and with it. 
As a dancer, Nelson was uniquely affected by the pandemic. This meant that she was dancing in her living room in a Zoom call with people across the United States and from all over the world. She experienced a chronic back injury, but even resting for almost nine months did not seem to help the healing process. However, she decided to start working on Contact Improvisation (the exploration of one's body in relationship to others by using the fundamentals of sharing weight, touch, and movement awareness) and by the time her back got better, she was also invited to come to Luther and teach a class. 
"Right away, I knew I wanted to research something about instability and how to move with it," Nelson said. "So when I got here, the dancers and I started imagining how to destabilize the theatrical elements and see how their bodies would respond….the stage, the lights, the props – all moving, and the dancers trying to hang on or fall wildly. We also looked at changing the feel or vibe of each dance frequently in order to catch our audience off balance?" 
Not only did Nelson explore something that was very personal to her, but she also helped fulfill the dreams of some of the people inside the dance production. Christina Dressler ('23) was enrolled in Contact Improvisation and got to be a part of the production, which was very meaningful to her. 
"She [Christina Nelson] encouraged everyone in Contact Improvisation to audition," Dressler said. "And I decided to take that leap because being in a dance show is something I have always wanted to do since I was a kid. So it was also a way for me to fulfill a childhood dream of mine." 
Dressler, along with the rest of the cast, created art that was meaningful to themselves and their audiences. 
"The first time we ran a dress rehearsal on the piece I sang in solo: 'Falling Heads'," Dressler said. "One of our cast mates had told us that she cried the first time we ran through the whole piece. And that was just really touching to me, to know that I had that type of emotional effect on somebody and was able to create art that actually meant something is valuable to me." 
Once the production opened its doors to the public, it was able to connect with a whole new audience. After the performance, Lavana Dixit ('26), an attendee, spoke about her experience at the show and what it meant for her. 
"It was amazing," Dixit said. "It was very touching, and in some of the scenes I even saw people cry. The mixture of singing, dancing and even just talking makes for a very powerful performance. The dancers definitely seemed to put their hearts into this performance and it paid off. You could see in every dance move how they were all just enjoying it, but also playing the part so that the story would go along. The connection between all of the dancers was incredible and it made for an overall astonishing performance that moved and touched many people." 
The production had been in the making for about fourteen weeks up to the opening night. Being part of a Liberal Arts college opens up the opportunity for many people to, as Dressler said, "take the leap" and attempt something new outside their comfort zone. 
"The dance professors here are incredible and not toxic at all," Dressler said. "It is not just about dancing, they help you feel grounded in a sense of identity and really help you find yourself at times. I would really encourage anyone who has an interest in dance to go and sign up for these classes and see how you feel after a semester."
Leave a Comment